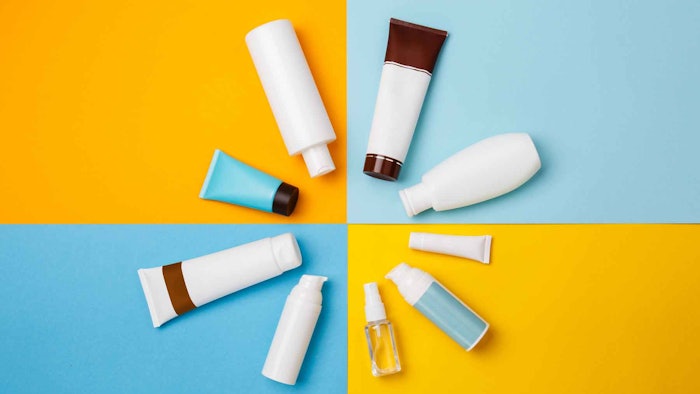 Sunscreens and sunscreen-related innovations ranked among the top five trending topics of 2022 on CosmeticsandToiletries.com. Also, according to a report by We Market Research, the global sun care market will expand at a CAGR of 5.7% between 2022 and 2030, driven by rising pollution, the negative effects of sun exposure, rising disposable incomes and increased awareness of personal care.
See related: Literature Review Connects Sunscreen Absorption with Potential Adverse Effects
This suggests sun protection is becoming established as a mainstay in consumer regimens, in some form or another. So how might the industry push the envelope when it comes to sunscreen innovation? A quick patent search provides clues, as the following select examples from the Universities of Princeton and Utah, L'Oréal, Unilever, Kolmar Korea, Athena, Shiseido, Murata Manufacturing and Beiersdorf demonstrate; there are many more.
Eco-friendlier Sunscreens Derived from Kynurenines and Other UV-absorbing Oxidized Amino Acids Bound to Peptides or Polymers
WIPO Patent Application WO/2022/197819
Publication date: Sept. 22, 2022
Assignee: The University of Princeton and the University of Utah
The safety of a number of currently used sunscreen actives has recently been called into question. Thus, there exists a need to develop non-toxic UV light-absorbing compounds or materials for use in sunscreens as well as packaging materials and other products. Described here are compositions including a polymer or peptide bound to an oxidized amino acid or an analog thereof. According to the patent disclosure, the oxidized amino acids derived from protein sources exhibit desirable UV-protective absorption and energy dissipation that could be useful as active sunscreen ingredients. And, because the oxidized amino acids, or analogs thereof, are naturally derived and readily catabolized by living organisms, they are ideal sunscreens to replace the current state of the art xenobiotic sunscreens that are ecologically concerning and pose potential threats to human health.
Non-whitening Composition Including a UV-screening Agent, an Acrylic Polymer and a Fatty Acid Ester of Dextrin
U.S. Patent 11510860
Publication date: Nov. 29, 2022
Assignee: L'Oréal
The present invention relates to a photoprotective composition including at least one or more acrylic polymers, fatty acid esters of dextrin and UV-screening agents. As the inventors explain, mineral screening agents such as titanium dioxide or zinc oxide are widely used in sunscreens but they cause whitening when applied to the skin. The described compositions incorporating a particular acrylic polymer and a dextrin ester reportedly create stable compositions with a high SPF, no whitening effect and non-greasy feeling on skin.
A Two-step Layering Method to Provide High SPF Topically
WIPO Patent Application WO/2022/253896
Publication date: Dec. 8, 2022
Assignee: Unilever IP Holdings, Unilever Global IP and Conopco dba Unilever
This invention relates to a method of delivering a high sun protection factor (SPF) and UVA protection factor (UVAPF) topically. More specifically, the method provides for synergistic benefits of SPF and UVA PF delivered through two individual steps carried out sequentially by: washing the skin with a specific cleansing composition followed by applying a sunscreen to the same skin surface. The cleansing composition comprises water-soluble sunscreens while the leave-on composition could comprise any sunscreen.
See archived: Patent Pick; Anti-acne Sunscreen with Salicylic Acid
Stable Water-dispersible, Oil-Free, Aromatic UV-blocking Cosmetic Composition
European Patent Application EP4104813
Publication date: Dec. 21, 2022
Assignee: Kolmar Korea Co., Ltd.
Described in this patent is a UV-blocking composition that is dispersed in water and free of oil. Three key aromatic-blocking agents are incorporated, selected from: phenylbenzimidazole sulfonic acid, terephthalylidene dicamphor sulfonic acid, methylene bis-benzotriazolyl tetramethylbutylphenol, and tris-biphenyl triazine. According to the inventors, since the composition contains no oil, it does not cause skin issues and since it includes no surfactant, its spreadability and skin feel are excellent. In addition, cloudiness or greasiness do not occur during use and the UV-blocking effects are reportedly excellent.
Non-irritating, Natural UV Blocking Composition Comprising Red Algae-derived Floridoside and Amine Group-containing Compound
U.S. Patent Application 20220370322
Publication date: Nov. 24, 2022
Assignee: Athena Co., Ltd.
This disclosure relates to a UV blocking composition including red algae-derived floridoside and an amine group-containing compound and their use in a cosmetic and/or pharmaceutical product. The composition is said to exhibit excellent UV radiation filtering in a broad range of 280-400 nm. The composition also does not cause skin whitening or irritation, which are drawbacks of conventional inorganic UV scatters; or photo-toxicity, irritation, heat generation and light emission, which are drawbacks of organic UV absorbents.
W/O Medicinal Sunscreen Emulsion
U.S. Patent Application 20220395445
Publication date: Dec. 15, 2022
Assignee: Shiseido Co., Ltd.
The objective of this invention was to provide a w/o emulsion sunscreen that allows for a medicinal agent to be blended into the internal phase while still providing high UV protection. The solution comprises: a) a UV-absorbing agent; b) a medicinal agent selected from the group consisting of L-ascorbic acid and derivatives thereof, tranexamic acid and derivatives thereof, alkoxysalicylic acid and derivatives thereof, glycyrrhizinic acid and derivatives thereof, and nicotinic acid and derivatives thereof; c) a water-soluble thickener that is not sugar-derived; and d) water.
Lactic Acid Bacteria-containing Electromagnetic Wave Absorber and Sunscreen
Japanese Patent JP2022179530
Publication date: 12/02/2022
Assignee: Murata Manufacturing Co., Ltd.
According to these inventors, there is market demand for a UV absorber that poses a low risk for causing skin inflammation and roughness and demonstrates high UV-absorbing power. In response, this patent describes an electromagnetic wave absorber that contains polyphenols and lactic acid bacteria, and absorbs UV.
UV-boosted UV Protection
European Patent Application EP3932384
Publication date: Dec. 14, 2022
Assignee: LG Household & Health Care Ltd.
The present invention relates to a cosmetic composition for UV protection comprising a sunscreen having a methoxycinnamate structure and a specific weight of polar oil. The composition is said to significantly increase UV protection efficiency when exposed to UV light and has an excellent skin feel.
Sunscreen with Pigment Filter Separation
European Patent Application EP4096794
Publication date: Dec. 7, 2022
Assignee: Beiersdorf AG
According to these inventors, micropigments represent a special form of UV filters as they are almost exclusively inorganic; made from titanium dioxide, zinc oxide or mixed oxides with, for example, iron oxides; and do not penetrate the skin or cause allergic reactions. A disadvantage, however, is their instability. PEG-based derivatives and microplastics have been used to stabilize micropigments but these can potentially promote the penetration of micropigments into skin and are undesired by consumers. Micropigments can also impart a greasy or oily impression on skin. The current invention is said to eliminate these deficiencies; specifically disclosed is a w/o emulsion containing titanium dioxide and/or zinc oxide with a primary particle size of between 2 nm and 200 nm and 1.0% to 2.5% w/w of polyglyceryl-3-diisostearate. It reportedly demonstrates good stability, good environmental compatibility and pleasant sensory properties, and is well-tolerated.