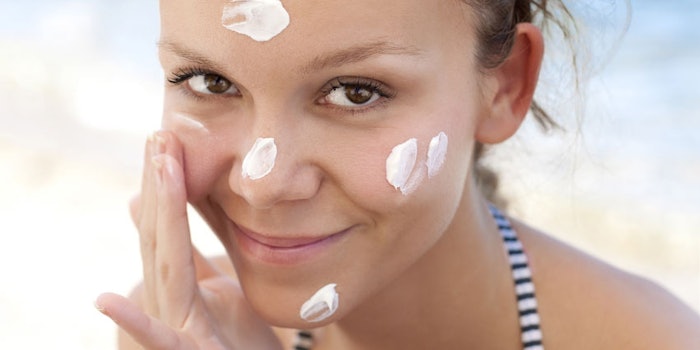 Salicylic acid, known for its anti-acne efficacy, also is known to destabilize sunscreens, according to this L'Oréal patent application. However, these researchers have invented a stable formula incorporating it to provide for an anti-acne sunscreen.
As this disclosure explains, the degree of UV protection afforded by a sunscreen is directly related to the amount and type of UV filters contained therein. The higher the amount of UV filters, the greater the degree of UV protection (UVA/UVB).
However, many sunscreen actives are oil-soluble and have an oily or greasy feel themselves, creating an unpleasant user experience; i.e., greasy skin feel, stickiness, long drying time, and leaving shiny residue. This drawback especially impacts oily, acne-prone skin.
Market Need
Products for oily skin should help to regulate sebum secretion in skin without deeply degreasing it, since according to these inventors, this causes a rebound effect. Products may also act by reducing the bacterial flora and hyperkeratosis.
The most suitable carriers are o/w emulsions and gels, which should not contain comedogenic or acnegenic ingredients. Perhaps the most important anti-acne active is salicylic acid, which is known to have keratolytic and anti-inflammatory properties. However, its incorporation into a high-SPF composition is difficult, as it tends to break the composition into phases. The present inventors sought to overcome this challenge and identified a stable sunscreen comprising salicylic acid and at least one additional anti-acne ingredient.
The Literature
Anti-acne sunscreen composition and process for manufacturing it
WIPO Patent Application: WO/2020/172726
Publication date: Sept. 3, 2020
Assignee: L'Oréal
This invention is directed to an anti-acne sunscreen comprising: a) an anti-acne system including salicylic acid and at least one additional anti-acne ingredient; b) a UV filter system; and c) a stabilizing polymer system. The additional anti-acne ingredient is selected from: capryloyl salicylic acid, hydroxyethylpiperazine ethane sulfonic acid, octadecenedioic, niacinamide and combinations thereof.
The resulting formula demonstrates high SPF (UVA and UVB) efficacy. It also provides oil control and, consequently, an anti-acne effect.
Patent application accessed on Sept. 14, 2020.