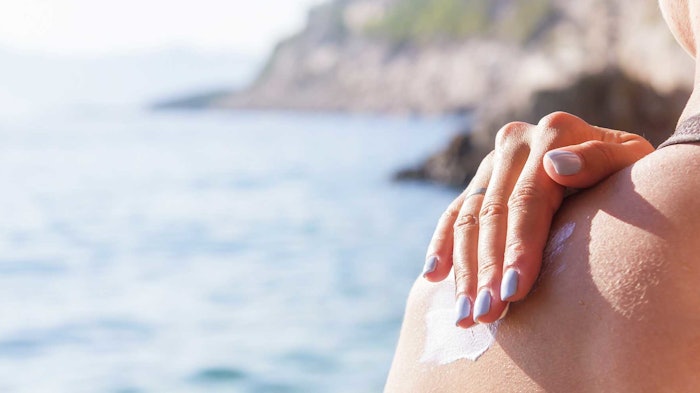 A open access review paper in Dermatology Research from researchers at Iran University of Medical Sciences, Tehran University of Medical Sciences, the University of California at San Francisco and the Mazandaran University of Medical Sciences suggests the potential adverse effects of sunscreen ingredients absorbed into human skin.
See archived: [podcast] Sunscreen Innovation Act Update: MUsT Test and Penetration Potential
The review assessed the absorption, toxicity and concentrations of sunscreen ingredients in urine and plasma. Data from 21 studies with related inclusion criteria were collected. Eighteen studies identified complications such as rash, irritation, immune system disorders, stratum corneum DNA damage and hormonal disruption.
In 2016, the FDA proposed a plasma concern level of 0.5 ng/mL for sunscreen ingredients. In this review, sunscreen ingredients including avobenzone, octocrylene, ecamsule, homosalate, octisalate, enzacamene, octinoxate and oxybenzone were detected at levels higher than 0.5 ng/mL in blood after 1-4 daily applications. In addition, four articles reported urinary concentrations.
>The authors concluded the data provides an impetus for detailed analysis of sunscreen toxicology and that highly adsorbed ingredients should be replaced with less-adsorbed compounds. See the full open access article for details.