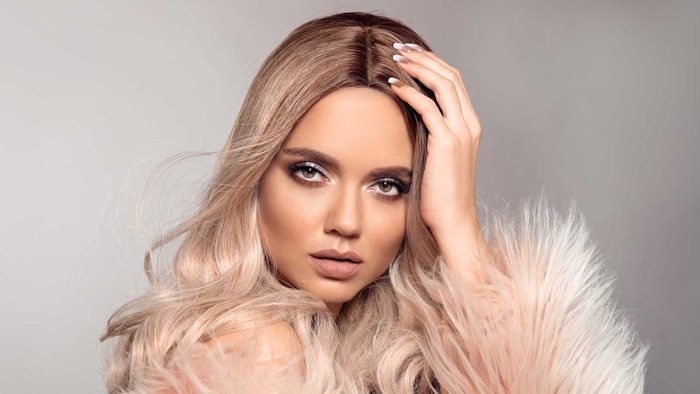 EVENT ALERT: During Beauty Accelerate 2022, Peter Tsolis, of The Estée Lauder Cos., will present an opening keynote, "Tech x Beauty: Accelerating R&D Innovation." Join us on Sept. 28th. Register now! Group rates are available.
A recent patent application from the Estée Lauder Cos. describes a mattifying cosmetic composition, with or without color, that is flexible and resistant to water below 43°C. The composition is said to provide a blurring effect that diminishes the appearance of fine lines in the skin.
See related: Patent Pick; Conopco Soap Bar Enhances Active Delivery, Fragrance Impact
Market Need
As the inventors explain, the look imparted by a high gloss cosmetics is considered glamorous and sensual but high shine products tend to have little staying power on the skin. Flaking and smudging are common problems, as well as discomfort due to a lack flexibility on the skin.
While such issues have been previously addressed, the present work specifies polymer ratios and their utility within the mattifying composition. The resulting invention is said to wear well and is smudge-, flake- and oil-resistant, making it suitable for high shine, long wear cosmetics.
Mattifying Cosmetic Compositions
WIPO Pat Application WO/2022/187169
Publication date: Sept. 9, 2022
Assignee: ELC Management
According to the inventors, to the best of their knowledge, the prior art fails to disclose a composition comprising 8% to 16% of acrylates/VA copolymer; 0.2% to 0.8% of acrylates copolymer; and 1% to 15% of hydrophobic powder such as HDI/trimethylol hexyllactone crosspolymer/silica, as disclosed herein. Nor does it disclose ratios of acrylates/VA copolymer and acrylates copolymer, or their usefulness.
The resulting compositions are hydrophilic before application but dry to a clear hydrophobic film. This film can be easily removed when scrubbed with water above a certain temperature, but not as easily removed with water below that temperature.
Patent application accessed on Sept. 9, 2022.