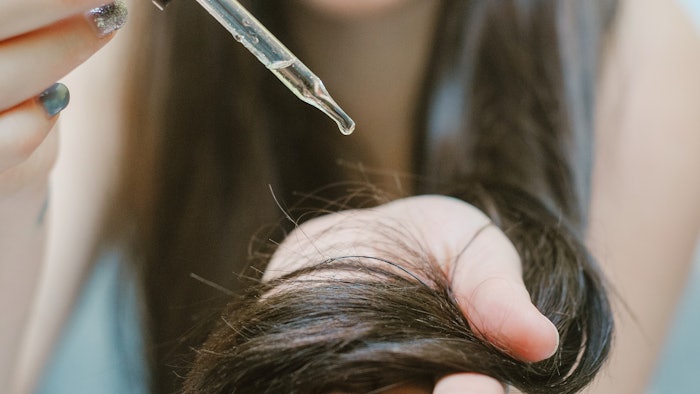 Camellia seed cake is a by-product of Camellia oleifera abel seed after oil extraction. Researchers Jing Wang PhD, Huchi Shen, MSc, Timson Chen, MSc and Ling Ma, MSc, investigated the traditional Chinese custom of washing hair with Camellia seed cake extract to test its hair growth properties. 
The study, published in the Journal of Cosmetic Dermatology (April 2022), examined the effects of de-saponinated Camellia seed cake extracts (DS-CSE) on hair growth using in vitro and in vivo models; they found that DS-CSE had a positive effect on promoting hair growth. 
Related: Effect of Scalp Health on Hair Growth
Researchers performed studies on cell proliferation, cell regulation and K+ channels activation effects of DS-CSE on human dermal papilla cells (DPCs). Relative expression of insulin-like growth factor-1 (IGF-1), vascular endothelial growth factor (VEGF), hepatocyte growth factor (HGF) and transforming growth factor-β (TFG-β1) in DPCs was determined by RT-PCR. 
Relative expresion of ERK and AKT was determined by Western blot analysis. Hair growth-promoting effects were also measured in C57BL/6J mice models.
Related: [Study] Nutraceutical Promotes Hair Growth in Menopausal Women
DS-CSE treatment significantly proliferated DPCs, relating to the increased proportion of DPCs in S and G2/M phases, the activation of potassium channels and the promoted phosphorylation of ERK and AKT in DPCs. 
The treatment also significantly upregulated the mRNA levels of HGF, VEGF and IGF-1, and it downregulated the mRNA level of TGF-β1. The topical application of DS-CSE promoted hair growth on shaven backs of mice and also upregulated the expression of VEGF in mice. These findings demonstrated that DS-CSE promotes hair growth in vitro and in vivo by proliferating DPCs through the ERK and AKT signaling pathways and regulating growth factor expressions.