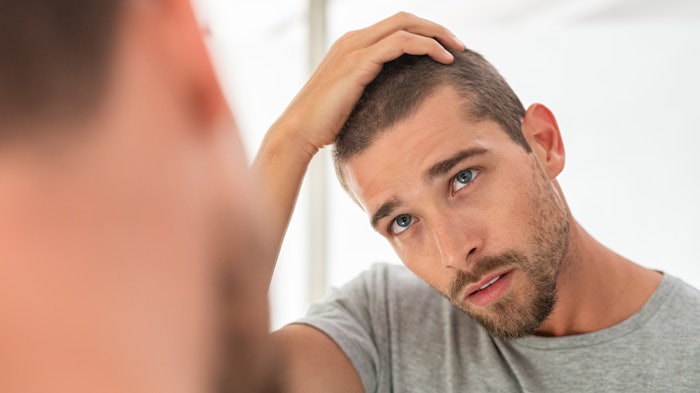 In a recent patent, WO2022003041, L'Oréal discloses an in vitro method for the prognosis and/or diagnosis of alopecia based on common molecular signatures in intercellular tight junctions.
According to the disclosure, the inventors have discovered the expression of genes involved in these tight junctions in cells of the scalp and/or hair follicle, such as keratinocytes and fibroblasts, is decreased in areas of alopecia progression. The genes include: CDH1, ACTB, ACTBL2, TUBB, TUBB2A, GSN, MY03B, MY05B, MY06, DSG2, DSG3, DSG4, DSC2, GJB2, GJA1 , GJB6, GJA3, TJP2, CLDN8, CLDN10, CLDN19 and optionally, CTNNB1 and CTNND2.
See related: P&G Research Shows Reducing Scalp Stress Improves Hair Anchoring
Thus, in suspected areas of alopecia, measurements are taken of the expression levels of at least one of these genes and optionally, from CTNNB1 and/or CTNND2. From this step, an alopecic state is (or is not) identified for hair growth and/or hair loss reduction treatments.
The invention also discloses the use of this approach to identify and evaluate the efficacy of treatments for common alopecia types. See the full disclosure for additional details; patent accessed on Jan. 11, 2022.
See related: Solution that Targets 7 Facets of Follicles Shown to Prevent Hair Loss, Promote Growth