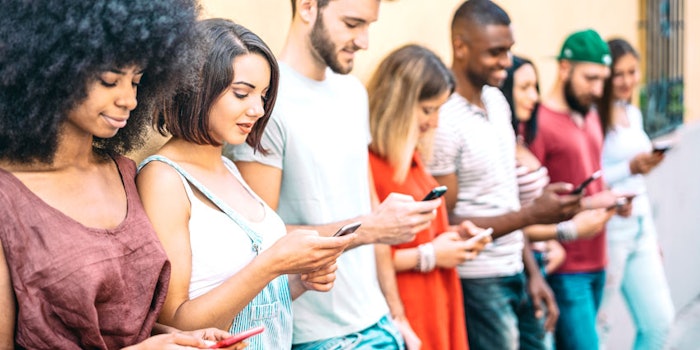 Shiseido revealed findings that digital fatigue not only increases physical and mental fatigue, but also negatively impacts skin; e.g., deteriorating barrier function, causing irregularities in corneocytes and increasing oxidative damage.
As the company reported, the present work focused on the lifestyle of today's youth, i.e., so-called digital natives or Gen Z, who according to Commonsense Media, in the U.S., spend nine hours per day online. Shiseido sought to determine the effects in skin of such digitial fatigue; i.e., "stress and fatigue caused by the simultaneous processing of digital overload information from audiovisual sources."
See related: Shiseido Study Shines Light on Radiant, Youthful Skin Perception
Digital Fatigue Test Setup
Shiseido researchers reproduced a state of digital fatigue through dual tasks that required subjects to simultaneously process a high amount of audiovisual information, and observed changes in skin conditions. The subjects performed digital tasks for a certain period of time, repeated over several days.
The results showed that after the repetitive tasks, not only had physical and mental fatigue increased, but also porphyrin, an oxidative damage factor; as did the proportion of irregular corneocytes. These effects were accompanied by a deterioration in skin barrier function.
Natural Active to Mitigate Effects
The team then searched for ingredients to address these negative effects in skin, particularly to enhance the expression of caspase-14. Shikuwasa extract was identified to do just that, suggesting it could potentially protect skin against digital fatigue.
As the company explained, caspase-14 is an enzyme essential for skin barrier and moisturizing functions. It plays important roles in the maturation of corneocytes, which are responsible for barrier function and water-holding capacity, as well as assist in the production of natural moisturizing factor (NMF). The company will use these findings in its overall pursuit to help consumers achieve healthy and beautiful skin.