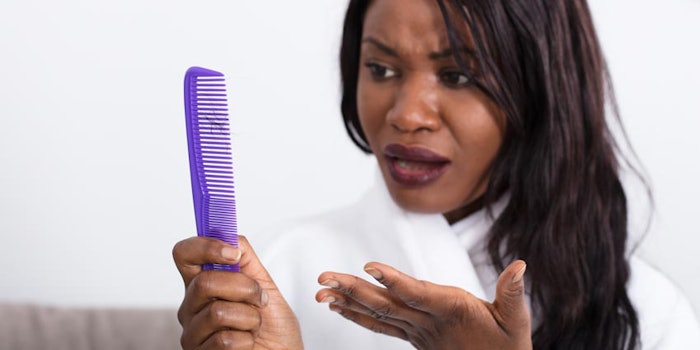 In a Letter to the Editor published on Dec. 10, 2020, in the Journal of the American Academy of Dermatology (JAAD), and in a related AAD report, dermatologists in the New York area reported a 400% surge in the incidence of telogen effluvium (TE) in low-income and predominantly minority communities after the COVID-19 quarantine mandate.
According to these sources, racially diverse Brooklyn and Manhattan area low-income neighborhoods experienced some of the highest illness and death rates in NYC, far outweighing those of affluent white areas. Like many regions, shelter-in-place directives were given in New York in March 2020 and some three to four months later—i.e., the expected onset for TE—an abrupt uptick in cases was observed.
"The surge in cases of hair loss we are treating now is a delayed consequence of the illness and anxiety experienced by these predominantly minority communities during the first wave of COVID-19 in NYC," said board-certified dermatologist Shoshana Marmon, M.D., Ph.D. and co-author on the letter, according to the AAD report. She is also assistant clinical professor for the department of dermatology at New York Medical College, NYC.
See related: Formulating on Trend, Conditioner for Hair Loss
"Although this condition is usually temporary and gradually resolves on its own, hair loss is one of the most commonly reported complaints among 'long-haulers,' or people with persistent symptoms following a COVID-19 infection. So it's important that we follow these patients, in particular, to see if what they are experiencing is in fact temporary hair shedding or something related to ongoing illness or inflammation."
According to the AAD, TE happens when more hairs than usual enter the shedding (telogen) phase of the hair growth lifecycle. Fever, illness, post-pregnancy and extreme stress are among the conditions that can force hairs into this phase.
See related: Skin Rashes and Hair Loss; Biological Connections to COVID-19