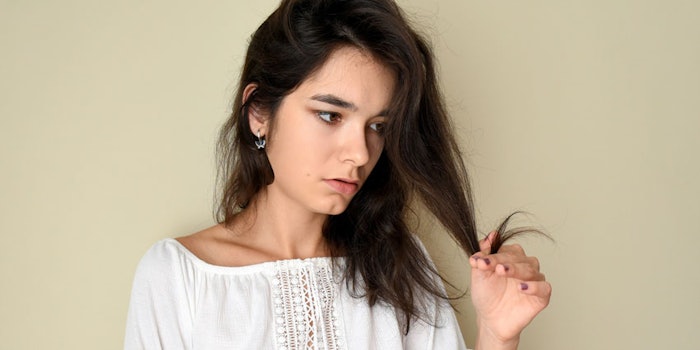 Hair thinning/loss and scalp, curl and color care were among the top trends cited in Allure magazine's article, 'Six Market Trends We're Calling for 2021.' 
The report underlines how consumers have noted an increase in hair fall and loss, whether due to season, stress or COVID-19, and are seeking hair growth products to use at home to combat these effects. In relation, hair nourishing and bond-building treatments are expected to increase according to McKinsey & Company's report, "The State of Fashion 2021."
Allure also highlighted the trend for at-home color care, in response to salon closures due to COVID-19 restrictions, and demand for color and maintenance products that are user-friendly and affordable. Multi-tasking scalp care, which emerged in 2020, is expected to continue into 2021 as well, as consumers take hair loss and maintenance into their own hands with products that ensure a healthy scalp, stimulate hair growth, clarify the scalp and hair of impurities, and fortify hair strands.
Beyond wigs, extensions and hair accessories, which also landed on Allure's trends report, affordable curl care is expected to grow as consumers increasingly opt to wear their curly or kinky hair in its natural state. Brands have responded with curl-care collections designed for the unique needs of curly hair.
All in all, in September 2020, the hair care market was projected to increase at a modest CAGR of 2% from 2019 to 2021, according to the McKinsey report. In relation, the U.S. market for manufacturing hair loss treatments is expected to increase 3.8% in 2021, according to IBISWorld; notably, the same firm saw a CAGR decrease of 2.2% in this category from 2016 to 2021. Taken together, the following brief literature review scans recent work relevant to hair damage repair and growth.
Nanostructured Lipid Carriers Protect Hair Against Heat-, UV-induced Damage
Prasertpol, T., and Tiyaboonchai, W.; Journal of Photochemistry and Photobiology B: Biology; doi: https://doi.org/10.1016/j.jphotobiol.2019.111769
In this work, researchers tested the ability of nanostructured lipid carriers (NLCs) and vitamin E-loaded NLCs to prevent hair damage and discoloration caused by UV radiation and thermal treatment. Results indicated a protective cream containing both NLC types maintained the smoothness of hair in a virgin-like state after exposure to both assaults. Both NLCs also prevented protein and color loss from hair better than a vitamin E cream, the control and a benchmark. Finally, the vitamin-E (antioxidant)-loaded NLCs promoted slightly greater photoprotective effects but not extra benefits for heat protection.
Hair Damage Detection and Sensory Perception by Trained Panelists
Bloch, L.D., Valente, N.Y.S., Escudeiro, C.C., Sarruf, F.D. and Velasco, M.V.R.; Journal of Sensory Studies; https://doi.org/10.1111/joss.12621
The present study aimed to determine how different types of hair and hair damage are perceived by trained panelists. Wavy and tight curly tresses were physically and chemically damaged, and a trained panel performed sensory analysis for attributes such as glow, silkiness, dryness, frizz, etc. Results indicated UV damage most affected the sensory attributes of hair tresses. Furthermore, thermal treatments to align hair fibers were perceived to improve hair when in fact they damaged it. 
See related: Deciphering Frizz Control Hair Care Formulas
Measuring Thermal Damage in Hair
U.S. Patent US20200221996A1; assigned to Henkel; avilable at: https://patents.google.com/patent/US20200221996A1/en
Henkel inventors have patented a method and device to quantitatively measure the degree of thermal damage in hair using comparative analysis. As the disclosure explains, a hair sample is exposed to UV or UV/vis light and its interactions are recorded and compared with a spectroscopic calibration model from a plurality of hair samples whose degree of damage has been pre-assigned based on tryptophan content as determined by chromatographic or colorimetric assessments. Further details are disclosed in the patent.
Approaches to Assess UV-induced Hair Damage
Millington, K.R. and Marsh, J.; Intl J Cos Sci; https://doi.org/10.1111/ics.12601
Researchers from Deakin University and Procter & Gamble studied the effects of a redox metal, copper, antioxidants and metal chelators to reduce UV damage in wet or dry hair using three methods. Electron paramagnetic resonance (EPR) and a terephthalate fluorescent probe effectively assessed free radical production in hair under wet and dry conditions, respectively. Photoyellowing was deemed more complex and heavily dependent on the irradiation source. The authors also noted that while irradiation with UVB may be convenient, it may not be appropriate as it is not truly representative of sunlight. Regarding ingredients, N‐acetylcysteine pre-treatment was found to reduce free radical generation in hair under wet and dry conditions. 
Red Clover Flower Targets Hair Loss and Volume
Cook, B., Namkoong, J., Riggs, M., Holley, K.C., Kern, D. and Knaggs, H.E; Nu Skin Enterprises poster presentation; available at: https://bit.ly/3i8EeYM
In this work, blends containing red clover flower extract and dipotassium glycyrrhizate (DG) were tested in vitro in dermal papilla cells and found to increase the expression of genes involved in hair follicle morphogenesis and regeneration. Three of the blends also increased the expression of the collagen-related COL1 A1 gene. Furthermore, in a clinical study, the twice daily application of serum containing a blend of red clover with DG resulted in improvement in hair volume and thickness in 75-85% of subjects (n = 52) after six months. Broken hair counts via the Brush Friction Count Method also showed reduction in broken hair in 71% of subjects after six months of treatment.
Rumex Japonicus Houttuyn Extract Promotes Hair Growth
Jeong, J.-W., Kang, K.-H. and Cho, S.-W.; Journal of Korean Medicine; https://doi.org/10.13048/jkm.20041
Research published in the Journal of Korean Medicine tested the hair growth-promoting effects of a Rumex japonicus Houttuyn ethanol extracts in an animal model and HaCaT cells. Results indicated it promoted hair growth, hair density, thickness and length via Wnt/β-catenin signaling and induced the expression of cell survival-related proteins after 17 days of topical application. The ingredient also accelerated HaCaT cell proliferation and protected against H2O2-induced cell damage.
Shikimic Acid, Dimethyl Maleate and Others to Restructure Hair
Di Foggia, M., Boga, C., Micheletti, G., Nocentini, B. and Taddei, P.; Macromolecules; https://doi.org/10.1016/j.ijbiomac.2020.11.194
Researchers from the University of Bologna recently studied the potential hair repair mechanisms of α, β-unsaturated Michael acceptors, which have been reported to reconstruct disulfide bridges of keratin in hair. Effects of commercial treatments and two representative acceptors, shikimic acid and dimethyl maleate, were assessed. Vibrational spectroscopy revealed the acceptors modified hair fiber cortex and cuticle regions, although none of the treatments increased S-S disulfide bridges in the cortex. The authors noted this S-S effect could not be excluded in the cuticle, however; also, that the benefits of the restoring agents were observed by SEM in terms of a more regular hair surface and imbricated scales.
See related: Approaches to and Characterization of Hair Growth
Sweet Potato Shochu Oil Restores Hair Growth
Sho, C., Kawano, K., Kurata, R., Yoshimoto, M. and Okuno, H.; Journal of Bioscience and Bioengineering; https://doi.org/10.1016/j.jbiosc.2020.12.004
Finally, in this study, sweet potato shochu oil was explored for its effects on hair growth. Human follicle dermal papilla cells treated with shochu oil showed an up-regulated expression of vascular endothelial growth factor, indicating the activation of the hair growth cycle, according to the authors. In vivo, epidermal treatments with shochu oil also promoted hair growth in C3H mice, notably due to the active constituents ethyl palmitate, ethyl linoleate and ethyl α-linolenate. The authors concluded these results indicate shochu oil could be used in hair restoration.