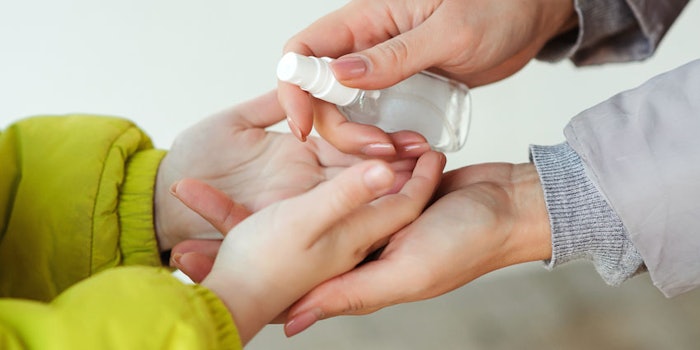 As both Lochhead and Lochhead and ResearchandMarkets report, hand sanitizers are mainly used as an alternative to traditional hand-washing, when soap and water are not available. These products have proven an effective strategy to contain the spread of infectious disease; and amidst today's pandemic, their demand has skyrocketed. 
In fact, according ResearchandMarkets, the global hand sanitizer market will reach US $8.26 billion by 2026. Of course, there are consequences to frequent hand-sanitizing and hand-washing, including skin dryness, cumulative irritation, eczema and dermatitis, among others.
As such, one might anticipate a parallel boom in hand care and treatment products. Taken together, the following brief literature review considers research relevant to hand hygiene and care. 
Hand Hygiene and Care During the COVID-19 Pandemic
Cavanagh, G. and Wambier, C.G.; J Americ Acad Derm; https://doi.org/10.1016/j.jaad.2020.03.090
A Letter to the Editor published in early April 2020 discussed the effects of frequent hand-washing with soap and water by health care workers to protect against the COVID-19 virus. This behavior was underlined for its potential to complicate skin damage, causing eczema and creating points of entry for the virus. As such, these authors emphasize the need for basic skin care measures, including not only the use of gloves and alcoholic hand sanitizers, but also hypoallergenic moisturizers—along with education intervention for health care workers.
Skin Hydration vs. Susceptibility to Alcohol-based Hand Rubs
Plum, F., Yuksel, Y.T., Agner, T. and Norreslet, L.B.; Contact Dermatitis; https://doi.org/10.1111/cod.13587
The present work explores how overly hydrated skin may have an increased susceptibility to alcohol-based hand rubs, which in turn can cause hand eczema. To assess whether hydration changes the skin barrier's response to alcohol-based hand rubs, 20 healthy volunteers participated for three days in tests involving skin immersion or occlusion, followed by repeated exposure to sanitizers. Significant increases in TEWL were noted for both treatments whereas no change in TEWL was observed in the controls.
Moisturizing Snow Mushroom Hand Sanitizer
Lourith, N., Pungprom, S. and Kanlayavattanakul, M.; Journal of Cosmetic Dermatology; https://doi.org/10.1111/jocd.13543
This study examined the formulation and efficacy of hand sanitizer gel bases containing 66.5% ethanol and 0.3% triclosan with an extract of snow mushroom polysaccharide. Results indicated the mushroom gel significantly (p < 0.05) moisturized the skin better than the placebo. The sanitizers also demonstrated antiseptic properties similar those of the placebo (p = 0.90).
Pollen Retention on Human Hands After Washing
Hunt, C. and Morawska, Z.; Review of Palaeobotany and Palynology; https://doi.org/10.1016/j.revpalbo.2020.104278
According to these authors, little attention has been given to skin as a possible medium for carrying forensically important pollen loads and whether they might survive hand-washing. Here, the retention of pollens from 10 flowering plant species on the human skin were tested through repeated cycles of washing and drying hands using the WHO protocol. Results indicated between 0.36% and 2.74% (mean 0.93%) of the initial pollen load was retained through a single hand-wash. The authors noted these observations may also be of relevance in cases where human skin is contaminated with other particulates.
See related: [podcast] Pollen, a 'Particulate' Concern for Skin
Liverwort-derived Silver Nanoparticles for Alcohol-free Hand Sanitizers
Fibriana, F., Malia, A.V., Muntamah, S., Ulva, L. and Aryanti, S.; Journal of Microbiology, Biotechnology and Food Sciences; available at: https://www.jmbfs.org/wp-content/uploads/2020/05/jmbfs_1906_Fibriana.pdf
This research investigated the antimicrobial activity of silver nanoparticles biosynthesized  from common liverwort (Marchantia sp.) and their potential for hand sanitizer formulations. The nanoparticles were tested for their ability to inhibit the growth of Escherichia coli and Staphylococcus aureus. Results showed promising antimicrobial activity for potential application in non-alcoholic hand sanitizers.