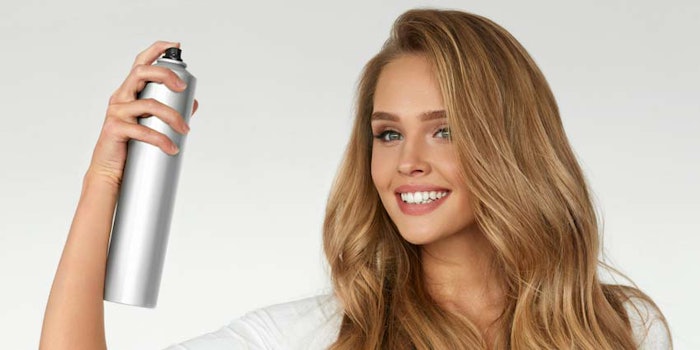 According to Henkel inventors, conventional hair volume powders are associated with a detrimental haptic feel on the hands and leave a dull feeling on the hair. In response, novel ingredient blends were explored to improve on these drawbacks. 
Surfactant-free but solvent-containing dry shampoos that are sprayed onto hair fibers are already known in the art. Here, the starch particles contained in the dry shampoo absorb sebum and dirt after the evaporation of the solvent and are then brushed away after a given exposure time. There also are hair volumizing powders typically constituting solid powders that can be removed from a container by a bulk process.
The Market Need
The handling of conventional hair powders is disadvantageous, however, since dust is produced during removal. Furthermore, as noted, powders are not easy to apply to longer hair and have an unappealing feel. For these reasons, the authors sought to develop a volumizing spray hair powder with improved aesthetics.
The Literature
Sprayable volume powder for creating a soft hair feel
U.S. Pat Application 20200170900
Publication date: June 4, 2020
Assignee: Henkel AG & Co. KGaA
Disclosed in this patent application is a cosmetic agent for the treatment of hair that constitutes a powder containing hydrophobically modified silicon dioxide and particles comprising a silicone elastomer. Furthermore, the present disclosure relates to a spray applicator and the use of said cosmetic agent.
According to the inventors, it has surprisingly been discovered that the use of the two constituents—the hydrophobically modified silicon dioxide as the first component, and the composite material including the silicone elastomer and silicon dioxide as a second component—has the advantage of more easily texturing particularly long hair. Furthermore, the two components provide good volume to the hair, and the hair and hands feel good during incorporation.
The blend is reportedly applied best by spraying to improve applicability. Lastly, the typical rough feel on hair tips does not appear for longer hair.
Patent application accessed on June 19, 2020.