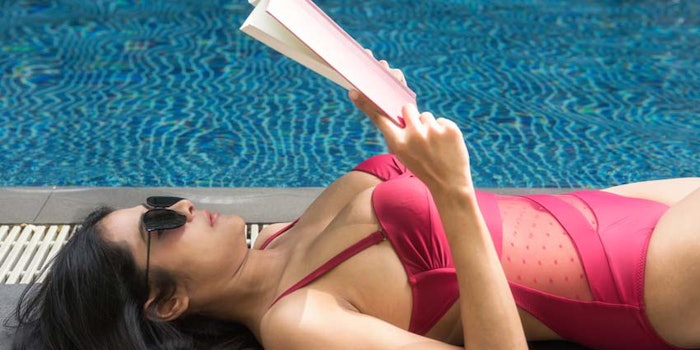 Natural sources for SPF protection headline this brief literature review, which covers five studies relevant to sun care.
From EGCG and jamblang fruit SPF, to a UV-repair wheat supplement, near-infrared protection, and safety concerns over DHA in self-tanners, recent sun care research ensures once we venture out from our coronavirus quarantines, we are protected from solar insults, among others.
Epigallocatechin Gallate (EGCG) Sun Protection
E. Anwar and S. Rizkamiarty; Universitas Indonesia; Int J Applied Pharmaceutics; doi: https://doi.org/10.22159/ijap.2020.v12s1.FF029
This work sought to develop a lotion using EGCG to provide safe, stable and effective SPF protection. The test formula utilized EGCG at 0.4%, which reportedly can yield an SPF value of ~30. Physical stability at low (4 ± 2°C), ambient (25 ± 2°C), and high (40 ± 2°C) temperatures was assessed; cycling and centrifugation tests also were conducted.
Results showed no crystallization or phase separation occurred. Additional safety tests resulted in neither skin nor eye irritation. Finally, SPF values were determined using UV-visible spectrophotometry between 290 nm and 320 nm and indicated both 0.04% EGCG alone and in a lotion foundation produced SPFs of 31.02 ± 0.72 and 33.20± 0.59, respectively.
Jamblang Fruit (Syzgium Cumini) Sunscreen
L.W. Ariani, M.R.R. Rahardhian and E. Prasetyaningrum; STIFAR Yayasan Pharmasi, Indonesia; Indian J Pharm and Bio Res; doi: http://ijpbr.in/index.php/IJPBR/article/view/740
These authors sought to develop a stable sunscreen gel based on jamblang fruit, which is reported to exhibit high antioxidant activity and contains flavonoid compounds, phenolics, polyphenols, tannins, anthocyanins and saponins. They created four gels in 60%, 70%, 80% and 90% jamblang fruit concentrations, and evaluated their physical characteristics including SPF values and stability. The SPF values increased with increasing concentration, ranging from 5.46 to 34.73; regarding stability, no significant differences (p > 0.05) in viscosity, adhesion or dispersion were observed with increasing concentrations.
Wheat Extract Supplement Reduces Photoaging
B. Davis, D.J. Son, J.C. Jung, Y.M. Choi, H.Y. Ryu and S. Lee; Current Developments in Nutrition; doi: https://doi.org/10.1093/cdn/nzaa045_020
According to this article abstract, the efficacy of wheat extract oil to protect against UVB-induced skin barrier damage was assessed in an animal model. Oral doses of 30 mg, 60 mg and 120 mg of the oil were administered for 12 weeks, after which UVB irradiation was induced. Changes in procollagen, hyaluronic acid and MMP-1 levels also were assessed. 
UVB-induced TEWL was significantly decreased by the wheat extract supplement, and UVB-induced losses in moisture and skin elasticity were improved. The oil attenuated procollagen type I, HA and reductions in ceramide as well. Collagen concentrations in the skin were increased in the wheat extract-treated mice while UVB-induced epidermal thickening also was reduced.
Near-infrared Skin Protectant
S.J. Kim, J.B. Lee, ...N.R. Han, et al.; Cosmax Inc.; U.S. Pat Application US 2020/0146952
Disclosed in this patent application is a composition including organic-inor­ganic particles that block near-infrared rays. The composition may also be used in combination with other UV filters to protect against a wider range of wavelengths. The particles have a hollow structure, which improves the light-scattering effect and subsequent infrared protection due to the difference in refractive index between the empty space and the shell of the particles. According to one embodiment, a ratio of a radius to the thickness of each of the organic-inorganic composite particles is 2:1 to 4:1. Patent application accessed on June 10, 2020.
DHA Safety in Self-tanners
J. Perer, J. Jandova, J. Fimbres, E.Q. Jennings, J.J. Galligan, A. Hua and G.T. Wondrak; University of Arizona, Tucson; Redox Biology 
Novel research from the University of Arizona, pending publication in Redox Biology, examines the sunless tanning agent dihydroxyacetone (DHA) and its effects to induce a stress response in the skin. According to the article abstract, this work sought to examine the effects of acute DHA-exposure on cultured human keratinocytes and epidermal reconstructs, as profiled by gene expression array analysis and immunodetection. The formation of advanced glycation end products (AGEs) was confirmed, and skin cells selectively deprived of a stress response gene displayed hypersensitivity to DHA cytotoxicity. Given the global use of chemical tanners, the authors propose the further exploration of DHA-induced cutaneous stress response in living skin.