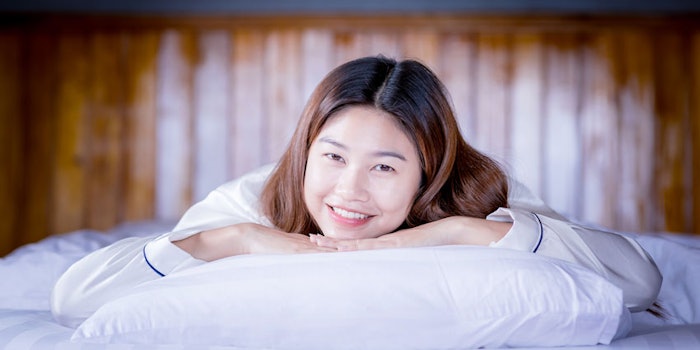 The skin is exposed to surrounding room conditions during sleep on average from 7 to 8 hr. As such, a study published in Skin Research & Technology by researchers from AmorePacific and the Chung-Ang University College of Medicine, in Seoul, explored how relative humidity (RH) and temperature during sleep affect skin condition.
As described in the article abstract, 11 healthy women in their 20s and 30s were enrolled in the study. They slept more than 7 hr at a RH lower than 30% on the first day, and a RH higher than 70% on the second day. The room temperature was controlled at 22 ± 5°C.
Three measurements were taken: before sleep (after washing), after 7 hr of sleep (morning), and after washing again. Metrics included skin hydration, sebum secretion and trans‐epidermal water loss (TEWL).
After 7 hr of sleep at 30% RH, skin hydration decreased by 24.23%; no significant change was noted after sleeping in 70% RH. Sebum levels increased after sleeping in 30% RH. TEWL did not show differences according to humidity during sleep but significantly increased after facial cleansing under the 30% RH sleeping condition.
The authors concluded RH can affect changes in skin condition during sleep; most notably, increasing sebum production to compensate for skin dryness. This suggests an approach to skin care related to controlling environmental conditions.