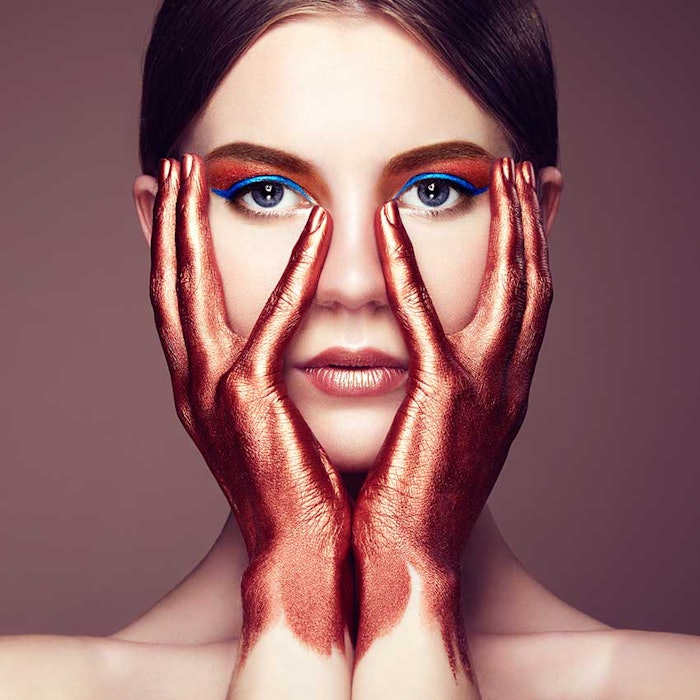 According to the inventors on a new patent application, fine powders such as aluminum are widely used to impart a decorative metallic effect on skin. More recently, trendy metallic pigments in various color tones also have been developed. These are typically created by forming a resin film on the surface of a metallic pigment.
For example, one colored metallic pigment described previously is prepared by adding a monomer, a metallic pigment and a coloring pigment to an organic solvent in which a monomer having a double bond is soluble. However, as the present inventors explain, such pigments do not demonstrate high gloss or color saturation.
Techniques to solve these challenges have been presented but a new approach to optimize strong adhesion offers both high gloss and color saturation in colored metallic pigments.
Highly saturated, glossy metallic pigment
U.S. Pat App 20180186945
Publication date: July 5, 2018
Assignee: Toyo Aluminium Kabushiki Kaisha
Disclosed in this patent is a colored metallic pigment comprising: a metallic pigment, a coloring pigment and two additional compounds. The coloring pigment adheres to the surface of the metallic pigment in the presence of said compounds; the first of which has two or more carboxyl groups, and the second having one or more amino groups. The production process further includes forming a protective layer on a surface of the colored metallic pigment
The first compound, a polymerized carboxylic acid, is obtained, for example, by polymerizing linseed oil fatty acid or soybean oil fatty acid with or without acrylic acid. The second compound is selected from: ethylenediamine, phenylenediamine, tetramethylenediamine, pentamethylenediamine, hexamethylenediamine, 1,12-dodecanediamine, alicyclic diamine, alicyclic triamine, alicyclic tetraamine and alicyclic polyamine.
The resulting cosmetic has a hiding power reportedly superior to cosmetics containing pearl pigments and can exert a bright hue even if the cosmetic contains water. Potential applications include lipstick, foundation, blusher, eye shadow, nail enamel and mascara, hair cosmetics such as hair gel, hair wax, hair treatment, shampoo and hair manicure, and basic cosmetics such as lotion, foundation cream and sun block.
Patent application accessed on July 21, 2018.