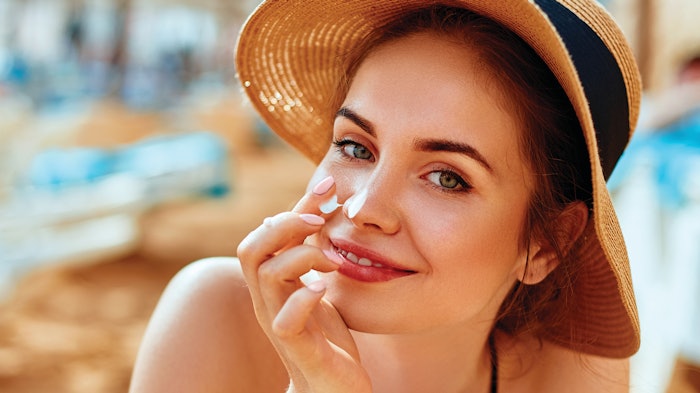 Read the full version in the October issue of C&T Magazine   
Developing a good sunscreen is a challenge for even the most experienced of formulators. Indeed, the proper balance between aspects of pleasantness, stability, safety and efficacy is required in any type of cosmetic but in a sunscreen, these elements are delicately interconnected. Recent claims related to sustainability and environmental impact have also come into play, further adding to the complexity of sunscreens. The formulator is therefore given the arduous task of making the marriage of all these elements work.
Starting with the basics, a sunscreen must protect the skin against UV radiation. While in the past, the focus was primarily on shielding against UVB radiation, today the aim is to achieve broad-spectrum protection, ensuring the right ratio between UVA and UVB following recommendation 2006/647/EC.1 More and more products also claim to protect the skin against infrared (IR) radiation and blue light.2 Water, abrasion, sweat resistance, suitability for babies or sensitive skin, and use on wet skin are additional recent efficacy requirements for modern sunscreen products.
While ensuring all these features, the product's application to the skin must not be forgotten. This is an essential aspect for any cosmetic but holds greater significance in sunscreens.3 One reason is that sensory characteristics promote consumer compliance so the correct amount of product is applied in the correct way to meet the indications of COLIPA Recommendation No. 23-2009 (2 mg/cm2—equal to six teaspoons of lotion for the body of one average adult person). This ensures the product is as effective as was determined during independent testing.4
To provide the required protection, the combination of UV filters used in sunscreens must be properly dissolved and dispersed in the vehicle, and this condition must be maintained throughout the entirety of the product's shelf life. Moreover, the product applied to the skin should form an even, equalized film and its skin absorption should be minimized.5
UV filters are chosen based on their foreseen performance in terms of SPF value. In some cases, certain filters as avoided as they are banned in given regions due to concerns over bioaccumulation and the potential impact on coral reefs and the marine ecosystem. In addition, in recent years, many filters have been (or still are) under review for human safety by institutions including the Scientific Committee on Consumer Safety (SCCS), in Europe. This organization publishes opinions on ingredients that in some cases, heavily limit the maximum percentage permitted.
As if all these challenges were not enough, creating products with novel textures, or formulas that embrace recent trends for silicone-free, waterless/low water and natural ingredients can complicate matters. It's no wonder why sunscreens challenge even the most experienced formulators. Following are sunscreen formulation considerations in light of regulatory reforms, followed by texture and trend implications...
Read more in the October 2022 Edition of C&T Magazine
References
European Commission (2006, Sept 22). Commission Recommendation of 22 September 2006 on the efficacy of sunscreen products and the claims made relating thereto. Off J Eur Union 265 39-43.
Dupont, E., Gomez, J. and Bilodeau, D. (2013) Beyond UV radiation: A skin under challenge. Int J Cosmet Sci 35 224-232.
Tanner, P.R. (2006). Sunscreen product formulation. Dermatol Clin 24 53-62.
COLIPA Recommendation No. 23 (2009, Feb). Cosmetics Europe: No. 23 important usage and labeling instructions for sun protection products. Available at https://zdravlje.gov.hr/UserDocsImages/2018%20Sanitarna/CR-23-Sunscreens_Labelling.pdf
Suozzi, K., Turban, J. and Girardi, M. (2020). Cutaneous photoprotection: A review of the current status and evolving strategies. Yale J Biol Med 93 55-67.