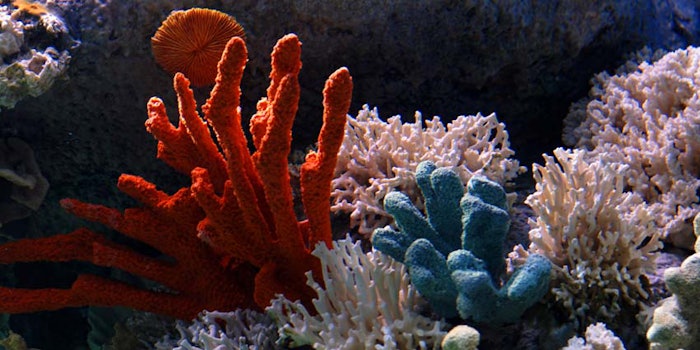 Methylene blue was previously highlighted as a promising alternative 'reef safe' sunscreen.
As a re-cap, a study published in Nature Scientific Reports in May this year (2021) found that methylene blue was a more effective UVB absorber than oxybenzone at the same concentration, and it significantly outperformed oxybenzone in the prevention of UVB-induced DNA damage and the clearance of UVA-induced cellular ROS. In addition, it did not affect the growth of the coral species Xenia umbellata.
See archived: Sunscreen Dynamics and the 'Reef Safe' Dance
This raised debate among Cosmetics & Toiletries readers in terms of the material's safety and real-life application. Following are some points raised by readers. Email us to add to the debate.
Regulatory Approval?
One reader wrote the following:
"Methylene blue is in Annex II to Regulation 1223/2009 EU, n° 1306: 3,7-bis(dimethylammino) phenothiazin-5-io and its salts, CAS 61-73-4. It's [been] prohibited as hair colorant since 2006, following Cosmetics Directive 76/768/EEC, the precursor of Regulation 1223/2009.
"Searching in CosIng [the European Commission's database on cosmetic substances and ingredients] for CAS 61-73-4, you will find two entries: Basic Blue 9 Phenothiazin-5-ium, 3,7-bis(dimethylamino)- and its salts, when used as a substance in hair dye products. Although CosIng is not a list of allowable substances, the product story is old enough to ensure that data are updated. …
"Before 2006, methylene blue was a key component of many anti-yellow shampoo[s] for white hair, acting as an optic brightener—as a substitute of the more efficient Crystal Violet, [which] was ideal since violet is the complement to yellow to get pure white but it was banned in the early 1990s since there was no assurance about the real composition of the colorant, always a mixture of molecules (from tetra to hexamethyl).
"I've found no SCCS Opinion about methylene blue but [the] ECHA reports it as prohibited for cosmetic use (Annex II to Regulation 1223/2009). [There is also] no notice about ... re-evaluation (ECHA or SCCS)."
Blue Skin?
A second reader asked whether the material would require encapsulation to avoid turning the user's skin blue, "like a Smurf." The author responded privately to the reader, who added the following to his comment.
"I'm still skeptical of the claim. The molar extinction coefficient for FD&C Blue No. 1 (Brilliant Blue FCF) is 130,000 cm-1/mol at 630 nm [per Thermoscientific]. That for methylene blue is 74,028 cm-1/M at 664 nm [per OMLC].
"Admittedly, that's only half as high, but that's still very high (higher than those for Red 3, Red 40, Yellow 5 and Yellow 6). So it is intense in coloring power. However, let the evaluating formulator decide."
Later, he added, "My basic thought was that methylene blue (aka CI 52015 and Basic Blue 9) is a stain used to determine cell mortality. If methylene blue (water soluble) is applied to a cellular matrix, healthy cells (like those used in the study cited in the C&T article—primary human keratinocytes and skin fibroblasts) will turn this stain from blue to colorless.
"But since the stratus corneum consists of dead cells [yes, I'm ignoring its microbiome, perhaps to the detriment of my argument], at a high enough level, methylene blue will turn the skin blue [unless it's combined with a suitable reducing agent … but if it's reduced, it isn't methylene blue any more, is it?"
Cosmetics & Toiletries aims to explore these issues in an upcoming article with the author in early 2022. Stay tuned. 
Send us your thoughts on this issue or comment on this debate on our social media pages.