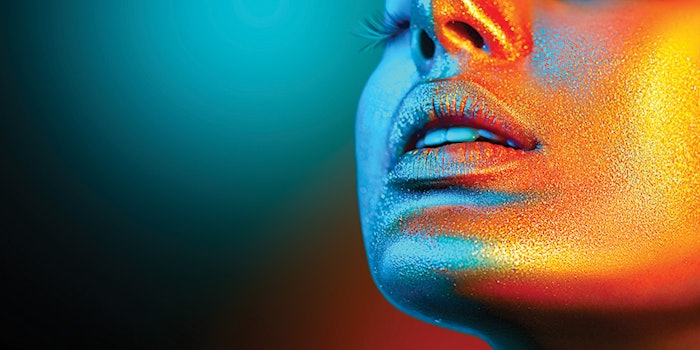 For the complete article, click through to the January 2020 digital magazine.
The lips and eyes serve as visual foci for the face and youthfulness. The upper lip is especially important to the visual definition of attractiveness.1 As such, consumers interested in a healthy and younger appearance have increased market interest in both lip products, such as fillers and other treatments, and lip aging.
To formulate products for this particular body site, it is helpful to understand its biology since the structure varies from other facial skin. In fact, lips are more susceptible to earlier signs of aging than facial skin. For example, the lip area succumbs more readily to environmental assaults. Pollution, smoking, and UVA/UVB, blue light and infrared exposure all easily target the lips with free radical damage, accelerating the aging process.
This article reviews the anatomy of the lip area and considers how this changes with age. In addition, it describes topical ingredients to improve hydration, fullness, barrier function, etc.
Macroscopic Lip Aging
Visible signs of aging of the lips and perioral area are primarily due to atrophy.2 This results in a combination of sagging and deflation. In both men and women, upper lip measurements tend to lengthen while thickness and volume decline. These changes in lip geometry result in thinning and volume loss.3
Bony changes of the underlying maxilla and dentition are also important to the changing appearance of lips with age.4 Bone density loss related to osteoporosis may cause a loss in lip contour and underlying support; in relation, dental health maintenance is important to lip shape.
The described structural changes are most successfully approached by using lip fillers and augmentation procedures. Here, successful lip rejuvenation should synergistically address both lengthening and volume loss.5
Microscopic Lip Aging
Smaller, progressive cellular changes also account for visual lip aging including dryness, cracking, the formation of lines within lips, "barcode lines" (previously termed smoker's lines), blurring of the vermillion border, loss of volume, decreased rosiness/redness and decreased definition of the lip bow.
Until the age of 40, drying and chapping related to dehydration are the most visible lip problems. These issues continue into later years of life but after 40, increasing changes in shape and color6 join dryness and chapping as visible signs of lip aging.
Lip Anatomy and Age Defenses (or Lack Thereof)
Lip skin is poorly protected against transepidermal water loss (TEWL). In fact, TEWL is approximately three times greater on the lips than on the cheeks, and this remains relatively constant on both skin sites from the ages of 21 to 80.7
Continue reading in the January 2020 digital magazine...