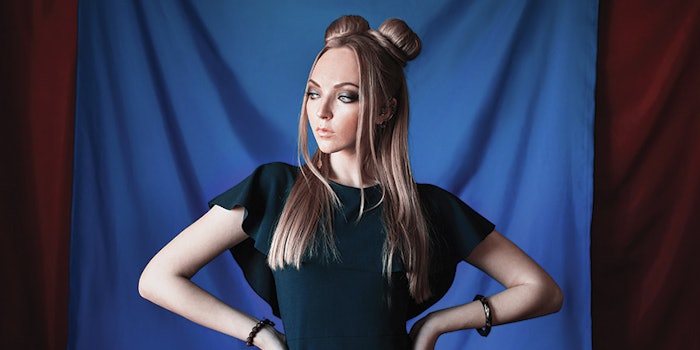 Is there anything modern skin care cannot do? It moisturizes, protects, smoothes, lifts, normalizes texture and tone, soothes, balances microbes, boosts wellness and health, appeals to emotion—and now, it can predict the future and see the invisible. Essentially, it knows skin's needs before users do. Where does it get these superpowers? The answer is biology.
Take the formation of cyclobutane pyrimidine dimers (CPDs), for example. A few years ago, Yale researchers identified that this form of DNA damage1 occurs in melanocytes not only during UV exposure, but in the dark after UV exposure has ceased. This damage, in turn, can cause skin cancer; much less photoaging. In relation, cosmetic ingredient technologies have emerged to preemptively combat this would-be damage. Recent examples include 3-(4-hydroxy, 3-methoxybenzyl)-pentane-2,4-dione (INCI: Acetyl Zingerone),2 and a chrysanthemum/ascorbic acid-2-glucoside blend.3
Other work is implementing early detection methods to reveal as-yet invisible signs of aging and photodamage in skin. Kao Corp., for one, is exploring biophoton emissions from the human body. These were found to increase after UV exposure and to correlate with skin dehydration and increased roughness parameters ... offering future targets for product concepts.4
Ultra-personalized skin care based on skin-typing devices is another recent approach to biology-based skin care; although as Do, et al.,5 noted last month, there's one aspect missing from this equation: adverse event prediction.
Stepping into the New Year, we thought we'd hit the ground running. As such, this issue takes a deep dive into skin aging and health, covering: biofilms and the microbiome; anti-aging lip care; vitamin C stability; sunscreen efficacy vs. risk; clinical evidence in support of skin regimens; safer antiperspirants; and telomere protection for anti-aging. It's everything you need to uncover your own formulating superpowers.
References
https://news.yale.edu/2015/02/19/sunlight-continues-damage-skin-dark
www.cosmeticsandtoiletries.com/research/universitydata/Acetyl-Zingerone-Prevents-Dark-CPD-Formation-in-Skin-566051761.html
www.cosmeticsandtoiletries.com/research/chemistry/Chrysanthemum-Blend-Inhibits-UVA-Damage-Post-Exposure-565990071.html
www.cosmeticsandtoiletries.com/research/biology/Kao-Links-Biophoton-Emissions-with-UV-Exposure--and-Skin-Dryness-and-Roughness-565001072.html
www.cosmeticsandtoiletries.com/research/techtransfer/Personalized-Cosmetics-Has-the-Time-Come-564868932.html