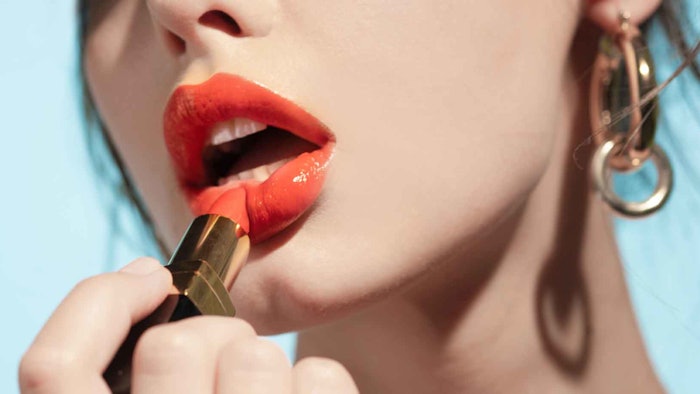 It has been two decades since Revlon revolutionized the color cosmetic market by debuting transfer-resistant lipstick.1, 2 Prior to this, traditional lipstick was a combination of waxes, high viscosity oils and pigments that transferred to other surfaces such as fingers, glassware, silverware or clothing. In fact, a 1996 survey by Shiseido revealed that 87% of American women admitted to leaving traces of lipstick in unwanted places.3 Such color transference created a two-fold problem: it soiled the contacted surfaces and it removed makeup from the lips, leaving an undesirable blotchy appearance. Moreover, lipstick color could be removed by the oil or water in ingested liquids as they touched the lips, and it could be worn off by talking, smiling or yawning.4
The mass-market breakthrough came when Revlon introduced its Ultima II Lipsexxxy Lipcolor, later consolidated under the ColorStay brand. Almost simultaneously, L'Oréal introduced Colour Endure, and long wear/transfer resistance quickly became the standard for prestige brands such as Lancôme, Guerlain and Shiseido.5 After some debate and litigation with a competitor, Revlon emphasized the term transfer resistant in its marketing rather than transfer proof, since the latter suggests the lipstick would be impossible to remove.
Innovations in transfer resistance and long wear makeup have continued apace, and it certainly appears that advances in this field will continue for the foreseeable future. In fact, transfer-resistant lipsticks reached an elite scientific status in 2001, when they were mentioned by Nobel Laureate Pierre-Gilles De Gennes in a Nature article. Here, he expressed the challenge of lipsticks is that they must be soft when deposited but should not be transferred during a kiss.6 He also announced the invention of an efficient non-transferring lipstick incorporating a block copolymer, which upon contact with saliva, would transform to a robust gel.
Early Days: Two-part Kits
In the early 1990s, overcoats containing film-forming polymers were applied on top of lipstick to confer gloss, lubricity and transfer resistance. For example, acrylate film-formers were incorporated into volatile alcohol vehicles for lipstick overcoats such as CSI Inc.'s Sealed with a Kiss. Then, transfer-resistance from a single lipstick application was desired. In this respect, Procter & Gamble developed transfer-resistant lipstick compositions containing volatile silicones and hydrocarbons such as isododecane. These compositions also overcame the problem of wax-based lipsticks breaking during manufacture.7
Based on waxes and diisostearate dimyristate, the compositions incorporated triisocetyl citrate or diisopropyl dimer dilinoleate as gloss-enhancing oils. These oils replaced the castor oil more commonly found in traditional lipsticks. After applying a composition containing a film-forming polymer with a solubility parameter (see Solubility Parameter) of less than 8.5 calories/cm3, an overcoat was applied with an oil that had a C log P value > 13. The C log P value is an index of the partition of oils between water and octanol and as such, it is a measure of the hydrophobicity of a compound. The specified C log P in the Procter & Gamble patents is characteristic of a hydrophobic substance, as exemplified by polyol fatty acid polyesters and long chain triglycerides.8
Modern Transfer-resistance: Silicones and Volatile Oils
In the mid to late 90s, complex silicones including dilauroyl trimethylolpropane siloxy silicate or diisostearoyl trimethylolpropane siloxy silicate enabled transfer-resistant properties in Revlon's lipsticks.9 These were introduced to the formulations as mixtures with volatile oils. The volatile oils aided in spreading the compositions on skin (see Volatile Oils). Upon contact, they evaporated, and the transfer resistant properties and durable wear of the formulas were then realized. It should be noted that in conjunction, packaging was designed to prevent the evaporation of the volatile oil from the product during storage and between uses. With this in mind, educating the consumer to snap the cap shut after use was required to prevent the product from drying into a hard glob that would not "pay out."
Revlon demonstrated the transfer resistance of its Ultima II formulation using a "Kiss Test." Panelists were instructed to apply the lipstick, wait five minutes to allow the volatile oil to evaporate, and then kiss the back of their hand. A resulting 87% of panelists reported the lipstick left "hardly a trace" of color on their hand. Since then, the Kiss Test has become a standard to evaluate the propensity of a lipstick to transfer.
In 1993, Duane Kryzsik disclosed that pressure-sensitive silicone adhesives improved adherence, and he exemplified this in mascara formulations that resisted wash-off.10 These pressure-sensitive adhesives included a trimethylsilyl end-blocked resin, a silanol terminated dimethicone and a phenyltrimethicone. In relation, trimethylated silica in lipstick was later found to confer transfer-resistant properties to film deposited on the lips.11, 12
Trimethylated silica was initially prepared by dispersing fine-grained silica in a solvent mixture of low-viscosity silicone oil in a volatile hydrocarbon. When the volatile hydrocarbon was distilled away, a smooth and transparent paste or grease was obtained.13 This inspired Revlon scientists to explore the possibility of using such volatile/involatile mixtures in makeup products. The volatile silicones enabled product spreading onto the skin or lips and once dried, the trimethylated silica conferred transfer resistance.14-16
This technology was extended to mascaras, concealers, foundations, eye shadows and sunscreens by incorporating film-forming polyamide or acrylate copolymers.17 Shiseido, Procter & Gamble and Revlon researchers18, 19 all have pursued the use of silicone resins to attain transfer-resistant properties. Such compounds are made up of units generally described as M, D, T and Q monomer units. The identity of M, D, T and Q units are given in Table 1.
Also in the late 90s, Toshiba Silicone inventors showed that organopolysilsesquioxanes of the MQ type conferred good water-repellency and long wear in cosmetic compositions.20 However, the resins were soluble in the same phase as cosmetic pigments, and oil in that phase caused swelling and discontinuity of the silicone films of such resins on the skin. As a consequence, the pigment became detached and the color ran. Shiseido researchers, however, improved the water-repellency and conferred oil-resistance to the cosmetics by replacing the oils with volatile silicones and volatile oils.21 Shiseido also developed a liquid lip makeup that was non-transferable to surfaces such as drinking glasses. This composition contained 40% MQ resin, 20% volatile hydrocarbon oil, 20% powder, 10% glyceryl tri-isostearate and 10% red dye.22
A few years later, Procter & Gamble researchers disclosed a transfer-resistant lipstick comprising MQ resin, dimethicone gum, isododecane or cyclomethicone as the volatile carrier, and pigments for color.23-27 This is interesting for two reasons: one, the formulation limits were defined graphically, with respect to silicone fluid viscosity, polymer/pigment and organosilicone resin/silicone fluid concentrations (see Figure 1), which is reproduced from U.S. Patent 6,071,503; and second, the compositions were tested for transfer resistance by dry blot and rub, and oil blot and rub by applying the compositions to collagen sausage casings and spectroscopically measuring the transfer (or lack thereof) when the collagen was contacted with a foama plate.
Although durability and transfer-resistance are desired in a lipstick, it should be easily removed when desired. Accordingly, Procter & Gamble inventors promoted their transfer-resistant lipsticks as easily removed by applying petrolatum or a dimethicone-based cosmetic remover. Thereafter, specific removers were developed for the removal of transfer-resistant cosmetics. One such remover comprised cross-linked silicone elastomers and a solvent suitable for application to skin.28 In this case, the cross-linked siloxanes were dimethicone/vinyl dimethicone crosspolymers with particles sizes 10–200 µ. Particle sizes below 10 µ reduced the skin feel and viscosity; above 200 µ, silicon elastomer particles formed gel balls on the skin. The preferred liquid carriers were those having solubility parameters of less than ~ 9.29, 30 Later, L'Oréal researchers came up with a removal composition based on nylon-611/dimethicone copolymer, and dimethicone or phenylmethicone.31
Shine, Matte or Luster?
The model of MQ resin plus oil was essentially a "film-former plus plasticizer" combination. Since MQ resin essentially is a tackifier, formulators were forced to compromise between high tack with good skin adhesion, and low tack with poor adhesion. Moreover, the original transfer-resistant lipsticks bestowed a dry feel and matte finish to the lips—although at that time, marketing studies revealed that three out of five women preferred glossy lipstick because it conveyed youthfulness and good health.32
Shine can be conferred in a lipstick by adding high-viscosity, non-volatile oils, but the incorporation of high amounts of such oils compromises properties such as stick structure, feel on the lips (i.e., a tacky feel) and especially transfer resistance. Revlon researchers found a way around this challenge when they discovered that shiny lipsticks could be achieved by adding "silicone plus"b polymers, poly(isobutyl methacrylate)-co-methyl FOSEA)-g-poly(dimethylsiloxane), or polydimethylsiloxane-g-poly(isobutyl methacrylate) to transfer-resistant stick formulations.33
More recently, L'Oréal disclosed that the liquid polyester dilinoleic acid/butanediol copolymer effectively structures the oil phase. The amount of copolymer needed to do so is much lower than with conventional lipophilic gellants, and consequently, the gelled structure is less tacky. Moreover, compositions with phenyldimethicone give high gloss, and the silicone resins confer improved durability of color with little or no migration on keratin surfaces.34-36
However, although shiny lipsticks provide an intense, youthful look, they apparently are not as desired by older women. Therefore, following the achievement of shiny transfer-resistant products, a luster finish was sought to provide enough shine and "dewy" look to convey the appearance of good health without being obviously shiny. Fillers have been known to impart mattifying properties, but their use gives a tacky discomfort to makeup products.37 The desired degree of shine was thus achieved by incorporating fluoro-guerbet esters such as fluoro octyldecyl meadowfoamate in siloxysilicate formulations.38,  39 Alternatively, a suitable degree of shine can be achieved by including silicone emulsifiers such as cetyl dimethicone copolyol (and) polyglyceryl 4-isostearate (and) hexyl laurate, or cetyl dimethicone copolyol (and) polyglyceryl-3 oleate (and) hexyl laurate; as well as other specified polymersc.40-42
In addition, glossy transfer-resistant lipsticks with improved stick integrity are produced by incorporating methacrylate copolymers having the appropriate glass transition temperatures.43, 44 The glass transition temperature indicates the ability of polymer molecules to move relative to one other; polymer molecules move by rotating around the covalent bonds of the chain backbone and side groups in a motion that resembles the rotation of a crankshaft. At temperatures below the glass transition temperature (Tg), there is insufficient energy for the units on adjacent chains to "wriggle" past each other, and the units are trapped in local space. Above the Tg, the macromolecular chains have enough energy to wriggle past each other and exhibit long-range motion over a reasonable period of time. Thus, below the Tg, polymeric materials behave like glass and above the Tg, they behave like rubber.
Transfer-resistant lipsticks with reduced permeability to oil and water also were sought so that consumers could eat, drink and even blot away perspiration or exuded sebum without losing their made-up appearance. This was achieved by incorporating perfluoropolyether liquids in lipstick to act as a barrier against its dissolution from the lips.45,  46 The unique properties of polyfluorocarbons arise from the strength of their C-F bonds, which at 485 Kilojoules/mole (Kj/m), are much stronger than C-H (413 Kj/m) or C-C bonds (348 Kj/m). When all the hydrogen atoms of a hydrocarbon chain are replaced by fluorine atoms, the molecule is effectively covered in an impermeable sheath that resists acids, alkalies, enzymes, oils, solvents and aqueous solutions—hot or cold.47 Polyperfluoromethylisopropyl ether also has a very low surface tension, which enables it to spread quickly and evenly over surfaces. Additional advantages include the material being non-greasy and not easily flushed from the skin by perspiration. It also does not impregnate silicones or other polymers, and it cannot wet an adsorbed layer of itself—rather, it forms a thin coating, often a monolayer, over other materials to render them non-wettable by most common liquids.48
Interestingly, transfer-resistant technologies came full circle, as a patent by The Estée Lauder Companies reveals, returning to two-part compositions including a base coat comprising MQ resin, and an overcoat of oil delivered from a volatile solvent such as iso-dodecane.49 The first part delivered a long-wearing, transfer-resistant film layer, while the second layer contributed shine/gloss and feel benefits without dissolving or otherwise compromising the first layer. Subsequently, these parts were recombined into one stick by Procter & Gamble, in which the second part was incorporated into the first as an incompatible, dispersed phase in the absence of emulsifier.50 This dispersed phase was stably incorporated during processing and storage, and released by the application of shear on the skin.
Specifically, the dispersed phase had a critical surface tension that was lower than that of the layer on the skin, and this allowed the dispersed phase to spontaneously spread on top of the color layer and thereby confer desirable feel attributes and gloss.51-53 This was achieved by formulating a lipophilic adhesive film-forming phase within a structured lipophilic phase to retain the dispersed phase. This system is exemplified by the long wearing lip gloss shown in Formula 1. Alternatively, the adhesive film-forming agent could be dispersed in a thickened aqueous phase within the structured lipophilic phase. The polymeric adhesives function to prevent migration of the colorant layer into fine lines and wrinkles.
More recently, it has been recognized that the surface energy of skin is variable, and this variability increases with age. Therefore, to attain a consistent distribution of color over the skin, the concept of responsive particles with both hydrophobic and hydrophilic surfaces has been introduced. For example, a patent from Procter & Gamble describes how an inorganic particle can be selectively coated with hydrophilic cationic polyethylenimine and hydrophobic aminopropyl terminated polydimethylsiloxane in such a way that the polymers are placed at mutually exclusive locations on the particle surface.54 Thus, variations in surface energy cause the particles to adhere to the variable skin surface.
Transfer-resistant Durability and Comfort
Although they provided a matte finish, polymers that afforded long wear and transfer-resistant properties, such as silicone resins, polyacrylates and lattices, were not pliable or soft, making them uncomfortable to wear. They often were difficult to spread, tacky during application, and gave a taut, mask-like feel. Moreover, the films they created could be brittle and as a result, flaked off during wear. Therefore, after shine was optimized, the next goal was to make transfer-resistant makeup more comfortable to the user.
In response, researchers sought new ways to structure transfer-resistant compositions. First, they included polypropylene silsesquioxane waxes in formulations based on silsesquioxanes and siloxysilicate resins. However, stable color cosmetics could only be made when the alkyl substitution on the silsesquioxane wax exceeded 30 carbons; C30-45 alkyldimethylsilyl polypropylenesilsesquioxane was preferred in this instance.55 Highly branched liquid polyesters and hyperbranched polyols also were incorporated to confer durable transfer resistance and shine. The branched polyesters were formed from the reaction of pentaerythritol with benzoic, isophthalic and isostearic acids. These branched structures generated a network film by interweaving the polymer chains.56
The quest continued with L'Oréal's development of cosmetic formulations using block copolymers,57 then combinations of block copolymers, tackifiers and modified silicones.58-64 Triblock copolymers comprising hard, glassy polystyrene end-segments and soft, rubbery poly(ethylene/butylene) middle segments were preferred. These were the principal structure-formers in the formula, and they enabled the formation of transparent, translucent or opaque gels. The block copolymers also enhanced the integrity of the film formed on the skin, and held the tackifing MQ resin within its soft micro-domains. The hard segment could be dissolved by nonvolatile esters such as isopropyl myristate or isopropylpalmitate. The soft segments could be dissolved by volatile solvents such as isododecane, and/or dissolved by nonvolatile solvents such as hydrogenated polydecene.
The next stage was to replace non-volatile oil with a thermoplastic elastomer compatible with MQ resin or other solid tackifier resins. Tackifiers generally fall into four different chemical classes: hydrocarbon resins, terpenes, amorphous rosins and rosin esters, and pure monomer resins. Here, the tackifiers function as pressure-sensitive adhesives. In this type of product, it is necessary to ensure the tackifiers are compatible with the block copolymer at the micro-level—not a trivial task, since the compatibilization of macromolecules is disfavored by their low entropy of mixing.
The compatibilities were found using Hansen's three component solubility parameter, and the preferred tackifier in this case was a hydrogenated styrene/methystyrene/indene copolymer. Modified silicones such as polyether/alkyl co-modified silicones were added to improve texture and comfort. Rheology measurements were then conducted to specify the properties of the lip gloss compositions as a function of storage and loss moduli of the composition. It was discovered that the mixture of the solid resin with the solid polymeric material resulted in a softer material with good adhesion and less tack on the skin.65
The use of block copolymers provided a pathway toward other higher-order structures promising transfer-resistant, comfortable makeup. In the realm of poly(styrene/ethylene/butylene) block copolymers, a microdomain-segregated order structure arose from basic incompatibilities in the two blocks, the lack of sufficient entropy of mixing, and the impossibility of complete segregation due to the two incompatible blocks being covalently attached to one another within the same molecule. Other ways arose at the forefront of polymer science during this time for building useful supramolecular structures by tailoring intermolecular forces like hydrogen bonding, dipole-dipole interaction, or the attraction of oppositely charges ionic moieties.66
Industrial coatings often are made durable by forming covalent cross-links within a cured film. However, reactive covalent cross-linking in situ is not a viable proposition for skin cosmetics. Alternatively, physical cross-linking presented the potential for films with durability and transfer resistance while at the same time, making their removal easy. Hydrogen bonds are appropriate for forming such physical networks. It has been shown that tough materials can be made by hydrogen-bonded driven self-assembly (see Figure 2).67
Moreover, the hydrogen bonds can be ruptured by the application of heat or hydrogen bond-breaking ingredients and then recombined, giving the material self-healing properties. In order to create durable, comfortable and ultimately removable skin cosmetics, L'Oréal innovators built upon these ideas of self-assembled hydrogen-bonded networks. First, polymers were included that can self-assemble into hydrogen-bonded networks as the film dries on the keratin surface. Examples of such polymers include α-ω di(4-benzyloxy-6-butyl-2-butylueidopyrimidinyl) poly(dimethylsiloxane)68 (see Figure 3), and polyesters with bis-hydroxyls and ureidopyrimidone groups, such as the sebacate/terephthalate copolymer of neopentylglycol (see Figure 4). Self-assembling networks also were built by including a copolymer formed from an ionizable amine monomer with a (thio)urethane/(thio)urea monomer, as shown in Figure 5.69
Other approaches involved incorporating self-assembled films into hydrogen-bonded networks laid down from emulsions containing maleinized polypropylene or polyethylene, and a hyperbranched polyol70 and/or a sugar silicone surfactant.71-73 Or, silicone-amide copolymers were combined with a volatile alcohol, oil and a thickener. For example, L'Oréal used nylon-611/dimethicone copolymer, which forms a pliable film as a result of hydrogen-bonding between the flexible silicone macromolecules. The resulting composition was structured by "thickening" with block copolymers to produce a base coat that is comfortable for long-term wear.74, 75 Emulsions also were formed by combining a polar-modified polymer and an alkoxysilane produced bouncy gels that impart good adhesion, long wear and transfer-resistant properties to cosmetics.76,  77
The use of controlled extensive hydrogen-bonding to form structured films is further exemplified by L'Oréal compositions including supramolecular polymers with a hyperbranched functional polymer, a light silicone fluid, and a copolymer containing a silicone resin segment and a fluid silicone segment.78, 79 Such a supramolecular polymer was prepared by reacting hydroxyl terminated poly-1,2- butadiene with a ureidopyrimidine to obtain a polymer having the structure shown in Figure 6. The hydroxyl-terminated precursor is made by anionic living polymerization. The selection of polymerization solvent for this process controls the 1,2 versus 1,4 addition of the butadiene, yielding polymers having a narrow molecular weight distribution. The resulting properties of the polymer are based on the abilities of its end groups to form multiple hydrogen bonds between neighboring hyperbranched polymers, thereby building up the supramolecular structure. Such structures are found in shape-memory copolymers.
The hyperbranched functional polymer, which confers detackifying properties, is a C30+ olefin/undecylenic acid metallocene copolymer; here, polymerization using a metallocene catalyst allows the precise control of the polymer structure. An additional light silicone, phenyltrimethicone or trimethyl pentaphenyl trisiloxane, confers gloss and slip to the formulation, and transfer-resistant properties are provided by the silicone copolymer, which is prepared by reacting an MQ resin with a bis-hydroxydimethicone. The tackiness of the resulting film was evaluated by measuring its adhesion using a texture analyzer. Panel testing confirmed that, with the addition of the silicone copolymer and light silicone fluid, the compositions gave improved high, long-lasting shine and durable wear, reducing the amount removed during eating, in comparison with Revlon's Colorstay Ultimate liquid lip color.
Summary
Thanks to efforts of "putting on a happy face" during World War II, the movie industry, and pioneering efforts of innovators such as Helena Rubenstein and Elizabeth Arden, lipstick became popular and entered the mainstream of society. In 1959, Connie Francis sang "Lipstick on Your Collar"—a problem addressed by the cosmetic industry in the 1990s, and in just a couple decades, lipstick has become transfer-resistant, durable, lustrous and comfortable to wear.
Where will lip color go next? Some enabling technologies are in their infancy. Silicone chemistry has as broad a diversity as organic chemistry but much of it remains unexplored. Recently invented controlled free-radical polymerization will facilitate the tailored synthesis of an unprecedented expanse of precisely structured block copolymers. Supramolecular self-assembly is already flourishing and the volume of new supramolecular materials will be limited only by imagination and desire. Moreover, the biology, biochemistry, morphology and physiology of skin is being investigated like never before. The next decade of makeup holds the promise of unparalleled innovation.
References
RY Lochhead, Trends in polymers for personal care, Polymer Preprints of the American Chemical Society 49(2) 675 (2008)
www.referenceforbusiness.com/history2/10/Revlon-Inc.html#ixzz3HBYTVvXH (Accessed Dec 5, 2014)
R Johnson, What's that stuff, Chem & Engr News 77(28) 31 (Jul 12, 1999)
US Pat 5,911,974, Cosmetic compositions, R Hernando et al, assigned to Revlon Consumer Products Corp (Jun 15, 1999)
V Herman, Hopes for truly long-lasting lipstick must no longer simply be kissed off; Fashion: Cosmetics companies say they have discovered the secrets to colors that stay on at least a full workday, Dallas Morning News (July 11, 1996)
P-G De Gennes, Ultradivided matter, 385, Transfer-resistant lip compositions, Nature 412 (2001)
US Pat 5,984,394, Transfer-resistant lip compositions, DW Walling, SM Wujek, F Levine and DJ Coleman-Nally, assigned to Procter & Gamble (Sep 7, 1999)
US Pat 6,555,097, Cosmetic product systems comprising a transfer resistant, flexible film-forming cosmetic product and an oil-containing composition, TE Rabe, LE Drechsler, ED Smith III, T Dohmae and CM Hines, assigned to Procter & Gamble (Apr 23, 2003)
US Pat 5,505,937, Cosmetic compositions with improved transfer resistance, A Castrogiovanni et al, assigned to Revlon Consumer Products Corp (Apr 1996)
US Pat 5,330,747, Cosmetics with enhanced durability, D Kryzsik, assigned to Dow Corning Corp (Jul 19, 1994)
US Pat 5,800,816, Cosmetic compositions, H Brieva, JG Russ and IM Sandewicz, assigned to Revlon Consumer Products Corp (Sep 1, 1998)
US Pat 5,911,974, H Brieva, JG Russ and IM Sandewicz, assigned to Revlon Consumer Products Corp (Jun 15, 1999)
US Pat 4,983,388, Process of preparing silicone composition, and cosmetic and lustering materials containing silicone composition obtained, S Kuwata, T Goi, T Shimizu and T Ogihara, assigned to Shin-Etsu Chemical Co Ltd (Jan 8, 1991)
US Pat 6,274,152, Cosmetic compositions, H Brieva, JG Russ and IM Sandewicz, assigned to Revlon Consumer Products Corp. (Aug 14, 2001)
US Pat 6,464,964, Cosmetic compositions, H Brieva, JG Russ and IM Sandewicz, assigned to Revlon Consumer Products Corp. (Oct 15, 2002)
US Pat 6,562,322, Cosmetic compositions, H Brieva, JG Russ and IM Sandewicz, assigned to Revlon Consumer Products Corp. (May 13, 2003)
US Pat 6,780,422, Cosmetic compositions, H Brieva, JG Russ and IM Sandewicz, assigned to Revlon Consumer Products Corp (Aug 24, 2004)
US Pat 6,620,417, Color cosmetic compositions containing organic oil and silicone mixture, J Matividad and AM Ureneck, assigned to Revlon Consumer Products Corp (Sep 16, 2003)
US Patent 6,908,621, Color cosmetic compositions containing organic oil and silicone mixture, J Matividad and AM Ureneck, assigned to Revlon Consumer Products Corp (Jun 21, 2005)
US Pat 5,676,938, Cosmetic composition, H Kimura, Y Horei and Y Sato, assigned to Toshiba Silicone Co (Oct 14, 1997)
US Pat 5,948,393, Make-up cosmetic composition, S Tomomasa, H Takada and Y Soyama, assigned to Shiseido (Sep 7, 1999)
Japanese Patent Application 61-158913, Shiseido (Jul 18, 1986)
US Pat 6,071,503, Transfer resistant cosmetic compositions, LE Drechsler, T Rabe, TE Smith and E Dewey, assigned to Procter & Gamble (Jun 6, 2000)
US Pat 6,074,654, LE Drechsler, T Rabe, TE Smith and E Dewey, assigned to Procter & Gamble (Jun 13, 2000)
US Pat 6,139,823, LE Drechsler, T Rabe, TE Smith and E Dewey, assigned to Procter & Gamble (Oct 31, 2000)
US Pat 6,340,466, LE Drechsler, T Rabe, TE Smith and E Dewey, assigned to Procter & Gamble (Jan 22, 2001)
US Pat 6,406,683, LE Drechsler, T Rabe, TE Smith and E Dewey, assigned to Procter & Gamble (Jun 18, 2002)
US Pat 7,404,966, Transfer-resistant makeup removing compositions, ML Vatter, assigned to Procter & Gamble (Jul 29, 2008)
CD Vaughan, Solubility effects in product. Package, penetration and preservation, Cosm & Toil (103) 47-69 (Oct 1988)
CD Vaughan, Using solubility parameters in cosmetics formulation, J Soc Cos Chem (36) 319-333 (Sep/Oct 1988)
US Pat 8,241,617, Methods for removing make-up compositions from keratin materials, M Chen, V Chou and P McDermott, assigned to L'Oréal (Aug 14, 2012)
US Pat 6,033,650, Glossy transfer resistant cosmetic compositions, JF Calello, AA Patil, SJ Barone and AM Krog, assigned to Revlon Consumer Products Corp (Mar 7, 2000)
US Pat 5,849,275, JF Calello, AA Patil, SJ Barone and AM Krog, Glossy transfer resistant cosmetic compositions, assigned to Revlon Consumer Products Corp (Dec 15, 1998)
US Pat 8,357,354, Composition containing a tackifying resin and a combination of particular oils, P Ilekti and S Guillard, assigned to L'Oréal (Jan 22, 2013)
US Pat 8,367,083, Cosmetic makeup and/or care method using a siloxane resin and a phenyl silicone oil, C Barba and R Cavazzuti, assigned to L'Oréal (Feb 5, 2013)
US Pat 8,734,765, Compositions based on polyester in an oily phase and uses thereof, C Barba and A Ricard, assigned to L'Oréal (May 27, 2014)
US Pat 8,747,828, Cosmetic method using a composition containing siloxane resins and specific non-ionic surfactant, F Dop, assigned to L'Oréal (Jun 10, 2014)
US Patent 5,836,223, Transfer resistant high lustre cosmetic stick compositions, SJ Barone, AM Krog, N Jose and RJ Ordino, assigned to Revlon Consumer Products Corp (Nov 17, 1998)
US Pat 6,036,947, Transfer resistant high lustre cosmetic stick compositions, SJ Barone, AM Krog, N Jose and RJ Ordino, assigned to Revlon Consumer Products Corp (Mar 14, 2000)
US Pat 5,945,092, Transfer resistant cosmetic stick compositions with semi-matte finish, AM Krog, SJ Barone, N Jose and GA McLaughlin, assigned to Revlon Consumer Products Corp (Aug 31, 1999)
US Pat 5,849,275, AM Krog, SJ Barone, N Jose and GA McLaughlin, assigned to Revlon Consumer Products Corp (Dec 15, 1998)
US Pat 6,045,782, Transfer resistant cosmetic stick compositions with semi-matte finish, AM Krog, SJ Barone, N Jose and GA McLaughlin, assigned to Revlon Consumer Products Corp (Apr 4, 2000)
US Pat 6,066,313, Cosmetic compositions, WL Anton et al, assigned to Revlon Consumer Products Corp (May 23, 2000)
US Pat 6,153,206, Cosmetic compositions, WL Anton et al, assigned to Revlon Consumer Products Corp (Nov 28, 2000)
US Pat 5,985,298, Cosmetic compositions, HR Brieva, JG Russ and IM Sandevicz, assigned to Revlon Consumer Products Corp (Nov 16, 1999)
US Pat 7,005,134, Cosmetic compositions, HR Brieva, JG Russ and IM Sandevicz, assigned to Revlon Consumer Products Corp (Feb 28, 2006)
New Scientist 48-50 (Apr 22, 1989)
HI Kim, CM Mate, KA Hannibal and SS Perry, How disjoining pressure drives the de-wetting of a polymer film on a silicone surface, Phys Rev Letters 82(17) 3496 (1999)
US Pat 7,261,877, Transfer resistant cosmetic, D Luo, H Brieva, M Susak, T Wang, W Mu, S Nazar and WA Lee, assigned to E-L Management Corp (Aug 28, 2007)
US Pat 8,318,187, Long-wearing cosmetic compositions with improved shine, MC Sabino, MA Glen and TE Rabe, assigned to Procter & Gamble (Nov 20, 2012)
HW Fox and WA Zisman, J Colloid Sci 5 514 (1950)
HW Fox and WA Zisman, J Colloid Sci 7 109 (1952)
HW Fox and WA Zisman, J Colloid Sci 7 428 (1952)
US Pat 8,865,144, Personal care compositions comprising responsive particles, IC Constantinides et al, assigned to Procter & Gamble (Oct 21, 2014)
US Pat 8,586,013, Comfortable long-wearing transfer-resistant colored cosmetic compositions having a non-tacky feel, K Bradshaw and H Bui, assigned to L'Oréal (Nov 19, 2013)
US Pat 8,658,142, Cosmetic compositions having long lasting shine, Y Kawaratani and HS Bui, assigned to L'Oréal (Feb 25, 2014)
US Pat 8,252,270, Composition for making-up the skin comprising at least one resin, at least one block copolymer and at least one solid fatty substance, free from volatile oil, V Jacques, V Schwartz and X Blin, assigned to L'Oréal (Aug 28, 2012)
US Pat 8,557,230, Cosmetic compositions containing block copolymers, tackifiers and shine enhancing agents, HS Bui, S Lu, F Pradier, R Mercado and X Blin, assigned to L'Oréal (Oct 15, 2013)
US Pat 8,658,141, Cosmetic composition containing a block copolymer, a tackifier, a silsesquioxane wax and/or resin, HS Bui, AM Rohmeyer and P McDermott, assigned to L'Oréal (Feb 25, 2014)
US Pat 8,673,282, Cosmetic compositions containing block copolymers, tackifiers and a selective solvent for hard blocks, HS Bui, S Lu, F Pradier and R Mercado, assigned to L'Oréal (Mar 18, 2014)
US Pat 8,673,283, Cosmetic compositions containing block copolymers, tackifiers and a selective solvent for hard blocks, HS Bui, S Lu, F Pradier and R Mercado, assigned to L'Oréal (Mar 18, 2014)
US Pat 8,673,284, Cosmetic compositions containing block copolymers, tackifiers and a selective solvent for hard blocks, HS Bui, S Lu, F Pradier and R Mercado, assigned to L'Oréal (Mar 18, 2014)
US Pat 8,758,739, Cosmetic compositions containing block copolymers, tackifiers and modified silicones, HS Bui, S Lu, F Pradier, R Mercado, X Blin and P Arnaud, assigned to L'Oréal (Jun 24, 2014)
US Pat 8,778,323, Cosmetic compositions containing block copolymers, tackifiers and modified silicones, HS Bui, S Lu, F Pradier, R Mercado, X Blin and P Arnaud, assigned to L'Oréal (Jul 15, 2014)
www.scconline.org/wp-content/uploads/2014/10/lu.pdf (Accessed Dec 5, 2014)
J-M Lehn, Toward complex matter: Supramolecular chemistry and self-organization, Proc Natl Acad Sci USA 99(8) 4763 (Apr 16, 2002)
J Roosma, T Mes, P Leclere, RA Anja, MEW Palmans, Supramolecular materials from benzene-1,3,5,-tricarboxamide-based nanorods, J Amer Chem Soc 130(4) 1120 (2008)
US Pat 8,354,097, Cosmetic composition forming after application a supramolecular polymer, N Mougin, A Livoreil and J Mondet, assigned to L'Oréal (Jan 15, 2013)
US Pat 8,591,923, Cosmetic compositon comprising a (thio)urethane/(thio)urea copolymer capable of forming at least three hydrogen bonds, and a method of cosmetic treatment, N Mougin, X Schultze and S Chodorowski-Kimmes, assigned to L'Oréal (Nov 26, 2013)
US Pat 8,647,611, Composition comprising a polyol and a reaction product, HS Bui, M Kanji, C Li, AC Tong, S Halpern and B Bavouzet, assigned to L'Oréal (Feb 11, 2014)
US Pat 8,551,459, Composition comprising a polyol, and a oil-soluble polar modified polymer, HS Bui, M Kanji, C Li, AC Tong and S Halpern, assigned to L'Oréal (Oct 8, 2013)
US Pat 8,652,451, Composition comprising a polyol, a sugar silicone surfactant and an oil-soluble polar modified polymer, HS Bui, M Kanji, C Li, AC Tong, S Halpern and B Bavouzet, assigned to L'Oréal (Feb 18, 2014)
US Pat 8,663,609, Composition comprising a polyol, a sugar silicone surfactant and an oil-soluble polar modified polymer, HS Bui, M Kanji, C Li, AC Tong, S Halpern and B Bavouzet, assigned to L'Oréal (Mar 4, 2014)
US Pat 8,697,039, Compositions containing silicone polymer, wax and volatile solvent, HS Bui, SX Lu, WH Yu and F Pradier, assigned to L'Oréal (Apr 15, 2014)
US Pat 8,728,500, Composition containing a polyorganosiloxane polymer, a thickening agent and at least one volatile alcohol, P McDermott, M Chen, Y Kawaratani, P Ilekti, F Levy and X Blin, assigned to L'Oréal (May 20, 2014)
US Pat 8,747,868, Reaction product of a polar modified polymer and an alkoxysilane and a composition containing the reaction product, HS Bui, AC Tong and MP Rossi, assigned to L'Oréal (Jun 10, 2014)
US Pat 8,846,062, Reaction product of a polar modified polymer and an alkoxysilane and a composition containing the reaction product, HS Bui, AC Tong and MP Rossi, assigned to L'Oréal (Sep 30, 2014)
US Pat 8,709,388, Cosmetic compositions based on a supramolecular polymer, a hyperbranched functional polymer, a light silicone fluid and a copolymer of a silicone resin and a fluid silicone, AC Tong and HS Bui, assigned to L'Oréal (Apr 29, 2014)
US Pat 8,846,015, Cosmetic compositions based on a supramolecular polymer, a hyperbranched functional polymer, a light silicone fluid and a copolymer of a silicone resin and a fluid silicone, AC Tong and HS Bui, assigned to L'Oréal (Sep 30, 2014)