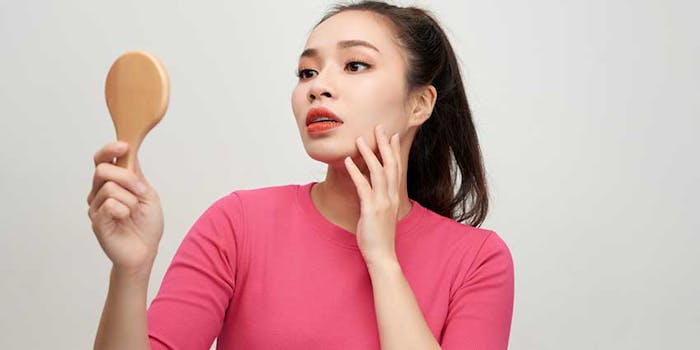 A number of consumers can be classified as having difficult-to-treat skin types, being both dry and oily and prone to periodical inflammation in specific areas. New active ingredients derived from nature provide gentle yet efficacious solutions to address these needs. These skin types and solutions are addressed herein.
Skin Type Studies
The conundrum of skin types was addressed in an earlier article,1 and research regarding the classification of different skin types has not advanced significantly since. However, one recent study shows that combination and oily skin types have (along with clinically higher shine intensity and oiliness) a greater tendency to pigment than other types. In addition, combination and oily skin types often are objectively measured to have lower barrier function—i.e., higher transepidermal water loss (TEWL)—and increased skin surface roughness.2
Another study in healthy Caucasian women confirmed that women having a dry skin type also have a considerably thicker stratum corneum and tendency toward lower barrier function, compared with women having a normal skin type.3 Further research is required to provide the rationale for specific skin care routines to address different skin types, and these studies should pair clinical assessments of skin types with objective, non-invasive quantifications of skin properties using biophysical and imaging techniques.
Seasonal Skin Sensitivity
Sensitive skin is a subjective, self-diagnosed condition. When using standard skin care, individuals having sensitive skin experience abnormal, intense and frequent adverse sensory reactions, compared with the "normal" population. Reports of itching, burning, stinging and a tight or "sore" feeling are frequent, usually with no signs of visible irritation. Recent evidence points to biophysical skin changes linked to exaggerated sensitivity and specific mechanisms of discomfort. For example, higher sensitivity can be due to a thinner stratum corneum with a reduced corneocyte surface area causing increased penetration, or receptor alterations and changes in neuronal transmission.4, 5
In practice, this author's clients having difficult–to-treat skin types complain of sensitivity, particularly during winter and with seasonal changes. Their concerns appear to stem from aberrations in skin barrier function that are aggravated by travel, diet, stress and changes in their health status. The worsening of sensitive skin appears in winter and when travelling to dry and cold climates because skin barrier function changes with the humidity of the environment. Skin with long-term exposure to a dry, hot environment has a stronger skin barrier; the same has been found true over summer months. Under dry conditions, epidermal keratinocytes experience high osmolality and, due to increased TEWL, a subsequent drying of the skin.6
Gentle, Nature-derived Solutions
In this author's view, gentle skin care products work best for difficult-to-treat skin types. Gentle cleansing for all skin types has been explored by the industry for some time now. Recent innovations in cleansers include an award-winning hybrid oil and water-based transparent gel,7 as well as hydrophobically modified polymer (HMP)-surfactant complexes designed for cleansing sensitive skin types.8, 9
Nature-derived active ingredients that ameliorate skin sensitivity represent another strategy; some of which made news at the 2014 in-cosmetics in Hamburg. For example, Sederma introduced a plant-derived ingredienta that limits the stimulation of nerve endings associated with unpleasant sensations. The active also restores barrier function and improves skin hydration. A clinical study reported the reduction of itching and stinging in 80% and 86% of participants, respectively. Decreased facial redness, increased skin hydration and increased comfort also were observed.10
Rahn launched an Ecocert- and COSMOS-listed, Natrue-certified soothing and anti-inflammatory mixtureb. Designed to protect and replenish damaged skin barrier, the active also reduces allergic reactions, prevents skin sensitivity and helps to alleviate atopic dermatitis.11 Also, in 2012, Lipotec came out with a hexapeptide-based technologyc that claims to reduce neurogenic inflammation by inhibiting Proteinase-Activated Receptor 2 (PAR-2)-induced pro-inflammatory mediators. Upon its application, itching and discomfort were reduced. Further, hydration increased and surface characteristics (i.e., scaling, smoothness and softness) also were improved in dry and sensitive skin.12
Conclusions
The number of people who report skin sensitivity is rising steadily; a majority of women in industrialized countries now self-assess their skin type as sensitive. These consumers are strongly motivated to search for solutions that alleviate their discomfort. Therefore, innovative and gentle skin care technologies have a promising future in skin care. More research is needed to clarify the physiological basis of sensitive skin, as some dermatologists still consider sensitivity a "Princess and the Pea" phenomenon.
References
All websites were accessed on June 10, 2014.