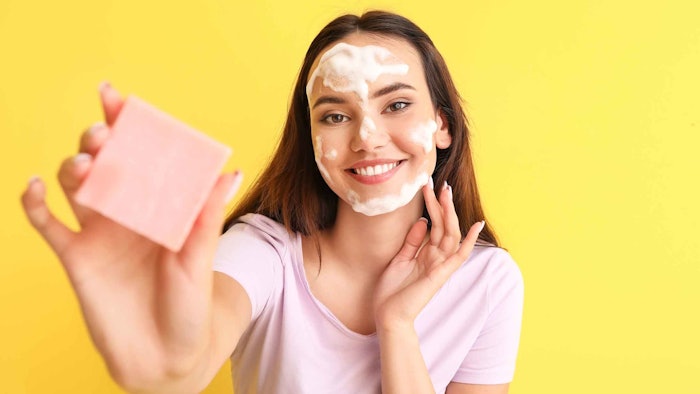 Pixel-Shot
Our weekly "Consumer Pulse" video report on social media uncovers cosmetic-related searches growing in interest across Google Trends, TikTok and the web in general. Now trending are: Hunca Kozmetik, Steya/Steya cosmetics, Republic Cosmetics, #uncannyvalley makeup (again), kojic acid soap, silicone scar tape and #blackchristmasnails.
See related: Trending: #UncannyValley Makeup, Pink Concealer, Hair Ornaments and More
Hunca Kozmetik
Google Trends reports searches on "Hunca Kosmetik" are up 3,500% in the past seven days. This could relate to a recent social media interview given by Ada Hunca, the daughter of the chairmain of Turkish cosmetic giant Hunca Kosmetik. In a roving reporter-style report of peoples' monthly budgets, Hunca reported hers was $10,000. When asked what she does for a living, Huca replied nothing — that her father owns a cosmetic company. 
The company is heavily focused on hair care and fragrances and is currently featuring a series of hair waxes for different effects: extra shine, strength, natural look, extra hold and matte looks. Also featured are several herbal blend shampoos, such as rosemary + oat, chamomile + arnica pine nettle and wild pistachio + cumin.
Steya/Steya Cosmetics
Searches on "Steya" and "Steya cosmetics" are up 2,250% in the past week, also per Google Trends. Steya is a music article from Berlin but she has no apparent cosmetic line — yet. There is one Instagram post for Steya Cosmetics with just two stories; one simply says, "coming soon." Notably, the handle already has 998,000 followers. There also appears to be a recent Ukranian trademark application under this name. Perhaps a new brand on the horizon?
See related: 5 Top-selling Beauty & Wellness Categories on TikTok Shop
Republic Cosmetics
"Republic Cosmetics" searchers are up 600% in the past seven days, Google Trends reports. While there was no apparent news related to it, this manufacturer/seller is featuring a best-selling eyeshadow palette under the Yuyu label inspired by butterflies. Named Metamorfosis, the palette matches the colors of several butterfly species, described on the packaging. Also featured is an eyeshadow palette inspired by Las Vegas, aptly referred to as the palette of the stars. Both incorporate rich pigments with lasting effects. On another note, the website calls out the recent addition of Revlon to its "family," probably as a third-party seller.
#Uncannyvalley Makeup
#Uncannyvalley makeup made the Google Trends top ten list again this week, growing 550%, per the source. We covered this in the last report — please refer back for more information.
Kojic Acid Soap
Kojic acid soap is surging in interest, per the source Exploding Topics. Growth in this product type for skin brightening and to treat hyperpigmentation is boosted by interest in the brand Kojie San. According to the source, searches on this brand are up 63% in the last 24 months. The hashtag #kojiesan also has more than 176 million TikTok views, probably thanks to the brand's $62,000/month sales on Amazon. Kojic acid soap is part of the kojic acid skin care meta trend, which also includes serums, lotions and powders.
Silicone Scar Tape
Silicone scar tape, designed to keep wounds tightly closed so skin can heal, is another product growing in interest. The product is critically designed so that when is removed, it doesn't pull the skin and is pain-free. This trend is growing thanks to social media, per Exploding Topics — it has garnered more than 3.9 million views on TikTok.
This is reportedly part of a larger #medicaltok trend, giving viewers at-home medical care tips and advice. In fact, according to Forbes, 20% of Americans refer to TikTok for medical insights before they visit their doctor. Also, videos with the hashtag #medicaltiktok have earned more than 5 million views to date. Hopefully, the medical community has brought scientific communicators onto this platform the way the beauty industry has.
#BlackChristmasnails
Finally, per Spate's hashtag tracker, #blackChristmasnails reached the top of the list, with a 15,811% growth in searches, week over week. Also, black-themed holiday nails are on the rise; this includes nails that are black only, sparkly or black background with Christmas and holiday art painted on top.