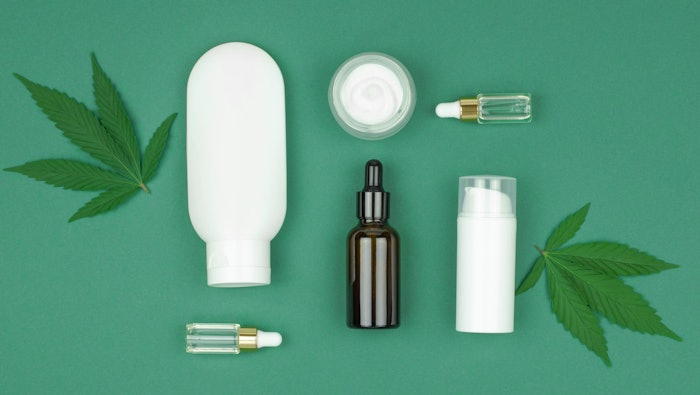 Research and Markets projects the U.S. market for minor cannabinoids—including cannabigerol (CBG), cannabichromene (CBC), cannabinol (CBN), tetrahydrocannabivarin (THCV) and cannabigerolic acid (CBGA)—will reach $26.2 billion by 2028, exploding at a CAGR of 20.1% form 2021-2028. According to the firm, the rising use of cannabinoid-based products and increasing awareness of their health benefits are feeding this growth.
THCV dominated the market with a revenue share of more than 24.0% in 2020, attributed to its rising adoption for health applications. In addition, the firm reports initiatives by key players, e.g., collaborations, clinical trials and production, are contributing to increasing awareness and adoption. For example, an ongoing clinical trial was initiated in April 2021 to analyze the use of products such as THCV, CBDV and CBD-rich hemp oil for the treatment of androgenetic alopecia.
See related: How CBD and Cannabinoids Fit into Cosmetics
In 2020, the market for "other" cannabinoids and treatments accounted for the largest revenue share. These included CBG, CBC, CBN, THCV, CBGA and more for metabolic disorders, arthritis, dermatological conditions, diabetes, cardiovascular diseases and glaucoma. According to Research and Markets, this high share is attributable to the increasing use of minor cannabinoid-based products for such conditions and rising research signifying their benefits; for instance, in June 2021, InMed Pharmaceuticals, Inc., initiated a clinical trial to analyze the use of CBN-based topical cream to treat Epidermolysis bullosa. 
In relation, with today's push by consumers for "clean," effective skin care, cannabinoids derived through fermentation can provide sustainable options without the impurities often present in plant extracts. An upcoming webcast, to be held on May 12, 2022, sponsored by Demetrix, demonstrates how the company uses fermentation to produce CBG and other bioactives in a scalable, controllable and socially responsible way. This minor cannabinoid is well-known  and often utilized in personal care for its anti-inflammation, anti-redness and antioxidant capacity.
See archived: Variability in CBD and Hemp Potency Calls for Advanced Analytics, Standards