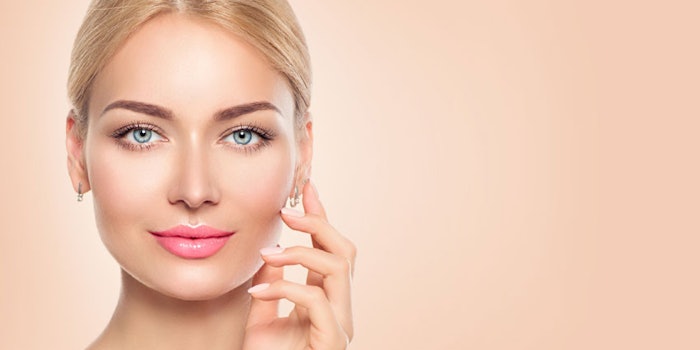 Deciem, in collaboration with data science firm Spate, has released its 'Misconceptions Across Ingredients' report based on trending Google searches in 2021. It outlines top concerning ingredients in general, ingredients by safety concern and ingredients by skin care concern.
Featured: Industry Insight: Being Transparent Means Teaching Toxicology—Including the Nuances
Safety and Toxicity
The following ingredients listed were observed using Google Search data in the United States by average monthly search volume and year-over-year growth, comparing the past 12 months (ending June 2021 versus the 12 months prior).
These were the ingredients searched alongside the term safety:
DMDM hydantoin: 900 monthly searches, 23,900% of year-on-year growth.
Magnesium: 740 monthly searches, 66.7% of year-on-year growth.
Stearate boric acid: 3,500 monthly searches, 38.1% of year-on-year growth.
Retinol: 1,300 monthly searches, 36% of year-on-year growth.
Zinc oxide: 1,100 monthly searches, 31.9% of year-on-year growth.
'Chemical': 760 monthly searches, 30.2% of year-on-year growth.
Calcium chloride: 1,400 monthly searches, 29.4% of year-on-year growth.
Hyaluronic acid: 2,500 monthly searches, 29.2% of year-on-year growth.
Hydrogen peroxide: 10,800 monthly searches, 28% of year-on-year growth.
Aluminum: 1,000 monthly searches, 27.4% of year-on-year growth.
These were the ingredients searched alongside the term toxic:
Paraffin: 1,600 monthly searches, 166% of year-on-year growth.
'Protein': 590 monthly searches, 27.7% of year-on-year growth.
Formaldehyde: 870 monthly searches, 21.8% of year-on-year growth.
Calcium: 970 monthly searches, 18.8% of year-on-year growth.
Potassium: 1,000 monthly searches, 15.5% of year-on-year growth.
Iodine: 880 monthly searches, 14.9% of year-on-year growth.
Iron: 5,100 monthly searches, 14.5% of year-on-year growth.
Vitamin D: 14,000 monthly searches, 14.4% of year-on-year growth.
Zinc: 2,400 monthly searches, 14.0% of year-on-year growth.
Ammonia: 1,800 monthly searches, 14.0% of year-on-year growth.
Deciem notes that the key concern consumers seem to have with these chemicals is whether or not they are safe/toxic. According to the company, as formulators know, it is important to understand it is that the dose makes the poison. Simply put, the safety of an ingredient/chemical is largely related to the quantity of the ingredient found within the formulation.
Cosmetic brands will assess the safety of the quantity of the ingredient delivered by their products by looking at the direct impact of the ingredients on the skin. Brands will then also look at the safety of the portion of the ingredients that have the potential to be absorbed systemically and will assess the long-term impact of repeated exposure to the chemicals.
Related: [video] How Science-forward Marketing Closes the Knowledge Gaps
The company also noted that clean beauty marketing is the reason these ingredients are trending. In this case, Deciem emphasizes it is imperative for consumers to turn to scientists for evidence, never settling for one single source or buckling under the pressure of inaccurate claims propagated by fear-mongering.
Top Consumer-concerning Ingredients
Top concerning ingredients included zinc, hyaluronic acid, silicone, retinol and vitamin C. The following explores the overall growth of interest in these ingredients and relevant safety concerns, as outlined in the report.
Zinc
All sunscreen actives, organic and inorganic, have received much attention recently with the primary area of concern being the possibility of transdermal absorption once sunscreens are applied to the skin. In addition, zinc oxide has seen a sharp increase in use in sunscreens, marketed as an alternative to chemical sunscreens.
According to Deciem, studies of nanoscale particles do not show any significant difference in transdermal absorption profiles. However, the use of nanoparticles in spray sunscreens is either not allowed in some jurisdictions, such as the EU, or recommended with directions for use that eliminate any risk of inhalation. Inhaled insoluble particles of any size could pose a risk to the lungs and should be avoided.
Also featured: From 'Clean' to 'Safe' Cosmetics: How EU/UK Regulations Can Shift the Parlance Toward Health—A Commentary
The safety of zinc oxide as it is intended for use in sunscreen products has been extensively examined by expert bodies and regulatory authorities. Health Canada, the U.S. Food and Drug Administration, and the European Scientific Committee on Cosmetic Products and Non-Food Products Intended for Consumers (SCCNFP) have all assessed the use of zinc oxide in sunscreens and determined there are no concerns associated with use levels of up to 25%.
Hyaluronic Acid
Safety concerns over hyaluronic acid (HA) appear to be coming from news and opinion articles mentioning that some people may have allergic reactions or sensitivities to topical HA. While this information is easily accessible, there are no references behind this statement and should be taken with a grain of salt.
Some concerns revolve around the potential of low molecular weight HA to induce skin inflammation. While there are studies that measure the relationship between low molecular weight HA and inflammation, they were not conducted to specifically examine the potential for topically applied low molecular weight HA to cause inflammation.
Silicone
Concerns over silicone most likely come from the use of silicones as injectables (dermal fillers) and the use of liquid silicone inside the body (breast implants). Silicones used in topical applications for skin show no toxic side effects.
Silicones are monitored and tested for their safety and potential risks to human health and the environment. Their safety for human use is well-documented. Silicones do not follow the biodegradable route in the environment because their chemistry is different; however, they do degrade over time, turning back into silica. Much like other chemicals widely used in daily life that find their way into the environment, silicones are monitored for their effect on soil, waters and animal and aquatic life.
Retinol
Safety concerns with retinol most likely originated in stronger retinoid medications such as Accutane, which have a known long list of potential side effects, according to Deciem. When it comes to topical application of retinol, the evidence behind these side effects is slim. 
However, to ensure that no side effects occur, the company suggests avoiding the use of retinol and retinoids while pregnant or breastfeeding. Also, although evidence for the above-named side effects is slim, the use of retinol does not come without issues as its can be difficult to formulate and stabilize in aqueous formulations, and it does pose some irritation potential for the skin.
Previously: Formulating on Trend: Combining Humectants and Retinol
Various studies have assessed the skin dryness and erythema that can be associated with retinol use. Most have reported minimal effects, compared with retinoic acid and tretinoin. The skin dryness that was observed did not persist. For most consumers, by 12 weeks of use, the dryness had reverted and overall improvements in skin texture, tone and hyperpigmentation were observed.
Vitamin C
The main safety concerns with topical vitamin C appear to come from opinions stating vitamin C is prone to oxidation and will thus act as a pro-oxidant on the skin, leading to collagen breakdown and irritation.
Vitamin C is one of the most studied ingredients in the skin care industry. Numerous scientists have proven its ability to improve overall skin tone and reduce fine lines and wrinkles. It has long been recognized as an excellent skin brightener, and demand has increased over the years with influences from Asian markets driving some of the key cosmetic trends.
Sensitive Skin and Inflammation
Finally, as noted, the report explored ingredients searched alongside terms such as sensitive skin, irritation and inflammation. The following reviews the top ingredients searched by U.S. consumers. The Deciem Lab provides added intel on why these reactions are occurring and how to best avoid them.
Top ingredients searched with sensitivity:
Retinol: 5,900 monthly searches, 76.7% of year-on-year growth.
Vitamin C: 2,400 monthly searches, 31.3% of year-on-year growth.
'Hormones': 2,100 monthly searches, 28.1% of year-on-year decrease.
'Mineral': 1,700 monthly searches, 0.7% of year-on-year growth.
'Protein': 1,700 monthly searches, 11.3% of year-on-year decrease.
Top ingredients searched with irritation:
Vitamin C: 210 monthly searches.
Minoxidil: 170 monthly searches.
Tea tree oil: 170 monthly searches.
Niacinamide: 140 monthly searches.
Saltwater: 140 monthly searches.
Top ingredients searched with inflammation:
Prostaglandin: 1,000 monthly searches, 18.4% of year-on-year decrease.
Fish oil: 500 monthly searches, 25% of year-on-year growth.
Carrageenan: 500 monthly searches.
'Macrophage': 390 monthly searches.
'Nitric oxide': 140 monthly searches.
According to the Deciem, consumers are becoming more aware of the ingredients found in their products. Many factors can cause responses in those with sensitive skin; this can include chemical triggers such as cosmetics, soaps and pollutants. In fact, skin sensitivity is a broad concern that can have multiple triggers.
As a final remark, the first step when consumers experience skin sensitivity must be to identify any potential sensitizing agents and avoid them, and these will differ across individuals. It is also important that people with any type of skin sensitivity avoid ingredients such as harsh surfactants, alcohols, fragrances, exfoliators and acids, as these ingredients have been proven to be irritating to more sensitive skin.
Related: P&G, 23andMe Uncover Genetic Ties to Sensitive Skin