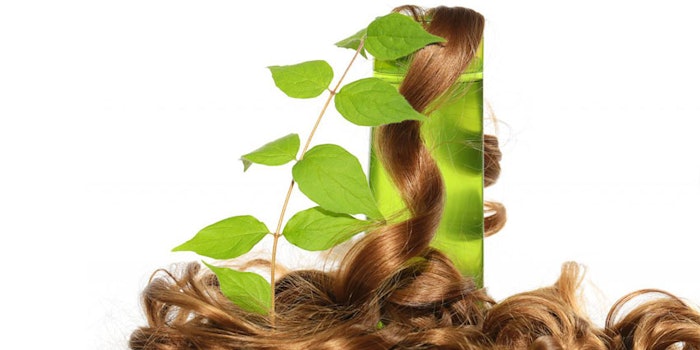 https://www.sensient-cosmetics.com/consumer-safety-concerns-in-us-hair-colorants-and-dyes/
A survey conducted by Mintel and commissioned by Sensient shows that consumers are interested in clean beauty and clean hair products in general–revealing an opportunity for hair colorants and dyes to fulfill this need.
[video]: Cosmetics R&D Vlog: Testing Color Retaining Shampoos and Conditioners 
According to Sensient, clean beauty overall is significantly more important for those who have experienced irritation in the past, or who place importance on hair care. Women are also more likely to place importance on clean beauty than men.
Hair Dye Safety and Longevity
Safety emerged as an important factor for selecting an at-home hair colorant or dye, as 4 in 10 consumers report they have experienced irritation from hair dye or color products. Three-fourths of respondents (n = 2,548) and at-home hair dye users stated that using clean hair products is important to them.
Along with safety, lasting color and ease of use stood out as top factors for consumers selecting an at-home hair colorant or dye brand, with 8 in 10 rating each trait as important. More than 68% of respondents were concerned over the safety of ingredients in hair color and dye products, and 80% of respondents reported having experienced irritation in the past.
Brand Loyalty
The Mintel survey also showed that at-home hair dye users are not brand loyal, and would possibly switch for safer, more clean ingredients. This was found to be especially true for consumers who currently use temporary or semi-permanent hair colors.
Among consumers who currently use at-home hair dye or who would consider it, 67% were more likely to try a brand of at-home colorant or dye. Also, men were significantly more likely to try a new brand than women (71% of men versus 65% of women).
Irritation Impact
Internal Sensient research found that consumers who have experienced irritation from hair dye in the past are more likely than others to be interested in trying a new brand of color or dye. Experiencing irritation gave consumers a negative impression of a brand overall, and 1 in 5 who had experienced irritation said they would avoid using any products from a brand that has given them irritation in the past.
Featured: Clinging to Color: Isopentyldiol Boosts Brightness in Dyed and Damaged Hair
Four in 10 consumers reported they frequently read ingredients on the product label of hair dyes, which increased to 5 in 10 for those who have experienced irritation in the past. The company also found that those who are interested in learning more information about safe ingredients in the hair care space seek it via a general online search, on social media and brand websites.
At-home Hair Dyeing
The overall frequency of professional hair services has decreased since COVID-19, with more than one-third of consumers stating they've had their hair cut less than once in the past year. Fewer consumers have tried dyeing hair at home for the first time during COVID-19. Only 1 in 10 recent at-home hair dye users said they have dyed hair for the first time since the start of the pandemic.
However, respondents who already regularly dyed hair at home report doing so more frequently now, while those who relied on professional salon services are more likely to have decreased the frequency of dyeing or coloring hair since March of 2020.
Colors within natural hair color ranges are the most popular but non-natural colors are increasingly being considered for home colors and dyes. At-home hair dye and color can also provide an opportunity for consumers to experiment with semi-permanent, temporary and permanent colors.
Regulatory Considerations
In Europe, hair colorants are regulated as cosmetic products through the Scientific Committee on Consumer Safety (SCCS). This is an independent scientific committee managed by the Directorate-General for Health and Consumer Protection of the European Commission (EC) by providing scientific advice and opinions on the health and safety risks of non-food consumer products.
About half of the respondents surveyed by Mintel were interested in learning more about the SCCS but those who had experienced irritation and who were currently using temporary and semi-permanent colors were especially interested.
Building Confidence
Finally, of those consumers who had never dyed their hair at home, or who used professional dye services, one-third stated they have not used at-home color or dye because they are afraid of damaging hair. A little less than half of those who never dyed their hair at home said they considered doing it for the first time during the COVID-19 pandemic.
As at-home users gain confidence and try new at-home hair color brands, the observations gleaned from this survey suggest those brands that emphasize clean beauty and safe ingredients could stand out.
Previously: Garnier Surveys Quarantine Hair Color Habits