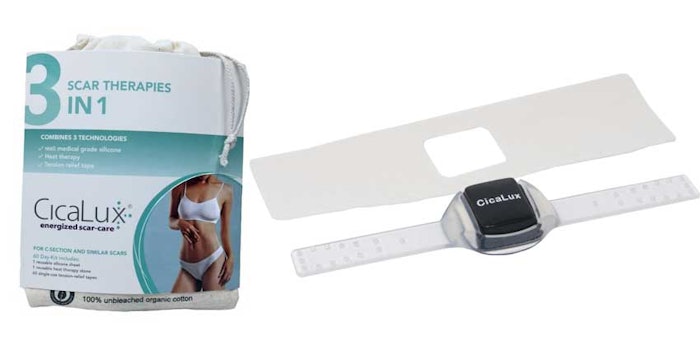 Alvalux Medical and its U.S. subsidiary CicaLux Inc., have achieved its first patent for its CicaLux product line, CicaLux Energized Scar-Care.
Related: Pneuma Nitric Oxide-generating Serum Shown to Improve Acne and Scarring
The invention (U.S. Patent 10,953,238) is reportedly an award-winning, wearable dermal repair system that delivers triple-action therapy to treat skin-related conditions, diseases and disorders.   
This CE-marked, FDA-registered and eco-friendly wearable device features proprietary, non-invasive therapy. It combines the benefits of hydration, heat and compression to improve old and new hypertrophic and keloid scar healing. The devise flattens and minimizes scars; improves the skin's color and texture; relieves pain and itchiness; and reduces tension and numbness that can follow C-sections, hysterectomies, tummy tucks, breast augmentation and other incisional surgeries.
Michel Alvarez, CEO and inventor of CicaLux Energized Scar-Care, said: "This patent supports our first award-winning product, CicaLux Energized Scar-Care, a scar therapy treatment at the crossroads of aesthetic care and wearable technology that is focused on helping approximately 250 million people per year who undergo incisional surgeries. Its claims also cover a CicaLux branded pipeline, ranging from anti-aging, stretch mark and acne treatments to photo-dynamic therapies for skin cancer, psoriasis and advanced wound care."
Previously: Roundtable Underlines Diversity Gap in Dermatology, Medical Research