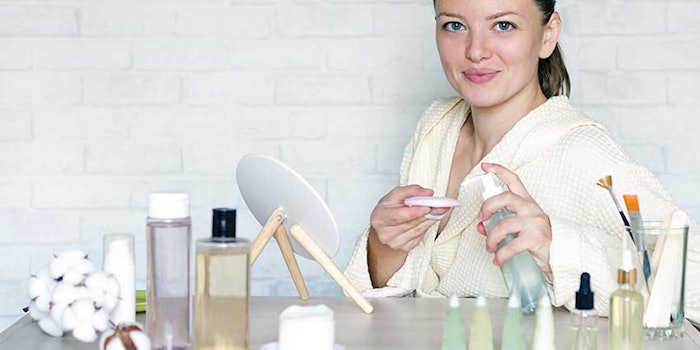 ID 197622226 © Elena Yakimova | Dreamstime.com
On Feb. 18, 2021, Croda hosted a virtual coffee hour that explored self-care and wellness trends on the rise as consumers are indoors and in search of normalcy. 
Related: Evoking Emotion: Bathing for Mind, Body and Self-care
According to the company, the phrase self-care routine increased in Google searches by more than 250% since March 2020 when the lockdown began. This is also reportedly an all-time search high since 2004. Additionally, anxiety was noted amongst the highest search terms.
What's Driving Self-care?
Croda noted the self-care trend may be driven by consumers in search of alternative solutions to a traditional spa visit. They also seek salon results at home, whether for hair or skin care. 
Another driver offered was the sudden change in work/home life and the lack of structure, which can cause anxiety in consumers who prefer having a routine and more structure. To add structure, Croda underlined how consumers are turning to beauty routines for a sense of normality. 
The 'Feel-good' Connection
Aligning with the relaxation side of self-care, recent products aim appeal to the senses, Croda reported. According to the company, 12% of recently launched products and brands advertise aromatherapy benefits. In relation, candle sales are on the rise. 
To respond to this trend, Croda described its Nourishing Mango Butter Candle for use not only as a candle, but also as a skin moisturizer. The formulation states that when the wax begins to pool, consumers can use a spatula to spread the oil over their skin to nourish and hydrate it. The candle also is packaged in a coconut shell, in support of the upcycled packaging trend.
Previously: Midwest SCC: Upcycling in Personal Care and Red Maple Emulsifier
Facial masks are a part of that feel-good connection as well, as highlighted by the rise in consumption of sheet and clay masks during lockdown. In relation, according to Croda, in the U.S., 58% of adults agree that having good skin makes them feel good about themselves. 
Wipes Today
The presentation also addressed how consumers are now using wipes more than ever for disinfecting and cleaning surfaces—but what about facial wipes?
Wipes, in general, have been noted as not so eco-friendly, compared with alternatives. So while consumers are increasingly purchasing disinfecting wipes, they also are looking to cut down on their usage elsewhere by shifting away from makeup-removing wipes and turning instead to cleansing balms to remove makeup and cleanse the skin. However, wipes do hold appeal for the on-the-go consumer. 
More Than Sunscreen
Additionally, Croda observed that growing numbers of consumers continue to realize the importance of SPF for not only short-term use, but also to prevent long-term damage to the skin. Consumers seek SPF filters not only in sunscreens, but in other products as well; whether it be moisturizers or foundations for added protection. 
Finally, other filters for pollution, blue light and IR are more frequently being implemented in sunscreens, as are anti-aging actives—so no longer are sunscreens seen as just "sun protection" but as sun protection with added skin benefits.
For more information, contact Croda.