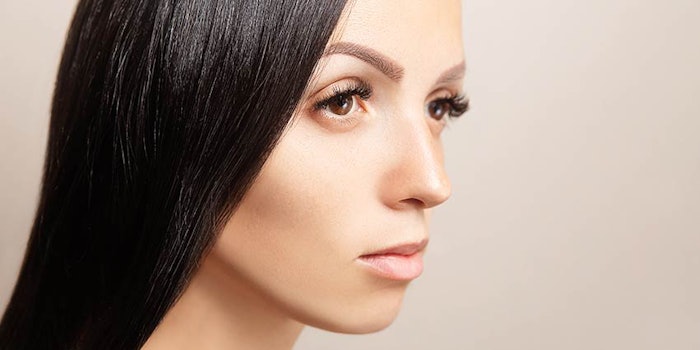 Skin care might be the belle of the ball when it comes to beauty industry sales projections, but eye products have set their sights—pun intended—on giving it a run for its money.
According Fact.MR's report "Eyelashes Enhancing Agents Market Forecast, Trend Analysis & Competition Tracking - Global Market Insights 2018 to 2027," the next few years are looking strong for eyelash enhancing agents in particular. Among the report's findings:
The eyelash enhancing agents market was valued at approximately $280 million in 2018, and is projected to register a year-over-year growth of more than 5% in 2019.
It is projected to exhibit a CAGR of over 5% through 2027
Industry influences include innovative developments in cosmetic formulations and the high prevalence of eye inflammations (such as madarosis and blepharitis) that lead to the thinning and loss of eyelashes
Manufacturers have turned their focus to extending the growth cycle duration of eyelashes and enhancing the density of hair in each cycle
Meanwhile, brands are making efforts to offer effective strengthening products with additional benefits, such as protection from environmental and climate factors
Key market players are investing in marketing activities to better position their products, and are strengthening their distribution across channels, including franchise outlets and online stores
As consumer interest in wellness grows, more shoppers are looking for serums and sprays to lengthen brittle lashes
North America continues to lead the market for eyelash enhancing agents, with an overall 2018 estimate revenue of nearly $100 million; this is driven by consumers more willing to spend on personal care products and R&D investments
Asia Pacific Excluding Japan (APEJ) is a high-growth market for eyelash enhancing agents, slated to record year-over-year growth of nearly 7% in 2019; growing opportunities in the region can be attributed to increased interest in beauty products from consumers in the region and a higher prevalence of eye inflammations
Sales of eyelash enhancing agents for repairing damaged eyelashes will continue on an upswing, with estimated 2018 revenues of around $190 million
For more information, or to request the full report, visit www.factmr.com.
Related: As Sales Soar, It Looks Like the Eye(lashes) Have It