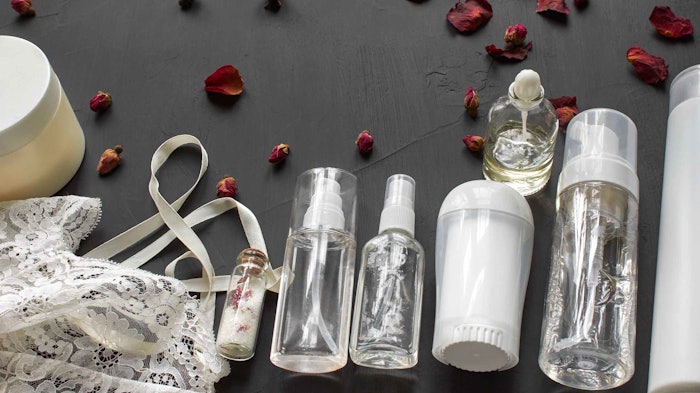 Female intimate care, or femcare, is having moment. While it's not a new segment, it has been reinvented and follows the emergence of trends for other soft-spoken areas such as sexual wellness, period care and menopause.
It is a natural extension of self-care, holistic beauty and health – and it's been enlightened by changing consumer attitudes and body positivity, among other factors. Mariia Tarakanova, marketing director of Reckitt's Intimate Wellness U.S. Market, explains in this exclusive interview.
Cosmetics & Toiletries (C&T): How large is the current femcare/women's sexual wellness market?
The global feminine hygiene and sexual well-being markets are fast-growing categories, estimated at $28-30 billion in 2020 and projected to expand at a 5% CAGR to reach $38-40 billion by 2025. The female intimate wellness segment alone, including cleansing products, supplements and treatments, accounted for $14-16 billion globally and $4-5 billion in the U.S. in 2020. Worldwide, this segment is anticipated to grow to $17-19 billion by 2025.1
C&T: How has the market changed in recent years? What are the drivers?
Many factors have contributed to the growth and evolution of the female intimate health and wellness space, making it an exciting time for the category. … For decades, the female intimate care category was dominated by medicinal-inspired brands until the emergence of several disruptive brands around 5-7 years ago; e.g., the Honey Pot, Queen V, Love Wellness, L., Olly and Lola. Such brands are driving premiumization via emotional positioning and novel formulas, empowering women to embrace intimate wellness and to apply beauty trends to intimate wellness products.
These brands have gained shelf space and market share from incumbents with portfolios that innovate across sectors and solutions for self-care routines from head to toe. Examples in the feminine hygiene space include Rael's K-beauty intimate care range, and Maude's and Asystem's libido gummies; also, sexual wellness massagers from Dame, Playboy, Cake and Sephora; condoms by Jems and Champ; and sexual lubricants from Playground and Pulse.
Many of these products are also offered at major mass and premium retail chains ranging from Walmart and Target to Sephora and Nordstrom, collectively working to destigmatize formerly taboo categories.
In relation, the sexual wellness industry has transitioned from male-centric to become more female-centric. Additionally, sex toys are becoming more and more inclusive in design and nature.
Femcare innovations are also tapping into previously uninhabited spaces, such as postpartum or menopause. Brands are encouraging women to normalize the conversation around painful sex and are working to eliminate stigmas around using lubricants or related products. More countries are also introducing menstrual leave for individuals for three to five days, as well as free hygiene products in public facilities. Consumer interest in the feminine and intimate category exploded during the pandemic, as many people embarked on self-care routines while they were stuck at home.
C&T: What are current trends and/or consumer concerns in this market segment?
A variety of trends in this category come from both a global/macro view and a narrower view, more specific to the category. Consumers now have so many choices that they are demanding more from big and small brands alike.
Diversity and inclusion (D&I) have become essential for brands in a movement primarily driven by consumers. These tenets have become core to a brand's essence and are an absolute must to be considered in the purchasing decision tree. In fact, 40% of Gen Z indicates that D&I is the most important brand value when shopping for beauty and intimate wellness brands. Some brands, such as Depixym, are gender-neutral and aim to provide simple solutions for everyone's daily beauty and intimate wellness routine.
Another big focus is zero-waste beauty and sustainability; 67% of Gen Z consumers are factoring sustainability practices into their purchasing decisions while 69% are willing to spend more on beauty products containing natural and clean ingredients. In relation, considering that consumer demand for efficacy and naturally derived ingredients is here to stay, biotechnology appears to be a solution to deliver these types of products without harming the planet in the process.
Brands are also using sophisticated, sustainable ingredients to innovate novel products. Daye, for example, has d­eveloped soothing CBD-infused tampons, while Hempress Hygienics offers hemp-based period products. Ultimately, biotechnology isn't just a fad for the beauty industry, it's arguably the future of sustainability, product safety and innovation.
C&T: What ingredients, product forms or packaging are consumers seeking or avoiding?
Previously, the feminine intimate wellness category was largely made up of scented washes and wipes using scent as the main innovation. However, researchers and gynecologists understood that ingredients in fragrances could be irritating to the vaginal tissue and ecosystem, and scented products were not the solution.
pH balance also came into the mainstream conversation and formulas evolved to ensure that the pH of intimate washes matched that of the vagina and vulva. This also gave rise to scrutiny over the use of parabens (preservatives) and other ingredients with perceived negative health impacts in intimate wellness products. In response, products have emerged such wipes designed to respect the intimate microbiome that are pH-balanced and gynecologist-tested, formulated with natural ingredients such as cranberry extract, and promote being free from parabens and artificial colorsa. 
Currently we know consumers seek to avoid harsh chemicals, parabens, hormones, fragrances and alcohol. We also are now seeing the conversation evolve around other ingredients consumers hope to avoid, such as phthalates and forever chemicals. We anticipate these consumer preferences will continue to drive future formulation.
Examples of products consumers are avoiding for reasons ranging from undesired ingredients to aesthetics include douches (internal vaginal washes), topical treatments (OTC yeast infection creams/suppositories) and menstrual products (pads and tampons).
Douches: Douches originally did not prioritize ingredients that did not disrupt the vaginal pH, but instead focused on remedying vaginal odor. This stigmatized the natural vaginal odor and failed recognize that the vagina is self-cleansing. Douches today are more focused on balancing the pH and meeting consumer needs for cleansing after menses or as a pre/post sex routine, although fragrances are still included due to the stigma surrounding vaginal odor. 2
Topical treatments: OTC yeast infection creams/suppositories have improved little since their introduction to the market, at least from an ingredient point of view. Innovation around ingredients is challenging due to regulatory guidance/monographs that specify which ingredients can be used and what can be claimed as a result. However, advances could be made around alternative delivery formats/methods, leading to less mess or potentially quicker action – meaning fewer interruptions in day-to-day life activities.
Menstrual products: Consumers also seek menstrual products without chlorine bleach. This concern goes back to processing. Tampons cleared by the U.S. Food and Drug Administration (FDA) are primarily made of cotton or rayon or both. These ingredients are derived from wood pulp and originally were treated with chlorine gas to sanitize them, which introduced dioxin. Dioxin is an environmental pollutant that has been linked to cancer and hormone disruption. Today, tampons are no longer bleached using elemental chlorine, per the FDA, so dioxin levels are negligible in every type of tampon.
Organic cotton-based menstrual products are also in demand. Some organic tampons claim to be 100% cotton and free from dyes, plastics, bleach, fragrances and pesticide-treated cotton. 
Fragrances are another ingredient consumers avoid, originally due to their potential to introduce phthalates, which pose concerns over hormone disruption. Today, consumer demand has shifted the industry toward natural ingredients, which are less likely to contain phthalates, and extracts – sometimes even food grade, when fragrances are used in these product types.
C&T: What future directions do you project for this market?
The intimate wellness market has great potential and will only continue to expand (despite the anticipated economic slowdown), supported by further education, category normalization and shelf expansion on the retail side. Furthermore, we believe it will continue to integrate with the beauty and holistic self-care wellness markets. Forecasting the future, we anticipate an increase in innovation within the category, specifically unique ingredients. We're seeing functional and active ingredients entering from beauty and food and beverage, e.g., prebiotics and probiotics.
Microbiome science also continues to evolve. In fact, scientific publications about the vaginal microbiome multiplied in 2020 by 10x the amount in 2010. Brands are becoming more proactive in sending the message that there's a link between vaginal pH and the vaginal microbiome to educate consumers. We anticipate more microbiome-focused formulation innovation, evolving into the future of the category.
Beyond innovation, we also believe that consumer education will drive the future growth of the intimate wellness category. Most women claim to have considerable knowledge and understanding of their female intimate wellness, with 76% stating they have a solid understanding of how to care for their intimate area. However, their level of knowledge appears to be much lower. For example, more than half of them do not know the vagina has a microbiome.3 This gap in knowledge presents difficulties with their first vaginal health concerns or first sexual experience.
For a majority of women, experiencing their first vaginal health concern caused them stress (70%) and lowered their confidence (57%). For many, their first vaginal health concern also impacted their ability to live a normal life; 42% said it prevented them from executing pre-existing plans they made while 41% said it made them not want to leave the house. Many also report feeling alone through these experiences, having no one to talk to; one-third did not have or were not sure if they had a safe space to discuss intimate wellness.3 A lack of education surrounding the vagina presents an opportunity for feminine intimate wellness brands to educate women about how to take care of their intimate wellness while providing them with safe spaces and a welcoming community to discuss and seek support for their vaginal firsts.
Lastly, consumer life stages are the final layer of consumer behavior critical to include in a portfolio strategy; e.g., vaginal firsts, pre-partum, post-partum, menopause, etc. With one billion people expected to experience menopause by 2025, retailers are beginning to build out sections and end caps for brands focused on such solutions to educate the consumer and make the products more accessible. As a result, we're seeing brands creating products for a wider range of consumers at different life stages – similar to what brands like Stripes, Kindra and Bonafide are doing for menopausal consumers.
apHun Wipes are a product of Queen V.

References
1. Reckitt. (2023, Aug). Internal estimate
2. Summer's Eve. (Accessed 2023, Aug 30). Products. Available at https://tinyurl.com/3ytrzrs6
3. Reckitt. (2023). Vagina Firsts study. Toluna Harris Interactive.