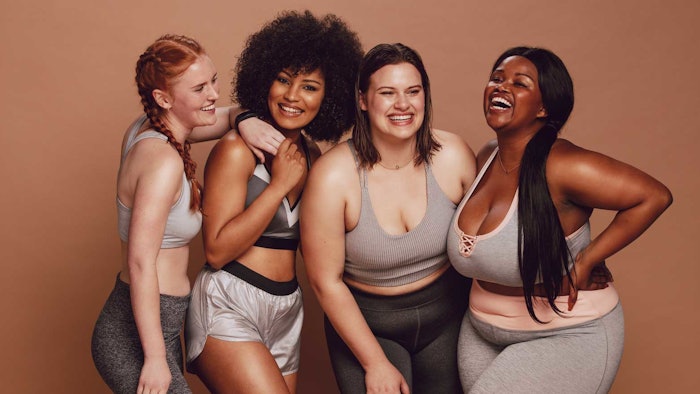 Sales of body care products including anti-cellulite and bust-enhancing creams, self-tanners, hand care, etc., are on the rise. Early this year (2022), The Refinery cited a Mintel report stating 33% of Americans claimed they were using body and hand care products more frequently than they were just a year ago.1
Fact.MR underscored that body lotions and creams would dominate the luxury bath and body market, clinching 35% of the global revenue share—whose total was estimated at $14 billion in 2021, and projected to reach $32 billion by 2032.2 According to the source, the market is being driven by growing consumer preference for natural or non-synthetic products, in addition to the increased awareness and affluence of millennials.
See archived: Evoking Emotion; Bathing for Mind, Body and Self-Care
Clean Label
An August 2021 report by Spins highlighted that clean label products are quickly growing segment of the body care market, "causing brands to rethink what their product lineups look like and encouraging retailers to make more room on their shelves."3 The source highlighted "sought" vs. "avoided" ingredient trends among body care products; "sought" included: bakuchiol, keratin, hyaluronic acid, salicylic acid, tea tree oil, willow bark and colloidal oatmeal; "avoided" included triclosan, talc, oxybenzone and octinoxate.
Spins also emphasized how functional ingredients have increased in popularity from shoppers who want food and beverages to boost their immune system. Ingredients ranging from vitamin C to mushrooms can provide such added benefits, according to the source, and this is what consumers have come to expect from body care products. Growth in body care products containing turmeric (41%), probiotics (22%) and even charcoal (17%) was noted.4
>>> EVENT ALERT: During Beauty Accelerate 2022, experts from Glow Recipe, J&J, Beekman 1802, Kate McLeod and Solawave will speak on "skin care's next wave—from immunity, dermocosmetic and sustainable, to clean and more. Join us Sept. 28 and 29, 2022, in NYC. Register now for the best rates.<<<
Anti-cellulite
Besides boosting health, anti-cellulite body care is on the rise. Technavio projects the anti-cellulite market will grow by US $437.37 million, at a CAGR of 4.75% from 2021 to 2026. "Rising awareness of myths about surgical and non-surgical procedures to reduce cellulite is notably driving the market growth," the firm notes. Here, 33% of growth is anticipated to come from Europe.5
Self-tanning
Self-tanning is another area of body care projected for growth. The global self-tanning products market was valued at $877.0 million in 2021, according to Grand View Research, and is expected to increase at a CAGR of 4.5% from 2022 to 2030. "Self-tanning products have become increasingly prevalent as consumers have become aware of the health and long-term aesthetic effects of excessive sun exposure," the firm writes.6
Breast Enhancement
Breast enhancement products are also expanding, according to Technavio. This market is expected to increase to $68.66 million from 2021 to 2026, accelerating at a CAGR of 4.17%.7 Rapid advances in technology are cited as one driver for the market; for example, a breast massager with red light therapy to increase oxygen-carrying capacity of the blood for various benefits.
In addition, increased focus on appearance among women to gain acceptance in social situations and at the workplace, and to boost self-confidence and self-esteem is contributing to market growth. Hence, female consumers are adopting products such as breast massagers, creams and supplements.7
Stretch Mark and Hand Care Creams
Stretch mark treatments are another sub-segment of body care. According to the IMARC Group, this market reached $2.6 billion in 2021 and is expected to grow to $3.9 billion by 2027 (a 6.6% CAGR from 2022-2027).8
Lastly, the hand cream and lotion market, as might be expected, was projected in September 2021 by The Business Research Company to expand from $4.81 billion in 2020 to $5.35 billion in 2021 (a CAGR of 11.2%). The market is expected to reach $7.67 billion in 2025 at a CAGR of 9%.9
While many other product types, e.g., skin care, could fall under the category of "body care," this brief survey illuminates some key areas of innovation and growth. Turning inward, industry experts shared additional insights on current and future directions for this segment. Following are their responses.
Sustainable, Solid and Biotech Beauty
Danielle Wheeler, Americas technical director for beauty and personal care, IMCD, sees solid, sustainable cleaners shaping today's market for body care in the United States. "With this in mind, our in-house chemists launched a gender-neutral hair and body cleanser tablet with dissolvable packaging and label," she wrote. On a related note, "transparency also continues to be a hot topic," she added. "[C]onsumers demand more clarity from brands and easy access to information so they can make informed choices as they shop."
Wheeler believes consumers want to embrace their unique identities as well. "[T]oday's consumers desire to be considered and respected for what makes them different." In response, IMCD created market-ready formulations that celebrate individuality while also accelerating new product development.
Looking ahead, Wheeler sees sustainability will continue in this market. "Sustainability is not fleeting, it's the way of the future," she wrote, adding that a few years ago, at the forefront of the clean beauty movement, IMCD developed prototypes called "Conscious Beauty."
Wheeler notes that biotech is the next stage, achieving sustainability through science and technology. "The natural evolution of sustainability through 'Biotech Beauty' concepts developed in IMCD US application laboratories offer improved efficacy, reduced package waste, minimalized or no water use and more, for a truly sustainable experience," she explained.
The four pillars of biotech beauty for IMCD include biomimetics, artificial intelligence, hybridization and sustainable solutions. "Particularly, biomimetics involves using lab-synthesized technology to develop ingredients that mimic nature and do not deplete natural resources," she wrote. "With this, there is a big future for bio-fermented polymers, bioactives and biomimetic emollients."
Body Positive, Well-being and Smart Beauty
Body positivity is a major trend in the body care sector, according to Siham Bouhrir, marketing manager for Provital. "Body positivity is essential to confidence," Bouhrir writes, and "considering the pressures of modern life … consumers are looking for more ways to look and feel confident. Effective body care products are a valuable tool in this journey to greater positivity."
Further to this, Bouhrir believes consumers are seeking kinder alternatives to enhance their body contours. "This represents a significant opportunity for brands … [B]ody shaping products can be marketed [to] help relieve stress and anxiety about body image." Bouhrir adds that more emphasis should be placed on body care as an aspect of overall well-being, with natural, sustainable ingredients as the keystone of this message.
Bouhrir also sees a strong current pushing consumers to embrace diversity. "Driven by social media influencers that shun photo editing and filters, and encourage images of imperfect bodies, consumers are feeling more empowered. … [C]osmetics labs… need to re-align their formulations and messaging to match this new wave of positivity." Bouhrir notes that innovative solutions and new mechanisms of action will be key. "We are talking about smart beauty."
The company's Sculpup (INCI: Propanediol (and) Water (Aqua) (and) Rubus Fruticosus (Blackberry) Fruit Extract (and) Citric Acid) responds to inclusive and smart beauty, offering multiple mechanisms of action and unexpected efficacies discovered through Big Data. "Thanks to transcriptomics, Provital goes from classical in vitro tests that analyze pro-adipogenic effects on a few genes, to RNA-sequencing [analyzing] the pro-adipogenic effects in all genes, more than 12,000 in total," Bouhrir wrote.
Whole Body Sensory and Wellness
"Mental health and self-care in recent years have been identified as rising trends in beauty and cosmetics," observed Melissa Chen, marketing specialist for Corum. "People treat their body skin equally to how they pamper their facial skin." She added that body serum, masks, firming lotion and massage cream are also made by brands to function similarly to skin care products.
"Wellness beauty is an approach to reaching the balance of mental, emotional and physical health," she furthered, adding, "[the] skin's sensory system, with many small and unique receptors, handles each kind of very accurate information when touched, to provide the body with a full picture of what is touching the skin, making skin one of our six sense organs."
According to Chen, these concepts will merge to move body care into fields of neurology and psychology research, to help users enjoy more specialized and conscious sensations and experiences in body care. To achieve such effects, Corum created its HotFlux (INCI: Vanillyl Butyl Ether) product—a mild, reportedly long-lasting warming agent provides a "psychophysical benefit" for multifunctional claims. These include vanilla aroma for depression relief, an exotic warming sensation, slimming effects, pain relief, and massage/spa and intimacy applications, among others.
"It has a low irritation profile when compared to similar-acting materials," adds Chen. "From body contouring to relieving stress, its application in body care products is multifaceted. With [its ability to accelerate] micro-circulation in the body part [where it is applied], we are convinced HotFlux will [energize and uplift the user's] inside and outside with [a] warm sensation," she concluded.
References
1. https://www.refinery29.com/en-us/what-bodycare-products-do-you-actually-need
2. https://bit.ly/3wfRhjd
3. https://www.spins.com/resources-body-care-evolves-into-clean-beauty-as-shopper-demand-grows/
4. https://www.spins.com/resources-natural-body-care-trends-2021/
5. https://bit.ly/3wk9Q5N
6. https://www.grandviewresearch.com/industry-analysis/self-tanning-products-market
7. https://www.technavio.com/report/breast-enhancement-products-market-industry-analysis
8. https://www.imarcgroup.com/stretch-marks-treatment-market
9. https://www.reportlinker.com/p06151680/Hand-Cream-and-Hand-Lotion-Global-Market-Report-COVID-19-Growth-And-Change-To.html?utm_source=GNW