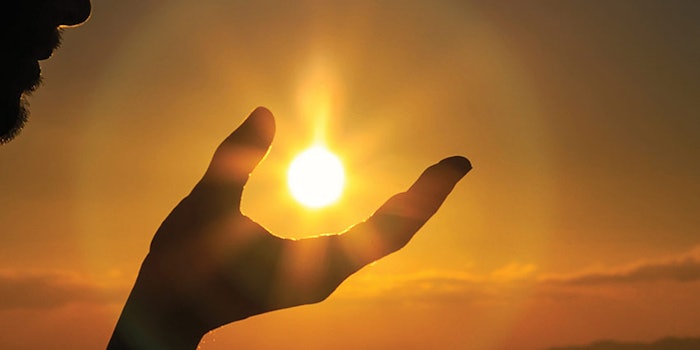 There are few places where the sun does not shine; one of these is on the U.S. Sunscreen Monograph.1 While initially penned with the best of intentions—to protect consumers—as industry expert David Steinberg explains in this issue, the monograph system is broken and has become the underlying obstacle to approving new and more effective UV filters, such as those allowed in Europe.
Why? Because no apparent provision was added to account for scientific progress. So it seems that U.S. sunscreen innovation is stuck in a vicious cycle. Furthermore, consumer alarm and regulatory response over the (inconclusive) effects of organic UV filters on coral reefs2 have taken octinoxate and oxybenzone off the table; as such, the circle is imploding.
Then again, strong demand for sunscreens continues. Transparency Market Research reports the global sun care market is expected to expand at a 5.8% CAGR between 2015 and 2024, reaching $24.9 billion by 2024.3 According to the firm, this is due in part to consumers realizing the benefits of good sun protection. This growth also relates to sun care graduating from being exclusively for skin, to becoming a multifunctional beauty product.
Compelled by this market opportunity and regulatory constraints, novel SPF-boosting and film-forming ingredients are emerging to enhance the strengths of sunscreen formulas. Furthermore, innovators are devising ways to translate UV protection to hair. These and related issues are the main drivers of this, our April 2019 edition. We hope they expand your sunscreen innovation circle.
References
Code of Federal Regulations. Retrieved from https://www.govinfo.gov/content/pkg/CFR-2011-title21-vol5/xml/CFR-2011-title21-vol5-part352.xml
Key West Joins Hawaii in the Ban of Octinoxate and Oxybenzone. Retrieved from https://www.cosmeticsandtoiletries.com/regulatory/uvfilters/Key-West-Joins-Hawaii-in-the-Ban-of-Octinoxate-and-Oxybenzone-505418321.html
Sun Care Market. Retrieved from https://www.transparencymarketresearch.com/sun-care-market.html