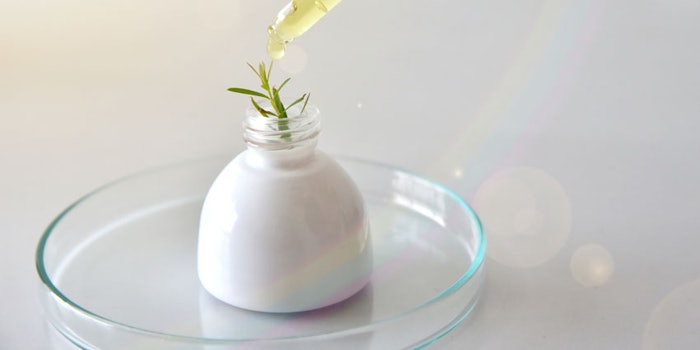 Natural and botanical cosmetics and personal care products have experienced endless demand. Why is this? And where will continued growth occur? These and other questions were put to Andrea Mitarotonda, Ph.D., currently Skincare Technical Manager at Oriflame Research & Development, based in Ireland.
Mitarotonda holds a doctorate in polymer and colloid chemistry, and a master in industrial and applied chemistry. Since 1998, he has served roles in R&D for innovation and formulation at multinational companies including Neal's Yard Natural Remedies, Oriflame, Dow Corning, Lamberti Chemical Specialties, Intercos and 3M. 
How do you view the current status of the natural/botanical product industry?
From a more technical point of view, increased demand of green products has prompted most manufacturers of raw materials to provide suitable solutions. There a number of reasons why the sector is doing so well, although in the end, it is all driven by the consumer's perception of what natural and organic products are. That said, it would be interesting to understand whether the consumer's perception is driven by the industry itself, and to what extent.
What has changed in this market space, in recent years? Are consumers demanding new attributes? Has technology advanced natural products?
I think it is possible to innovate to meet new consumer needs. New needs can [also] be created by providing consumers with technologies they have not seen before, or by improving existing formats.
The natural and organic sector has seen major changes in recent years. Changes are mainly driven by an enhanced quality of what "green consumers" have been demanding, but also by new technological solutions. In my opinion, we have seen two major breaking points.
Firstly, as Judi Beerling put it, in Chapter 9 of Sustainability: How the Cosmetics Industry is Greening Up, "The natural cosmetic industry has woken up to the fact that the future lies in producing genuinely natural or organic products. This is causing headaches for the development chemist who needs to replace high-performing synthetics with more natural alternatives."
Secondly, the natural and organic industry has had to realize, more recently, that consumers are no longer happy just because a product displays a natural logo; they want performance. Formulators [therefore have had to come to an] understanding of how to formulate products that deliver proven results within the limitations imposed by the chosen natural and organic standard. 
Technology has helped [a great deal]; advances in green ghemistry have enabled the production of high-performance ingredients without compromising on green credentials such as vegetable origin, sustainability and impact on the environment.
"The key to formulating natural and organic products is the good availability of ingredients."
What challenges are unique to this market? How are they being overcome, or what solutions do we yet require?
Technically speaking, formulating natural and organic products that are performing, safe and aesthetically pleasing still poses a number of challenges. The lack of consensus on a globally harmonized definition of natural and organic within the cosmetic industry should be addressed as a starting point. 
The organic food industry is much more advanced in this field. For example, in Europe, different aspects concerning the production and sales of organic products are regulated by law. COSMOS standards are a good attempt at harmonization between several major European natural and organic labels; however, I hope more effort will be put into joining forces with other global labels in order to reach a globally accepted definition of what natural and organic should mean in the cosmetic industry.
In this regard, I am rather skeptical about ISO 16128; I don't think it can be seen as the solution to this problem. In the end, too many labels are present on the market and this is "diluting the good message;" i.e., creating confusion for both consumers and formulators. Formulating to a natural and organic standard requires a deep understanding of the standard itself, and this is something few formulators are happy to do because it can be complicated and time-consuming. However—and this is only my personal opinion—once you get it, it can be very satisfactory and technically rewarding.
The key to formulating natural and organic products is the good availability of ingredients. This has been growing exponentially, and the lives of formulators of natural and organic products are definitely easier than they used to be. As an example, the number of commercial references approved for use in cosmetic products certified to COSMOS standards has increased from 1,294 to 4,660 within the past four years [from 2014 to 2018]; this doesn't take into account organic-certified ingredients but it shows major efforts are being made in this field. In return, [this expansion] of the ingredient palette enables formulators to create natural and organic products that deliver an increasingly sophisticated sensorial experience, as well as performance.
Still, there are plenty of challenges to overcome, and only by answering certain questions will the level of technical challenge to be faced, e.g., stability, color, odor, preservation, sensory characteristics, etc., become clear. These include: How genuine should your product be? How should it perform? What sensory trait is it supposed to deliver? Will it bear any certification? Is there any internal policy in place that could limit the ingredients used? 
One must also remember that the more "hard core" a formula is, the more likely that hidden pitfalls [will emerge]. For instance, when vegetable ingredients are used extensively, one should consider that environmental conditions, such as weather variability, have a significant effect on both performance and availability. It is of primary importance to take this into account when formulating; while it is nice to use some very niche, locally sourced ingredients, it is necessary to bear in mind what the consequences of a shortage could be once the product is in the market.
"The lack of consensus on a globally harmonized definition of natural and organic within the cosmetic industry should be addressed as a starting point."
What emerging research, regulations or consumer perceptions could affect this market?
Research is a never-ending process, so there is always something new coming up. I am a strong believer that innovation is made at the bench by scientists and it is our job (and a pleasure, indeed!) to continuously try new ingredients and technical solutions. Not only does this allow us to keep up with ever-changing consumer needs, it also enables us to be proactive in reformulating products in the case of regulatory changes.
For instance, we are seeing a large number of preservatives under attack, and my perception is that "bad press" is pushing both authorities and cosmetic manufacturers to move away from certain substances. It is very unfortunate that the general public associates chemistry with "danger" and this has been causing a rise in such claims as preservative-free and paraben-free. Broadly speaking, we can estimate that around 50% of the substances listed in Annex V of the European Cosmetic Regulation EC/1223/2009 are under the spotlight.
As a consequence, more and more substances with antimicrobial properties are being introduced for manufacturers [seeking] alternative preservation systems. Formulators of natural and organic products can lead the way [in this regard, since] in most cases, they have been using alternative and different substances to preserve their formulae for many years. I think this should also stimulate deeper investigations on the chemistry of plant extracts and essential oils, for example, since there are plenty of interesting materials that can be used not only in natural and organic products, but also in more conventional ones.
"Natural and organic formulae will need to adapt to deliver sensorial experiences aimed at pleasing consumers."
Similarly, other ingredients are being questioned; for example, silicones. From this point of view, and very broadly speaking, I think the natural and organic industry has a [slight] advantage [since ingredients such as these] are not in use in this segment of our industry, anyways. And again, [formulators] can lead the way in this sector by using alternative materials.
Another aspect that needs to be addressed, and that could affect the industry, is the use of sensory as a formulation driver. Especially capitalizing on the emotional cosmetic trend, natural and organic formulae will need to adapt to deliver sensorial experiences aimed at pleasing consumers. This is also an important element of the [well-aging] or "better-aging" approach, which in contrast to the anti-aging view, puts the positive emotions created by the use of cosmetics as a focal point to create a sense of enhanced pleasure that can enable a more gracious aging process.
How do you envision this market in the future?
I think the future of natural and organic products is to be sought beyond the mere idea of being natural or organic. I am thinking of concepts such as skin compatibility, biodegradability, reduced allergic potential, the sustainability and renewability of raw materials, zero-waste production, etc. In few words, the product of the future should implement basic concepts of care for both the environment and skin, delivering holistic performance and therefore including emotional aspects.
From an ingredient point of view, I am particularly interested by the possibility of using botanical and food waste materials to recover chemicals of cosmetic interest. After all, is it not the very essence of chemistry to investigate the composition of natural systems in order to find and isolate compounds that can help mankind? From a performance point of view, I find the whole idea of holistic cosmetics extremely fascinating; it is jaw-dropping to think how the gut and brain could actually affect the skin.