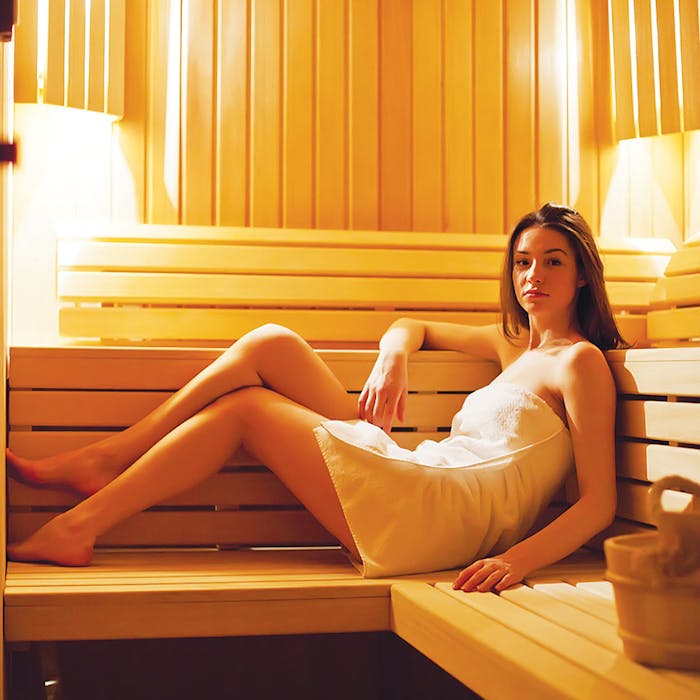 The world of spas and wellness is changing. The future direction, identified by Global Wellness Summit experts, highlights new trends in this growing $3.7 trillion wellness industry. These include calming concepts such as silence, traditional bathing and holistic perceptions of beauty, along with the reinvention of mental well-being as an innovative—and often spectacular and experience-driven—twist into the 21st century of hotels, retreats and spas.
Sauna Tradition Reinvented
Every culture has its ancient sweat tradition: the Arabic hamman, Japanese onsen, Russian banya, Native American sweat lodge and the most globally ubiquitous European sauna. For Northern, Central and Eastern Europe, sauna bathing has been a part of culture and art for centuries, with traditional social rituals and uplifting facilities.
The sauna experience elsewhere, however, can be rather uninspiring, with a disconnect from the way authentic sauna is ingrained as a way of daily life. Europeans know how to enjoy the sweat experience, and when combined with contrast therapy—i.e., taking a cold/snow plunge, which is centered around Kneipp methods of cold-hot-cold-hot—it is key to optimal benefits and endorphin release.
New trends in the sauna include an increasingly theatrical experience, re-imagined "sauna-infusions," and extraordinary and social architectural designs. Sauna masters infuse the sauna with essential oils such as lemon, mint, cedar, juniper and sage, which are used with towels, flags or birch branches to circulate heat, humidity and infusions. Singing, chanting, clapping, drumming or dance, light, music, laser and smoke shows also take place during these experiences. This affordable form of "wellness therapy" can introduce millennials to the healthy sauna scene and help extend the stress reducing and detox experience to a new generation. Saunas are becoming new cool, social, community-creating spaces—"urban sweat lodges"—with positive benefits for longevity, pain reduction and cardio fitness.
Direct Effects on Biology
From a scientific standpoint, there is limited evidence for the direct effects of saunas on the skin. They seem to impart a protective effect, especially on surface pH and skin hydration. Regular sauna use has also been shown to benefit epidermal barrier function, increase stratum corneum hydration and speed recovery of both elevated water loss and skin pH.
Further, sauna has been reported to decrease skin sebum content on the forehead; although it does not cause skin dryness. In addition, sauna bathing facilitates skin shedding in healthy skin and skin conditions, e.g., the removal of hyperkeratotic scales in psoriasis.
Indirect Effects on the Skin
There is a new trend interweaving the spa experience with art, culture, music and performance. In the U.N.'s latest World Happiness Report, the majority of the happiest nations are found in Northern Europe, where the "wellness culture" is a well-established part of everyday life—and regular saunas are an important part of that.
Body relaxation is enhanced by the warm, pleasant skin sensation after sauna bathing. Repeated sauna exposure can also change heart rate variability and increase sympathetic activity, which mediates neuronal and hormonal stress response; i.e., the fight-or-flight response.
Sauna heat is infused with essential oils, circulated in the air for intense olfactory experience. Research shows essential oils affect central nervous system functioning beyond that of smell. Their inhalation impacts the sympathetic and parasympathetic nervous systems, brain activity and the neuroendocrine system. Olfaction can influence skin functions including barrier integrity, sebum secretion and cutaneous immunity; however the exact effects of essential oils frequently used in sauna on skin's biophysical parameters are yet to be investigated.
Social Aspects of Sauna
The social aspects of sauna bathing are worth exploring, too. For example, stress has been known to impact the skin barrier in a negative way. Such levels of stress can be assessed either by the salivary analysis of stress hormones, or by self-reporting in questionnaires. During periods in life of high stress, such as divorce or final exams, the deterioration of skin barrier recovery has been reported in a number of studies. However, social closeness has been shown to benefit skin barrier recovery; this effect is even modified by the subjective perception of one's level of psychological stress.
The sauna thus represents an easy-access wellness environment and reflects the majority of future holistic trends: community, calm and silence to enhance both mental and physical well-being and health in an ever-increasingly competitive and stressful world.
References
(All accessed on Oct. 13, 2017)
globalwellnesssummit.com
researchgate.net/publication/51401500_Effect_of_Regular_Sauna_on_Epidermal_Barrier_Function_and_Stratum_Corneum_Water-Holding_Capacity_in_vivoin_Humans_A_Controlled_Study
ncbi.nlm.nih.gov/pubmed/3218900
ncbi.nlm.nih.gov/pubmed/23859414
ncbi.nlm.nih.gov/pubmed/24117755
researchgate.net/publication/266679229_Psychological_stress_has_the_potential_to_cause_a_decline_in_the_epidermal_permeability_barrier_function_of_the_horny_layer
medscape.com/medline/abstract/28277705