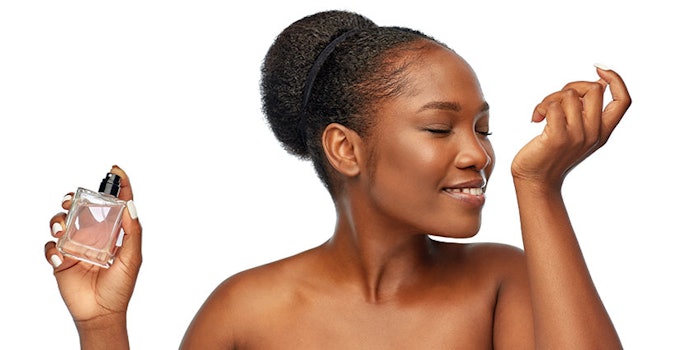 Uncertainty and stress are typical struggles within today's COVID-19 reality. To help consumers not just cope but blossom under this challenging dynamic, fragrance can serve as a tool to tap into deep emotion and memory, and elicit positive experiences and a sense of security.
Exploring these effects in detail, Daniela Garcia (DG), éskia Executive Brand Director for Belcorp Latin America, and co-authors report their findings in this month's feature article, beginning on Page 42. Garcia provides additional insights in the following excerpt adapted from our video interview.
C&T: How can perfumes help consumers cope with today's emotional roller coaster?
DG: The reality is, my brand, ésika, has been in the business of helping women feel more confident as a purpose. We truly believe that when we feel confident, we look beautiful and when we look beautiful, we feel confident. It's a virtuous cycle.
We already knew fragrance has a positive influence: when you smell nice, you feel comfortable and feel secure; but we wanted to go beyond, to understand how fragrance can transport us and help us to cope with this new daily life. It's needed more and more, and this will continue with COVID-19, because we have become much more in touch with needing to be well "here" in order to really perform well "out there."
C&T: How can perfumes activate emotions and influence wellness?
DG: The olfactory bulb receives the fragrance signal and transmits it to the amygdala to our brain, which is the center for emotions. We wanted to further understand this connection. When you smell something you like, you can have a psychological and physiological response that can also give rise to an emotional memory.
For example, I had once worked with a perfumer and he gave us a "wood" inspired scent. When I sampled it, I was completely transported to my childhood and I felt a super positive emotion. It took me to a time when I traveled with my parents to New Hampshire, where they had a house, and these were very happy times for me. When I told the perfumer about this, he almost started crying... He was from New Hampshire and this had inspired him while developing the fragrance. And I completely got it.
The point is, the scent triggers emotions and reactions and can also trigger an emotional memory that connects you to your past, bringing back vivid memories to a very specific aroma. These were the types of connections we were looking for, to use perfumery as a powerful tool to produce and bring forth a sense of well-being. In this case, for the research project, we were talking about the senses of being calm, happy and more energetic. We were trying to dial up these emotions in Latin American panelists to instill a positive mood.