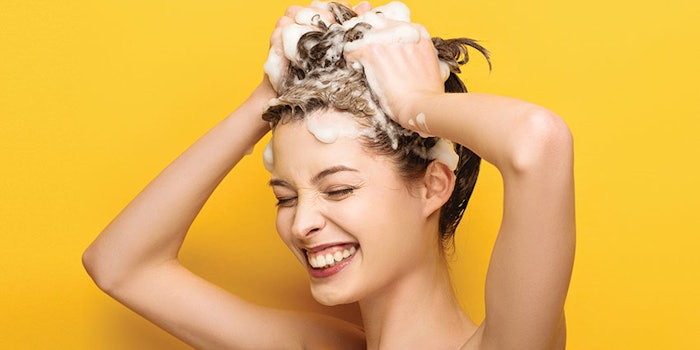 Read this article in its entirety in the June 2020 digital edition. . .
Just before the COVID-19 shockwave hit—and left us scratching our heads—Kline released a report1 focused on professional scalp care and the "lucrative opportunities" this niche segment affords. "Whether they're for hair loss, itchiness or an aging scalp, products targeting scalp care continue to be launched by key professional hair care marketers as well as small and medium players around the globe," wrote Shivani Singh,2 project lead with Kline.
In the market report, Brazil was the smallest region covered, but the fastest-growing—increasing >18% within the first quarter of 2019. The United States was the largest region reported but growth was reduced considerably from the double digits it saw in 2018. According to Kline, most sales in the U.S. were not generated in the professional scalp care market but in the take-home segment, which with social distancing, will likely remain the channel for growth in months to come.
In Asia, China registered a 10% growth in professional scalp care in the first half of 2019, driven by demand for healthy hair. Here, key benefits desired were deep cleansing, itch/dandruff prevention, moisturizing and scalp relief. Anti-aging effects held a higher interest in Japan.
In Europe, scalp care increased between 2% and 5% during the first half of 2019, with anti-aging and hair loss prevention as the key drivers, and health and wellness fueling the charge. Furthermore, take-home sales rose due to the increased prevalence of e-commerce.
Overall, Kline projected the scalp care market to increase at a CAGR of 5% between 2019 and 2024; no doubt, if this growth is achieved, it will most likely come through e-commerce and at-home channels. This demand may even increase with the growth in at-home hair dyeing and other treatments in the hands of DIY consumers—who may or may not know how to prevent scalp irritation.
Related to this, Juliana Gomero, global hair care marketing manager for Lubrizol Life Science Beauty, shared, "Consumers are doing more at-home procedures, e.g., coloring at home, for the first time. They need more guidelines from brands in terms of color and care and how not to damage their scalp. They [also] could be told that coloring with temporary or semi-temporary colors will not damage their hair or change their color [all that much]."
Like most industries, the full effects of COVID-19 and its aftershock on the cosmetics and personal care industry have yet to be realized. But we can make some educated guesses based on changes in consumer behavior. Increased demand for skin and hair/scalp cleansing products is certainly one, and the subsequent need for mildness and rehydration to replenish what was lost. What other directions might this segment take? We surveyed several industry experts on hair/scalp care and cleansing. Following are their responses.
Water-conscious, Sustainable and Clean Care
According to Bill Zrebiec, vice president of innovations for Active Concepts, LLC, current trends and/or concerns shaping the hair and scalp care market are drastically being shaped by the COVID-19 pandemic. He sees a future in waterless beauty innovations.
"Now that social distancing is part of the new normal, habits will change over time," he writes. "An increase in personal water usage for everyday cleaning and cleansing through the pandemic will increase focus on sustainability and water conservation. Waterless beauty systems will be the future focus in both scalp/hair care and gentle cleansing. Potentially, the demand for leave-on, rinse-less soaps and antibacterial hand and body formulations will increase."
The scalp, of course, is an extension of skin, so he extends these predictions to scalp care. "From a skin care mindset, less frequent washing of hair will increase the need for next-generation dry shampoos and multifunctional styling products for daily use. Moving forward, rinse-less and waterless hair and scalp applications will continue to reduce the need for washing and re-styling of hair. Hair products with anti-pollution, deodorizing, environmental protection and refreshing properties will create a wider space in the future market," writes Zrebiec.
Technologies enabling these innovations include one derived from a plant that utilizes a unique survival mechanism based on enzymes, proteins and high molecular weight carbohydrates. Phytofuse Renew (INCI: Selaginella Lepidophylla Extract) resists microbial transfer and contamination in leave-on applications to strengthen the skin barrier and seal in moisture. In hair, it protects from urban pollution and smooths and perfects the hair cuticle.
Lucy Rotherham, marketing services and events manager for Innospec, also sees sustainability as a "rising star" for the cleansing market's future direction. "Consumers will show greater care toward nature, with a desire for products to offer 'kind to skin and planet' benefits, encompassing the need for brand transparency as to how mild and naturally derived their products are."
She adds that mild, solid products that use less water and less plastic will become a priority. "To tap into the trend, the opportunity lies with mild surfactant ingredients in the form of flakes and powders to develop those effective solid products and unveil potential in the market," Rotherham notes. Ingredients designed to meet consumer demands for sustainability, as well as efficacy and mildness, include Pureact TR-L90 (INCI: Sodium Methyl Cocoyl Taurate)—a solid taurate, ideal for solid formulations—and Iselux (INCI: Sodium Lauroyl Methyl Isethionate), a sulfate-free ingredient available in a variety of forms including flake. In relation, Pureact 138 (INCI: Decyl Glucoside (and) Sodium Lauroyl Lactylate) is a COSMOS-approved, sulfate-free surfactant.
Richard Rehg, vice president, commercial, Pilot Chemical Co., underlines sustainability as well, in addition to natural, "clean" essential oils to replace fragrance and concerns over 1,4-dioxane. "There are a number of trends shaping the hair and scalp care and cleansing market, including a focus on sustainable natural or naturally derived ingredients, product convenience and the use of essential oils in lieu of fragrance," he writes. "Concerns around 1,4-dioxane and preservatives remain." In relation, surfactants such as Calfoam brand alkyl sulfates, ether sulfates, alkanolamides, betaines, hydroxysultaines, amine oxides and hair care quats that are naturally derived can meet this need. Furthermore, Calfoam alkyl sulfates and ether sulfates are available as RSPO-certified.
"For the future direction for the hair/scalp and gentle cleansing market, we see the continued demand for clean ingredients, further reduction of 1,4-dioxane, formulations that are compatible with essential oils, and a move to high-pH products," Rehg adds, noting Pilot Chemical is working on reducing 1,4-dioxane in its ether sulfates with a projected launch of a 10 ppm max high active ether sulfate product at the end of June. "Legislation signed into law this past December in New York set limitations of 1,4-dioxane in personal and home care products to levels not yet sustained industrywide. Pilot Chemical has been following this legislation along with proposed changes for California and we will continue to … respond to these changes."
He noted the Calsoft AOS-40 (INCI: Sodium C14-16 Olefin Sulfonate), Macat betaines and amine oxides do not generate 1,4-dioxane. "We also offer lauryl sulfates (Calfoam SLS-30 and ALS-30) and alpha olefin sulfonate (Calsoft AOS-40), that do not generate 1,4-dioxane," he writes.
Scalp Balance and Care, and Mega Mildness
Mathias Fleury, category manager for active ingredients at Givaudan Active Beauty, points to current market interest in balancing the scalp for improved health and comfort. "A variety of factors may contribute to an unbalanced scalp like external factors, hormones, stress and genetics," Fleury writes. "In K-beauty, for example, a good hair day should start with good scalp care, as the scalp controls hair health. Dry flakes, sensitivity and itchiness are indicators that scalp needs care."
He notes that in relation, consumers are looking for gentle and "cocooning" hair and scalp care products. "We are in a period of stress, and there's a clear need for comfort. Additionally, these stress factors may lead to a vicious circle—anxiety and stress are triggering itch and personal discomfort." Furthermore, according to Fleury, reinforcing consumers' self-confidence and personal opinions of themselves by improving their comfort—i.e., fighting against oily or dry dandruff and itch will be crucial in the products coming to market. "This is already a major trend, obviously, but it will only get stronger," he writes.
Gomero adds, "Consumers will continue to emphasize healthy scalp care, knowing it's essential for healthy hair. They'll look for moisturizing properties that guarantee to protect hair health." Furthermore, she believes scalp care products will mirror skin care, with a wide range of formats and functionalities.
"The main interests will be the desire for a healthy scalp, protection of the scalp microbiome, hair growth and protection from the exposome," she writes.
Dennis Abbeduto, personal care business manager at Colonial Chemical, Inc., also highlights how scalp care has become a growing trend. "Scalp care was barely on most people's radar a few years ago and is now a huge growth area." He adds that claims and product forms are wide open, making it exciting from a product development standpoint. "There is strong brand and influencer communication that scalp care is as important as hair care. The waterless 'blue beauty' trend is also creating an explosion of new brands and products. From solid bar forms to powder cleansers, it's a very exciting time in personal care."
With the wide array of directions cleansing could take, Abbeduto points to mildness as the future market direction. "In all areas of cleansing, there is an ongoing opportunity to improve on mildness. While the industry has successfully transitioned away from alkyl sulfate surfactants … in many instances, actual product irritation potential has not been substantially impacted," he writes.
Answering the call for mildness are ingredients such as the company's SugaNate 160NC (INCI: Sodium Lauylglucosides Hydroxypropylsulfonate). This primary surfactant imparts excellent cleansing and viscosity-building, and has been shown to lower the irritation potential of sodium lauryl sulfate, sodium coco-sulfate and sodium C14-16 olefin sulfonate. It also is USDA Biobased Certified at 100% and has an excellent toxicity profile.
Others include ColaMoist 200 (INCI: Hydroxypropyl Bis-Hydroxyethyldimonium Chloride), a non-irritating cationic humectant retained on the skin for rinse-off applications; and ColaLipid GS (INCI: Sodium Grapeseed Amidopropyl PG-Dimonium Chloride Phosphate) an amphoteric emollient with similar retention to skin and hair in rinse-off applications.
Rotherham agrees with the drive for mildness. "There is no doubt, following COVID-19, we will see a surge in consumer need for ingredients to provide mild cleansing. . ."
. . .Read more in the June 2020 digital edition. . .
References
Kline report. (2019). Professional scalp care products: Global market snapshot. https://klinegroup.com/reports/professional-scalp-care-products-global-market-snapshot/
Singh, S. (2019, Dec 6). Scalp care: Still a niche segment with lucrative opportunities. https://www.klinegroup.com/scalp-care-still-a-niche-segment-with-lucrative-opportunities/