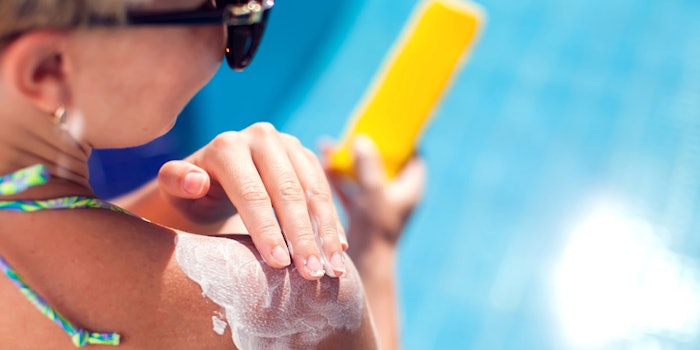 As a follow-up to our report on the FDA's review of a possible new addition to the Sunscreen Mongoraph, DSM formally announced it is seeking approval for its new Parsol Shield (INCI: Bemotrizinol) sunscreen active for use in over-the-counter (OTC) sunscreen products.
According to the company, it is preparing to submit the necessary data to the U.S. Food and Drug Administration (FDA) to support a generally recognized as safe and effective (GRASE) determination for bemotrizinol (BEMT). Under the trade name Parsol Shield, DSM has been providing BEMT as a UV light absorber for use in sunscreens and cosmetics since 2016. This ingredient has been used globally as a UV light absorber since 1999 but it has not been approved for sunscreen use under the OTC Sunscreen Monograph in the United States.
DSM met with the FDA and will be providing the necessary data to support the firm's review and determination that BEMT is GRASE for OTC sunscreen product use. The company hopes this action will result in the inclusion of BEMT as the first new sunscreen active ingredient in more than 20 years—avobenzone having been thse most recent addition in 1999. Minutes from the meeting can be found on the FDA's website.
The company hopes this action will result in the inclusion of BEMT as the first new sunscreen active ingredient in more than 20 years.
DSM adds that the role of modern UV filters is to help encourage safe sun protection habits, and Parsol Shield (Bemotrizinol or BEMT) is a photostable broad-spectrum filter that efficiently provides UVB and UVA protection even at low concentrations. It also is reportedly easy to use and compatible with both organic and inorganic UV filters. At present, it is not available in the USA, where just 16 UV filters are currently approved for use—compared with 27 in the EU.
Furthermore, as per the FDA's proposed new rule, of the Tentative Final Monograph (TFM) of the 16 currently approved OTC active ingredients for sunscreens, only two, zinc oxide and titanium dioxide, will be recognized by the FDA as GRASE as of November 2019. The others will require further data to be generated in order to attain GRASE status, or will be eliminated from use in the U.S. market. Elimination of these ingredients would significantly limit sun protection options for formulators and consumers alike.
DSM believes it is important for consumers in the USA to benefit from the broad-spectrum UV protection and sensory properties that modern filters such as BEMT can provide. Studies show compelling evidence that the unpleasant aesthetics of traditional sunscreens are one of the main barriers to consumers using adequate amounts of sunscreen and re-applying it frequently enough for optimum protection. By introducing this option to formulate sun care products that feel light and pleasant on the skin, this barrier could be removed.