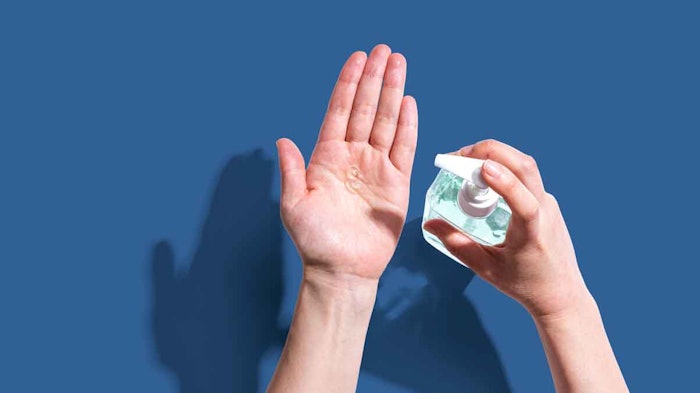 The U.S. Food and Drug Administration (FDA) recently published educational information for consumers about hand sanitizers and biosimilars, including for chronic skin conditions. It also provided guidance for testing the irritation and sensitization potential of topicals and delivery systems in relation to abbreviated new drug applications — for which it is seeking comments. Following is a recap.
See related: Five European Nations, ECHA Propose PFAS Bans/Restrictions
Hand Sanitizer Cautionary Note
On April 12, 2023, the FDA advised consumers that hand sanitizers are regulated as OTC drugs. The agency also cautioned consumers who use alcohol-based hand sanitizers to read the Drug Fact label, especially the warnings section, and keep the safety tips in mind.
Further, the FDA reminded consumers to check its blacklist of hand sanitizers they should not use due to methanol content, insufficient active ingredient or false and misleading/unproven claims. This cautionary note follows two recent recalls by manufacturers for hand sanitizers containing methanol.
Irritation and Sensitization Testing
Also in April, the FDA announced the availability of a revised draft guidance for industry entitled, "Assessing the Irritation and Sensitization Potential of Transdermal and Topical Delivery Systems for ANDAs," (abbreviated new drug applications). The guidance provides recommendations for the design and conduct of studies to evaluate the in vivo skin irritation and sensitization (I/S) potential of a proposed transdermal or topical delivery system (collectively TDS).
The guidance is intended to clarify the FDA's recommendations and expectations related to in vivo skin I/S studies. The proposed draft revises the October 2018 guidance; comments are requested by June 12, 2023.
Examples of protocols in the proposal include the following.
Evaluating skin irritation and sensitization in a single study if a sufficient number of subjects is included to evaluate sensitization (outlined further in the draft). The recommended study should consist of two phases: a 21-day induction phase, followed by a 14- to 17-day rest period; and a challenge phase.
For 21 consecutive days, TDS units should be worn, removed and replaced by a new TDS unit, for repeated durations to the same skin site as the initial application; each duration should be representative of the reference listed drug's labeled wear period, unless otherwise noted...
Evaluating the subject's irritation response at the time of each TDS change by individually assessing the subject's "dermal response" and "other effects" (defined in the draft) scores by using a separate scoring scale
Biosimilars and Interchangeable Biosimilars
Finally, in February 2023, the FDA and the U.S. Federal Trade Commission (FTC) released two documents related to biosimilars and interchangeable biosimilars. One provides educational information for consumers and patients; the other is a summary report from an FDA/FTC workshop on the competitive marketplace for biosimilars.
The educational resource developed by the FDA and FTC explains that biosimilars, including those to treat chronic skin diseases such as psoriasis, are safe and effective treatment options. It also describes how biosimilars can improve patient access to medicines that potentially save money, and that patients do not need to wait for a biosimilar to be approved as an interchangeable biosimilar before using it.
The FDA/FTC workshop highlighted serious concerns about false or misleading communications regarding reference, biosimilar and interchangeable products, and the potential for such communications to negatively affect public health, patient access and competition.
Per the summary, "False or misleading comparisons of reference products and biosimilar products may constitute unfair or deceptive practices that undermine confidence in biosimilar products." Educational resources directed to consumers, patients and health care providers, among others, were identified as a key means to help counter false or misleading communications.