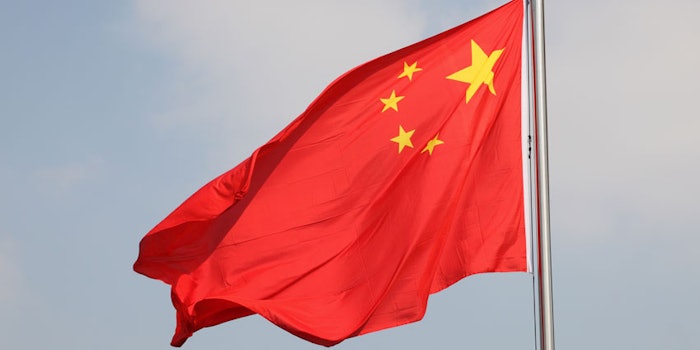 According to a report by CosmeticsBridge, in preparation for the implementation of China's long-awaited Cosmetics Supervision and Administration Regulations (CSAR), The National Medical Products Administration (NMPA) has issued standards for product safety and efficacy testing and claims.
According to the source, both the "Cosmetics Efficacy Claim Evaluation Standards" and "The Technical Guidelines for Cosmetic Safety Assessment (2021 Edition)" will go into effect on May 1, 2021. Those applying for either special or general cosmetics must evaluate product claims under the requirements set forth under the given "Specification" (see below) and provide a summary of the basis for product efficacy claims via a website designated by the NMPA. In relation, cosmetic safety assessments must be conducted in accordance with the requirements of the "Technical Guidelines" (see below) before applying for either special cosmetics registration or general cosmetics notification; product safety assessment materials also must be submitted.
See related: China to Ban Cannabis and CBD from Cosmetics
For cosmetics registered between May 1 and December 31, 2021, the summary of the claim evaluation report must be uploaded by May 1, 2022. Before May 1, 2024, a simplified version of the product safety assessment report may be submitted per the relevant requirements of the Technical Guidelines. 
Efficacy Claims Specification
The efficacy testing standards state (translated from the original Chinese document via Microsoft): The "claim evaluation of cosmetic efficacy" as mentioned in this Specification refers to the process of scientific testing and reasonable evaluation of the efficacy claim content of cosmetics under normal conditions of use by means of literature research, research data analysis or cosmetic efficacy claim evaluation test, and corresponding evaluation conclusions.
It continues: The method of evaluation of cosmetic efficacy claim should be scientific, reasonable and feasible, and can meet the purpose of the evaluation of cosmetic efficacy claim. ... [They] can be directly identified by visual, olfactory and other sensory senses (e.g. cleaning, makeup removal, beauty modification, aromatic, refreshing, dyed, perm, hair care, hair removal, deodorization and auxiliary shaving, etc.), or through simple physical cover effects such as physical masking, whitening, physical exfoliating, and physical de-blackheading) and clearly identifying on the label the efficacy claims that have only a physical effect may exempt the publication of a summary of the basis on which the product efficacy claims are based.
Example claims and test requirements given include (see the original standards, in Chinese, which specifies tests to be performed for given product claims):
Cosmetics with moisturizing and hair care effects only can be evaluated by means of literature research, research data analysis, or cosmetic efficacy claim evaluation tests;
Cosmetics with anti-wrinkle, firmness, soothing, oil control, exfoliation, hair loss and dandruff effectiveness, as well as claims of mild (e.g., non-irritating) or quantitative indicators (e.g., efficacy claims to hold time, efficacy claims related statistics, etc.), should be declared through cosmetic efficacy evaluation test method, can be combined with literature or research data analysis results, efficacy claim evaluation.
Cosmetics with the effects of whitening, sun protection, hair loss, acne, nourishment and repair should be evaluated by means of human efficacy evaluation test.
Cosmetics with the effects of whitening, sun protection and hair loss shall be registered and filed by cosmetics inspection institutions in accordance with the requirements of mandatory national standards, technical norms to carry out human efficacy evaluation tests, and issue a report.
Cosmetics that make specific claims (e.g., claiming to apply sensitive skin, claiming tear-free formulations) should be evaluated by means of a human efficacy evaluation test or a consumer use test.
Cosmetics that claim new efficacy should be scientifically and reasonably analyzed according to the specific circumstances of the claim of product efficacy.
Safety Testing Technical Guidelines
According to the same source, in order to standardize and guide the safety assessment of cosmetics, "Technical Guidelines" were developed, examples of which are as follows (translated from the original Chinese document via Microsoft).
Cosmetic safety evaluators should meet the following requirements:
Access and analysis of relevant literature information such as chemistry and toxicology, analysis, evaluation and interpretation of relevant data.
Conduct fair and objective analysis of the safety of cosmetics, conduct safety assessments based on a comprehensive analysis of all available data and exposure conditions, and be responsible for the scientificity, accuracy, authenticity and reliability of the assessment reports.
Learn about safety assessments, learn about and master new safety assessment theories, techniques and methods, and use them in practice, including through regular professional training.
In addition, health hazard effects of raw materials and/or hazardous substances should be identified, including:
Acute toxicity: including acute toxic effects after oral and/or epidermal contact.
Irritating/corrosive: including skin and/or eye irritation/corrosive effects.
Allergenicity: Mainly for skin allergenicity.
Phototoxicity: light irritation after ultraviolet radiation.
Light pervert reaction: a reaction caused by repeated contact and exposure to ultraviolet light.
Genetic toxicity: including genetic mutations and chromosomal aberration effects. 
Repeated dose toxicity: functional and/or instrumental changes in tissues and target organs after continuous exposure.
Reproductive development toxicity: harmful effects on the reproductive function of the parent generation, maternal function of pregnancy, embryonic development, pre-birth, perinatal and post-birth structure and function.
Chronic toxicity/carcinogenicity: toxic effects and the possibility of causing tumors after exposure for most of the normal life cycle.
Other: When inhalation exposure is possible, consider the health hazard effects of inhalation exposure.
Furthermore, dose reaction relationship assessments are described to determine the relationship between toxic reactions of raw materials and/or risk substances and exposure doses:
For toxic effects with thresholds, an unobserved dose (NOAEL) or a baseline dose (BMD) is required. For carcinogenic effects without thresholds, the dose (T25) or BMD of tumors that occurred in one part of 25% of the experimental animals is determined. For raw materials and/or risk substances that are at risk of allergenicity, their allergenicity is also assessed by the expected non-inductive sensitivity dose (NESIL).
For full details, see the original Technical Guidelines fo Cosmetic Safety Assessment (2021 edition), in Chinese.