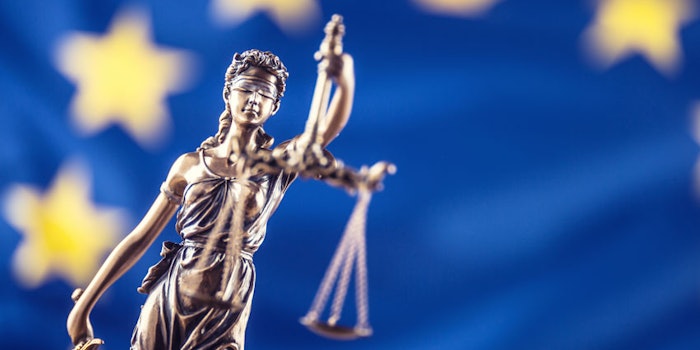 In an open letter from the industry—addressed to members of the European Parliament, European Council and European Commission—cosmetic industry stakeholders, including Unilever, The Body Shop, Neal's Yard, Natura, Beauty Kitchen, Avon and hundreds of others, urged policymakers to uphold the animal testing ban for cosmetics. 
 See related: Appeals to ECHA Board Rejected, Animal Tests Required for REACH
Official Statement:
To: David Maria Sassoli, President, European Parliament
Charles Michel, President, European Council
Ursula von der Leyen, President, European Commission
Cosmetics Animal Testing Ban Effectively Shredded
The EU Cosmetics Regulation animal testing and marketing bans have been used as the gold standard around the world—setting the precedent for cosmetics products and ingredients to be used safely without subjecting animals to cruel and unnecessary tests. These bans have now been dealt a devastating blow following a series of regulatory decisions made by the European Chemicals Agency (ECHA), with support from the European Commission and ECHA's own Board of Appeal.
ECHA is now requiring some widely used cosmetics ingredients (and ingredients used in many other types of consumer products) to be tested on thousands of animals under the guise of the Registration, Evaluation, Authorisation and Restriction of Chemicals (REACH) regulation. As a direct result of these decisions, the use of thousands of rats and rabbits in tests is required, some of whom will be force-fed a cosmetics ingredient throughout pregnancy before they and their unborn offspring are killed and dissected. REACH must not be used to circumvent the Cosmetics Regulation and render the cosmetics testing and marketing bans meaningless.
The approach of ECHA and the Commission is at odds with the European Parliament's call in May 2018 for a worldwide ban on testing cosmetics on animals by 2023. It undermines the purpose and value of the Cosmetics Regulation, which many of us have worked determinedly over many years to shape, implement, and leverage with non-EU countries in developing their own cosmetics legislation. The approach also has consequences for citizens around the globe who want to purchase cruelty-free products: 84% of respondents to a recent global survey said they would not buy a cosmetics product if they knew it (or one of its ingredients) had been tested on animals.1
The bans are further threatened by the Commission's future policy for chemicals regulation—the Chemicals Strategy for Sustainability—which is set to expand testing requirements for substances including cosmetics ingredients, at the cost of potentially thousands of animals' lives.
One of the principal objectives of the Cosmetics Regulation is the protection of human health, with the intention that this be safeguarded in all situations. The ingredients at the centre of ECHA's decisions have a long history of safe use by consumers and have been handled safely in factories for many years. It is perfectly possible to use exposure-based weight-of-evidence assessments, using a variety of non-animal data, to fill any perceived critical information gaps in order to be assured of the safety of these ingredients.
Indeed, as clarified by the Court of Justice of the European Union in the 2016 European Federation for Cosmetics Ingredients case, new safety-assessment data for cosmetics substances imported into the EU must rely only on non-animal assessment methods. Logically, precisely the same approach must be adopted for testing within the EU, whether under REACH or any other EU legislation.
We, the undersigned, call for the EU cosmetics animal testing ban to be upheld as intended, with no new tests on animals allowed.
1. Frame. Fact or fiction? Mapping perceptions of animal testing. https://frame.org.uk/wpcontent/uploads/2020/06/FRAME-report_final.pdf. Published June 2020. Accessed 13 November 2020.
The Undersigned
24K Cosmetics
28 Litsea
4organic
Abela
Above Beyond Group Ltd
AD skin synergy
ADDA, Spain
Adesse New York
Aesop
Agilise Cosméticos
All About Good Vibes
Alter-Native
Alucia Organics
Alvend Laboratoire
Amanda Murray NYC
ANIMAL, Portugal
Animalia, Finland
Animals Without Boards, Croatia
Aqua Natural
Aqua Natural Ltd.
Arctic Fox
AREU AREU
Argital
ARTONIT Cosmetics
Assured Products Ltd.
Astonish
Aurelia Probiotic Skincare
Aurelia Skincare Ltd
Ava May Aromas
Avon
Awake Organics Ltd.
Ayumi
B4U Laboratories
Baby Mantra
Bacana Skincare
Bara Cosmetics
BareFaced Beauty Ltd.
Barr Cosmetics
Bashia Cosmetics
Beauty Disrupted
Beauty Kitchen UK Ltd
Beauty Magic
Beauty Without Cruelty
beBIO
Bee Good Enterprises Ltd.
Bellapierre Cosmetics Ltd.
Bellati Naturals
Better Health Ltd.
BH Cosmetics
Biocosmetics
Biotakara
BIW BIW
Black Dahlia Lacquer
Black Sheep Organics
Blaq
Bliss Delights
Bluebird Skincare
blum organics
Body & Face St Cyrus
Body & Face St Cyrus Ltd
Bolt Beauty Limited
Bo-Po Nailpolish (Worx Toys)
Botanico Vida
Botanics
bPerfect Cosmetics
Bramley Products Ltd.
Brooks-Hill Limited
BrushBox
Buff Efforts
buScreen
Butterwhips Ltd
Cafuné
Capure Goat Milk Soap
Cemon Homeopathics Ltd
CHEMEXC S de RL Dermacare
Chemical Manufacturing and Exporting Company S de RL
Chez Lapin Goods
Childs Farm Ltd
Chistaya Linia
Christiane Heyn
Christine Valmy
Clean Beauty Distribution
CocoMak
Cocunat
COLORISI
Coloured Raine
Comette Cosmetics
Conscious Skincare
Cool & Nature M32 SL
Copaibe
Corinne Taylor Holistic Therapy
Coruscare
Cosmondial
Crane + Wilton Ltd
Crowd Culture
Cruelty Free Europe
Crystal Spring Consumer Division Ltd
Cultivator Natural Products Private Ltd.
Day Lily Paris
Della e Delle
Dermalogica
Desert Pea
Designer Lashes UK
Diervriendelijk Nederland
Doers of London
Doers Skincare Limited
Dove
Dr Jackson Limited
Dr. Jacobs Naturals
Dr. Perry's
DrTung's
E Beauty Ltd.
Earth Conscious Ltd
Earth Sense
Eco Chic Chick
Ecoleaf
Ecotech
EcoVegAnimals, Bosnia
Eleni & Chris
Elidor
Elixir Treatments
Elizabeth Mott
ELLIS FAAS Cosmetics
Eloise Hall Ltd.
Emeis Holdings Pty Ltd
Emerge
Emma Hardie Ltd
Endemic Biotech S.L.
Enviro-works
epic beauty
EQ France
Equus Mare
Era Organics
Erui Cosmetics
Essante Organics
Eurogroup for Animals
EXQUISITE Luxury Ltd
Extraordinarios Luxo Natural
Face Cult
Fair Squared
Faith in Nature Ltd.
Farryn Amber
FATFACE
FatFace UK Ltd
FFS Beauty Ltd.
FINE Deodorant
Floral Street Fragrance
FLOSLEK
Folly Fire
For Your Nails Only
Forest Herbs Research
Fragile Cosmetics
Frances Prescott
Franline Ltd
Friendly Soap Ltd.
Fuchsia Brands Pty Ltd
Fudco
Funky Soap Shop Ltd
Fushi Wellbeing Ltd
Fusion Body Art
Fysha
Gaia Skincare Limited
GAIA, Belgium
GEL.IT.UP by GIUP®
Gel.IT.UP Greece
Gelstory
Gestion Comercial Integral Navalon SL
GHS Direct Ltd
Girls with Attitude
Good3
Green Beauty Cosmetics
Green Beaver Company
HAER Limited
HAKA Kunz
Hanaei Beauty Company
Happy Carrot Skincare Ltd
Hashtag Brothers
Here We Flo
Heroine
Hibisco cosmetica natural
Home and Body Company
Homethings
Hourglass Cosmetics
HOWND
Humane Society International
I AM Cosmetic
i+m NATURKOSMETIK BERLIN
IC Scandinavia AS
Ihana Skincare
Ikeda Group Pte Ltd
iLevel Lab
Imperial Bioscience Ltd
Inari Skincare Ltd.
Inlight Beauty & Wellness
InnoNature
InovAir Ltd ("Pairfum")
Insphy
Institut Claude Bell
Internet Café-BG Ltd.
IRÉN
J Bloom Cosmetics
Java Cosmetics
Jax Wax
Jessica Laura Organics Ltd.
JL Cosmetica Natural
Jolie Vegan
Julie Clarke Candles
Kaia Naturals
Kalentin
Kama Soap
Karma Organic Spa
Kate Somerville
Kativa
Katmandu
Kiss the Moon Ltd
Kit and Kin
Koh Australia Pty Ltd
Kokoro Beauty and Lashes
Korah Tools
Kri Skincare Ltd
KUXTAL
Kylies
La petite main
Lab Phyto
Laber Organic Cosmetics
Laboratoire Hippocrate
La-Eva
Lano
Lanolips
Lanolips Pty Ltd
Laura Sanchez Makeup
LAV, Italy
Laviish
Leac de un Veac
Les Happy Curiennes
Li Cosmetic AG
LI Pigments
Lipstains Gold
Lisa Nail Lacquer
Lissea Limited
Little Danube Limited
Little Soap Company
Living Proof
LivOliv Cosmetics
Liz Earle
LLB Skin
Lock Stock & Barrel Grooming Co Ltd
London Copywright
Look Fabulous Forever
Loopy Products Limited
Love Beauty & Planet
Love Henri Ltd
Love Home & Planet
Lovely Pop
Lucy Bee Ltd
Lukasz Romuk Wodoracki t/a 1stDrop
Luna Bronze
Luna Nectar
M32 Natural
Ma Sista Stuff
Made for Life Organics
Made in Youthland
Magic Lips
Maison de Navar
Mama Zebra Cosmetics
ManCave Ltd.
Marie Hunter Beauty
Mark Birch Trichlogist
Marks & Spencer PLC
Mary Jean Limited
Matana Skincare
Mawena
Maysama Ltd
Medeau
Mediterranean Tan
Melchior & Balthazar
Menschen für Tierrechte – Bundesverband der - Tierversuchsgegner e.V. (People for Animal Rights – German Association Against Vivisection)
Mervue Natural Skincare
Milton Keynes Products Limited
Minoris Organik
MOB Beauty
Modern Botany
Molton Brown Limited
Mommy Makeup
Moss & Adams
Motherlylove Limited
MuLondon Ltd
Murad LLC
Myrtle & Maude Ltd.
Naissance
Nakin Skincare
Naroma
Natroma & The Natural Soapworks
Natura
Natura &Co
Natura Cosméticos S/A
Natural by Nature Oils Ltd
Naturally Tribal Skincare Ltd
Nature Knows Best
Nazan Schnapp GmbH
Neal's Yard (Natural Remedies) Ltd
Neat Wholesale
Neo Make Up
NeoHair Ltd
New Look Cosmetics
Nomad Cosmetics
Nubian Heritage
Nursem
Oceane
October Fields
Ofra Cosmetics
Om Oils
One Chem
Orbit Pad
Organic and Nature
ORGANii
Ouidad
Pachamamai
Pai Skincare Ltd.
Paima Beauty
Pamoja Skincare Ltd
Passion Cosmetics Paris
Patricia Deleon Cosmetics
Paula's Choice
Paws Beauty
Pee Safe
Perfect Girl
Persona Cosmetics
Pet Revolution Ltd
PETA Australia
PETA Deutschland e.V.
PETA France
PETA Nederland
PETA UK
PETA US
PHB Ethical Beauty Ltd
Phil Smith Be Gorgeous
Phil Smith Be Gorgeous Ltd
Planted
Planted Skincare
Pluscosmetica Duo
Poppy's Natural Skincare
Popwhite
Power Health Products
Power Health Products Ltd
Power Pets Brands
Previa S.p.A.
PRIIA Cosmetics
Primal Essence
Procarton
Pure Argan Co Ltd
Pure Chemistry S.A.S.
Pure Essence Collection Ltd
Raen
Rawgaia
Releaf
Ren Clean Skincare
Renpure
Reviv Serums
Rhug Organic & Natural Ltd
Rhug Wild Beauty
Romilly Wilde
Rosenserien
Royal Tara Giftware Limited
rue Santé
Safe Nails
SAHARA International Group
Salt of the Earth
SAMAYA Ayurveda Limited
Sampure Minerals
Sana Jardin Limited
Sanjeevita
Sanoll Biokosmetik GmbH
Santaverde GmbH
Sapunta Malta
SARFIreland
Sasy n Savy
Saving Face Limited
Schmidt's Naturals
Secrets Cosmetiques
Seda
Sedal
Sensori Plus
Sepai Laboratories
Seraphine Botanicals
Seventh Generation
Shea Moisture
Shea Shea Bakery
Shea-Me Ltd
Silvan Skincare
Simple
Simple Alchemy
Siskyn Skincare
Sister & Co. Skin Food
six gldn
Skin Sapiens Ltd.
Skinny Sprinkles
SKN-RG Ltd.
Sky Organics
Smith England
Smol Ltd
Sno Eternelle
Soaper Delights
Sonia Orts
Spiezia Organics Ltd
Splosh Limited
St Ives
Starbrands S.A.C.
Stereo Color
Stichting Proefdiervrij
Suave
Suds
Sue Marsh
Sugar Coated Ltd
Sugar StripEase
Sukrit Ayurveda
Suma
Suma Wholefoods
Sunsilk
Suntegrity Skincare
Svoboda Zvířat, Czech Republic
Sweden Eco
Synergy Biologics
Tailored Beauty
Tan Organic
Tandem Skincare
Tarsago Ltd
Tatcha
Technology
teethlovers
The 7 Virtues
The Aftercare Company
The Barberia
The Beauty of Eczema
The Bio-D Company Ltd
The Body & Face Place
The Body Shop
The Co-Operative Group (CWS) Ltd
The Dartmoor Skincare Company
The Good Garden
The Good Stuff
The Green People Company
The Konjac Sponge Company Ltd
The London Oil Refining Company Ltd
The Naissance Trading & Innovation Co. Ltd.
The Natural Barber Co.
The Perfume Laboratory
The Pure Collection
The Victorian Garden Organic Skincare
Thermitek Ltd
Think Beecause
Thunderbird Skin
Tolteca
Total Solutions Inc
Trebol Verde
TRUE Skincare Limited
Two Orchards Ltd
Two Plants
TYH London
Ultra Glow
Ultra Glow Cosmetics Ltd
Unilever
Urban Veda
Vegan Beauty Care
Velveit Cosmetics
Velvet & Sweet Pea's Purrfumery
Ville de Fleurs
Visage Pro
Watermans
Wax Melts International Limited
White Rabbit Skincare Ltd.
Whitfords
Wiig
Wild & Wolf
Wilde Beauty Limited
Wildwash
Yaya Maria's
Yes Nurse
Y-Not Natural
You & Oil
Young ePure
Zendium
Zeva Organics
Zoya Goes Pretty
Zyderma