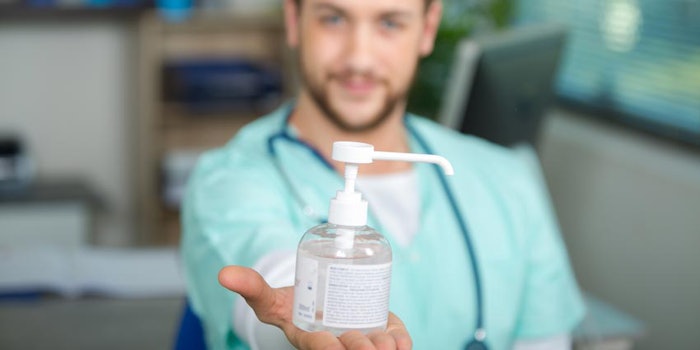 Health Canada has released a plan to expedite the distribution of ethanol- and isopropanol-based hand sanitizer products to the public. This process is effective immediately until March 31, 2021, unless otherwise notified, while facing the COVID-19 outbreak.
According to the agency, hand sanitizers, which are classified as natural health products (NHPs), require both a site license, for the location where the product is manufactured, and a product license to legally distribute the product (note this is not the case for the raw materials). However, for products that strictly comply with Health Canada's Antiseptic Skin Cleansers (Personal Domestic Use) monograph, the agency is expediting the application and review processes for both license types.
The Antiseptic Skin Cleansers monograph sets out pre-cleared information about an ingredient or product, including permissible uses, and is used to support the licensing of certain NHPs. It can also be used to support the safety and efficacy of alcohol-based hand sanitizers with a final concentration of 60-80% ethanol or 60-75% isopropanol.
Such products can be distributed for use in hospitals, clinics, commercial settings and other acceptable facilities so long as Health Canada is notified of this intent. In relation, the agency has compiled and published a list of antiseptic/antibacterial skin cleansers or hand sanitizers that meet Health Canada's requirements for safety, effectiveness and quality.
Manufacturers should note that applications going beyond the parameters of this monograph, such as making additional claims, are not eligible for the expedited licensing process. In these cases, the applicant would need to provide supporting evidence on safety, efficacy and quality in order to receive a product license. For more information on these types of applications, refer to Health Canada's NHP Management of Applications Policy.
The agency adds that during this interim period, the expedited approach is also available to companies currently holding valid site and/or product licenses that wish to contribute to the public health response to the COVID-19 pandemic. 
For complete details on expedited licensing, product labeling, good manufacturing practices and more, see the Health Canada website and public plan.