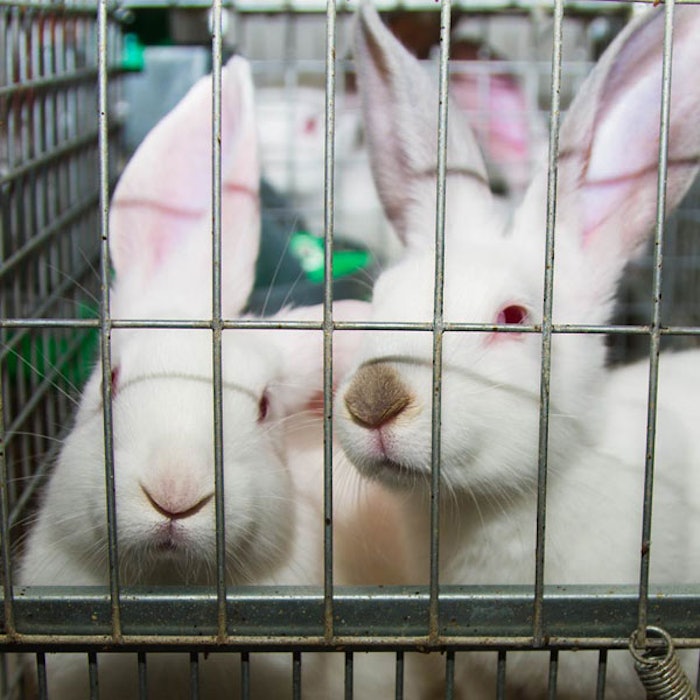 Turkey is now the latest country to join the group of countries that have banned animal testing for cosmetics which includes the European Union (EU), Norway, Israel, India, the state of São Paulo in Brazil and New Zealand.
According to the Daily Sabah, the Pharmaceuticals and Medical Devices Administration of Turkey added a new article to its new cosmetics industry regulation and has banned any animal testing for cosmetic products that have already been introduced to the market. In addition, the report said that according to the new regulation, companies have to list the ingredients of their products in detail and inform their customers with Turkish tags even if they keep their original logo and tag on the product.
In the U.S., a bill has recently been introduced in the House of Representatives to phase out cosmetic animal testing and the sale of cosmetics tested on animals. The bill is supported by more than 140 companies in the cosmetics industry such as Lush, Coty, The Body Shop, Overstock and Paul Mitchell. Over 500 cosmetics brands are already using alternatives to animal testing, according to the Animal Welfare Institute, and companies like cosmetics giant L'Oréal have formed partnerships with biotech companies to use 3D bioprinted skin tissue for beauty product testing. 
In Canada, Senator Carolyn Stewart Olsen (Conservative-New Brunswick) launched a bill in June to prohibit animal testing for cosmetics in the country, as well as the sale of cosmetic products or ingredients that have been newly animal tested in other parts of the world. In addition, South Korea has reportedly introduced a bill that would ban animal testing for finished cosmetic products and ingredients. Meanwhile, Taiwan also launched a bill proposing to ban animal testing for cosmetics to be phased in over a three-year timeline.
The strength of animal testing bans varies among countries worldwide. Proponents of full bans on animal testing, such as the Humane Society International, have noted that some phased-in testing bans have loopholes such as not including a marketing ban on cosmetics that are tested on animals. The E.U. issued an animal testing policy in 2004, although it wasn't until 2013 that a full ban was enacted.
Want to share your thoughts on animal testing bans and cosmetics regulation? Continue the conversation on C&T's social media: #animaltestingcosmeticsban.