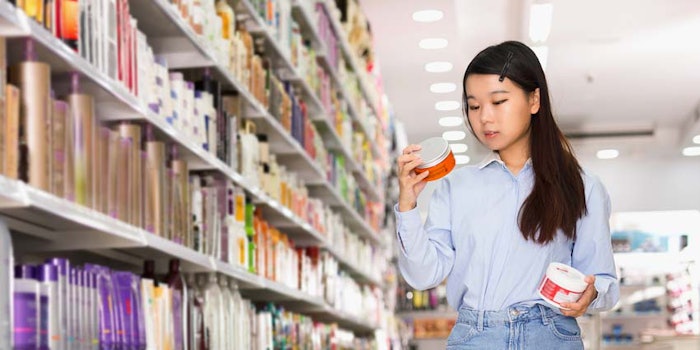 Recent reports by Chemlinked highlight China's: finalized cosmetic label requirements including prohibited claims; ending of CBD products; national standards for plastic microbeads; and 'explosive' growth of male cosmetics. In addition, natural and organic standards in China and South Korea were outlined.
See related: Regulation Update; Cosmetics and Ingredients in China, Indonesia, South Korea and Thailand 
Cosmetic Labeling Requirements
China's National Medical Products Administration (NMPA) released the finalized Administrative Measures on Cosmetics Labeling, spelling out rules for labeling and prohibited claims under China's new cosmetic regulations. The most significant change, according to ChemLinked, relates to the full ingredient listing. Ingredients at levels higher than 0.1% w/w must be listed in descending order while ingredients less than 0.1% w/w should be labeled separately under "other trace ingredients."
Cosmetics also are required to bear Chinese labels using standard Chinese characters except for trade names, websites, names and addresses of overseas companies, and conventional technical terms (e.g., CI number, SPF value and series No.). Also, if other characters or symbols are used, standard Chinese characters should be used on a visible panel to explain the corresponding meaning. 
Chinese stickers may also be affixed for imported cosmetics, and the contents related to product safety and efficacy on the stickers must be consistent with the contents on the original labels.
These measures are scheduled to be implemented on May 1, 2022; although companies are encouraged to label cosmetics in accordance with the measures from now on. For cosmetics registered or notified before June 3, 2021, but not compliant with the measures, the registrants or notifiers must update the labels by May 1, 2023.
Ingredients at levels higher than 0.1% w/w must be listed in descending order while ingredients less than 0.1% w/w should be labeled separately under 'other trace ingredients.'
Prohibited Claims
The NMPA measures prohibit 12 types of claims on cosmetic labels, including:
Medical-related. Claims using medical terms, names of medical celebrities, words describing medical functions/effects, approved drug names and verbiage implying medical effects.
False and exaggerated. False, exaggerated, absolute or misleading claims.
Visual treatments implying medical effects. Trademarks, patterns, font colors and sizes, homophonic or suggestive words, letters, Chinese pinyin, numbers, symbols, etc., to imply medical functions.
Fabricated concepts. Terminology and mechanisms not widely accepted by the scientific community.
Fabricated information. False information or that which "talks down" other legal products to mislead consumers.
Fictitious or forged scientific results. Use of forged or unverifiable research results, statistical data, survey results, abstracts, quotes and other misleading information.
Unfounded functions or claims. Claims implying efficacy that are either not allowed or not proven.
Unrecognized cosmetic claims. Using labels, rewards, etc., that have not been recognized by relevant authorities as cosmetics safety and efficacy-related.
Agencies or institutions for recommendations. Using the names and images of state agencies, public institution, medical institutions, public welfare agencies, etc., and their staff as appointed experts for proof or recommendations.
Guarantees. Words asserting or guaranteeing expressed safety and efficacy.
Vulgarity or superstition. Vulgar verbiage, feudal superstition or other content that violates social public order and good customs.
Other legally prohibited content. Other content prohibited by law, administrative regulations and mandatory national standards for cosmetics. 
CBD and Cannabis Banned
As previously reported, China announced it would ban cannabis and CBD from cosmetics, and on May 28, 2021, the NMPA released and implemented the finalized Inventory of Prohibited Ingredients for Cosmetics and Inventory of Prohibited Plant (Animal) Ingredients for Cosmetics—including four CBD-related ingredients.
Those listed include: cannabidiol (CBD), Cannabis sativa fruit, Cannabis sativa seed oil and Cannabis sativa leaf, which according to ChemLinked, implies the end of CBD in cosmetic products in China. From May 28, 2021, cosmetic registrants and notifiers are not allowed to produce or import products containing these ingredients; the NMPA will issue transitional measures for others.
See related: CBD in Cosmetics; A Practical Primer
Cannabidiol (CBD) and Cannabis sativa fruit, seed oil and leaf are included on China's finalized inventory of prohibited ingredients for cosmetics.
Standards for Microbeads
As previously reported, China's National Development and Reform Commission (NDRC) issued a draft for consultation specifying the details of China's pending ban on microbeads in 2020. This draft underlined rinse-off cosmetics, toothpaste and tooth powder with intentionally added solid plastic particles less than 5 mm in size used for scrubbing, exfoliating, cleansing, etc. The rinse-off cosmetics named included: shower gel, cleansers, hand sanitizer, soap, shampoo, conditioner and cleansing water/oil.
See archived article: Microbeads Then and Now; Polyethylene and Alternative Next-gen Abrasives
More recently, China released the GB/T 40146-2021 Determination of Plastic Microbeads in Cosmetics standard, stipulating the principles, reagents and materials, instruments and equipment, sample processing, spectrum testing, spectrum analysis and results reporting for the determination of plastic microbeads in cosmetics by Fourier transform infrared microscopy and Fourier transform microinfrared spectroscopy. This standard reportedly is applicable for the determination of plastic microbeads in cosmetics. Other personal care products, including toothpaste, soap and laundry detergent, may refer to it.
Natural and Organic Regulations
South Korea: South Korea has a system to supervise organic and natural cosmetics, from product certificate to ingredient recognition. On July 29, 2019, the Ministry of Food and Drug Safety (MFDS) implemented the Regulations on the Standards of Natural and Organic Cosmetic Products, specifying organic and natural cosmetic definitions, permitted ingredients, manufacturing processes and requirements for the business entity.
Per the standards, a natural cosmetic should exceed 95% natural raw materials. Organic cosmetics, in addition to 95% natural content, must contain more than 10% organic ingredients, according to ChemLinked.
China: In China, organic and clean cosmetics are new concepts, and Chinese consumers are reportedly choosing cosmetic products with inartificial content more frequently. However, the country has not yet established a law related to organic or natural cosmetics, ChemLinked reports.
See related: Natural Advocate; USDA BioPreferred Label Quantifies Bio-based Claims
China's Organic Product Certification Inventory stipulates that products under the organic category are food, alcohol, Chinese herbal medicine and fiber and clothing, excluding cosmetics. As such, multinational companies do not have an official organic or natural cosmetic registration in China, and thus cannot claim the product as being such.
As an aside, cross-border e-commerce (CBEC) provides an option for overseas brands to enter China's beauty market. As long as the products are in the List of Import Goods through Cross-border E-commerce (2018 Edition), they reportedly can be sold via CBEC platforms. ChemLinked notes that while the Chinese word organic is still not allowed if a Chinese label is attached to the product package, the English word organic is.
Male Cosmetics Surge in China
Finally, male cosmetics have drawn interest in China for years. However, according to ChemLinked, the market experienced a surge in interest in 2020.
"In 2020, 3,141 companies related to male cosmetics were registered," the firm reported. "The financing number in this category also hit a historical high. The attention to this category [has] continued in 2021. Many investors are looking for another Hims in China. Hims, a male care company in America founded in 2017, successfully launched an IPO on the New York Stock Market in 2021."
Brands such as Make Essence, DearBoyFriend, Lanseral, JACB, MENXLAB, HeyBro and Tabula Rasa have established financing ranging from 10 million yuan (~ US $1.6 million) to 300 million yuan (~ $50 million), to unknown amounts. Some of these brands also have achieved good market performance. For example, Make Essence, founded in 2019, reportedly achieved approx. 200 million yuan (~$31 million) GMV in 2020; DearBoyFriend, founded in 2020, reached monthly sales of 10 million yuan, recently. 
'The male cosmetic market in China is a rising sun, at present. Only less than 5% of the market has been developed, so the future is here.'
L'Oreal's House99 brand, promoting  world famous soccer athlete David Beckham, however, is said to have failed. According to ChemLinked, the brand's products, including shaping pomade, texturizing clay, toner, moisturizer, etc., seemed too complex for most Chinese male consumers. The firm highlighted key components to successful male cosmetics, which include: ease of use, convenience, practicality, affordable price, novelty/unique selling point, and the power of Gen-Z purchasing.
"In conclusion, the male cosmetic market in China is a rising sun at present," ChemLinked wrote. "Only less than 5% of the market has been developed, so the future is here."