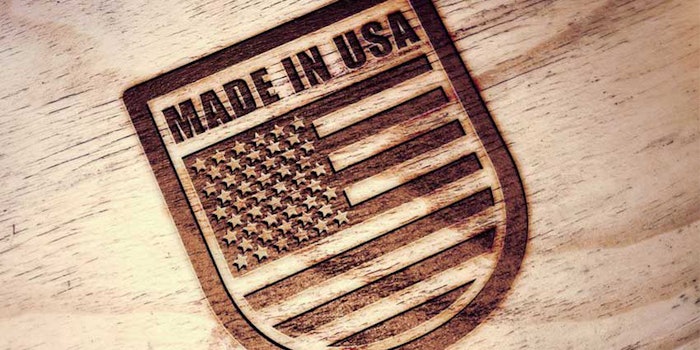 According to a report by the National Law Review, throughout the years, the Federal Trade Commission (FTC) has been tracking deceptive 'Made in USA' claims, enforcing actions against companies falsely claiming their products were American-made.
Related: Natural Advocate: USDA BioPreferred Label Quantifies Bio-based Claims
Even though 'Made in USA' cases have been scrutinized by the FTC, there is reportedly no existing federal rule governing such claims. A closely related rule comes from the FTC's 1997 Enforcement Policy Statement on U.S.-Origin Claims.
On June 22, 2020, the FTC posted a Notice of Proposed Rulemaking that would set up the Enforcement Policy Statement principles for all "Made in USA" claims. The proposed rule would prevent companies from making unqualified "Made in USA" claims unless they can show the advertised product meets three criteria:
1) Final assembly or processing of the product occurs in the United States.
2) All significant processing that goes into the product occurs in the United States.
3) All ingredients or components of the product are made and sourced in the United States.
If adopted, the proposed rule would apply not only to labels but also to marketing materials. It would not prevent federal or state statutes or regulations relating to country-of-origin labels, except to the extent that such laws or regulations are inconsistent with the rule.
Previously: U.S. FDA Red Flags Careful Cents, LLC for COVID-19 Claims
This proposed rulemaking follows the publication of a staff report on the FTC's "Made in USA" workshop from 2019, wherein it was highlighted that attendees noted a large number of consumers expect that products that advertise "Made in USA" to be 100% home-grown, including all parts and ingredients. Commissioners debate whether the inclusion of marketing materials in the rule exceeds the FTC's authority over labeling. As such, the FTC seeks public comment.
Comments will be accepted on any aspect of the proposed rule, including the scope of the commission's authority to issue a rule governing claims that may not constitute "labeling," within 60 days after publication in the Federal Register.
Submit any comments on this proposed rule here.