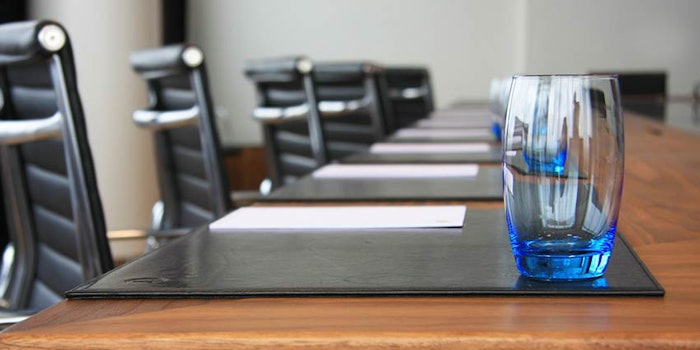 ICMAD (Independent Cosmetic Manufacturers and Distributors) has announced its 2018-2019 board of directors and new officers.
"We are excited to welcome our new board members and officers for the year. We had an overwhelming response from interested executives to serve on ICMAD's board and amended our by-laws to incorporate two additional board member seats," said Pamela Busiek, ICMAD president and CEO.
"Each member brings a unique perspective and an incredible amount of expertise across every facet of the beauty and cosmetics industry. We look forward to a productive and successful year and are very appreciative of the board's critical support for ICMAD's mission."
The 2018-2019 ICMAD board officers include:
· Chairman of the Board: Sanjiv Mehra, EOS Products
· Vice Chairman: Chris Hobson, Iontera Inc. (Patchology)
· Secretary & General Counsel: Sharon Blinkoff, Locke Lord LLP
· Treasurer: Craig Weiss, Consumer Product Testing Co.
· Chairman Emeritus: Stan Katz, Cosmetic Index
The ICMAD board members are:
Dr. Robb Akridge, PhD, REA Innovations
Joseph E. Atencio, Yellow Wood Partners
Howard Baker, Product Integrity Laboratory
Gus Bezas, Beauty Minds
Chris Birchby, COOLA, LLC
Daniela Ciocan, SoGeCos Americas/Cosmoprof North America
Debbie Coffey, New Avon LLC
Elizabeth Corrigan, The Complete Package
Curran Dandurand, Jack Black, LLC
Dee DeLuca-Mattos, ECRU New York
Richelieu Dennis, Sundial Brands
Don Frey, The Honest Company
Carl Geffken, Carl Geffken Consultants
Ian Ginsberg, C.O. Bigelow Apothecaries
Andrew Goetz, Malin+Goetz, Inc.
Susan Goldsberry, Benchmark Cosmetic Labs
Carrie Gross, Dr. Dennis Gross Skincare
Lisa Hoffman, Lisa Hoffman Beauty
Tracy Holland, HATCHBEAUTY
Jane Iredale, Iredale Mineral Cosmetics, Ltd.
Chris James, East Hill Industries
Wendy McEvoy, Dermaceutical Laboratories
Ada Polla, Alchimie Forever
Jerry Rauchwerger, Beauty Solutions, Ltd.
Marc Reiner, ChemAid Laboratories, Inc.
William Ross, Bill Ross Consulting
Laurent-Emmanuel Saffré, Pierre Fabre Pharmaceutical, Inc.
Terry Schatz, Bioelements Professional Skin Care
Jennifer Stansbury, The Benchmarking Company
Shawn Tavakoli, Beauty Collection
Lisa Thurman, Amazing Cosmetics
Worth Turner, Colorado Quality Products
Pamela S. Viglielmo, MËNAJI Worldwide
William F. Zrebiec, Cosmetic Essence, Inc.