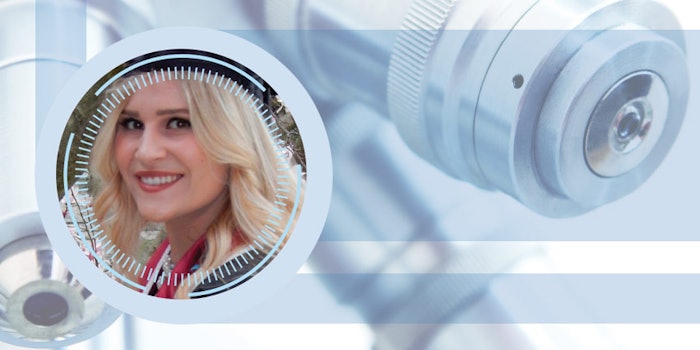 Although they have limited experience, individuals featured in our "Ones to Watch" series have unlimited potential. Those we highlight have been nominated by seasoned peers and will, no doubt, be researching and developing our future cosmetic products. Read on to see where we're headed.
Here, meet Margaret Gorz (GD), who recently earned her degree in cosmetic science and formulation design at the University of Toledo. Prior to that, she spent some time as an intern at Amway.
Cosmetics & Toiletries (C&T): What interests do you have, or what work are you conducting, that is relevant to cosmetics R&D?
MG: Last summer, I worked with Amway as an intern performing research on what factors drive lip color characteristics. Building off of this research, it would be interesting to spend more time refining the method for gaining glide outputs.
Editor's note: Check out her video interview on this research:
Interestingly, other potential indicators of glide emerged asI looked at the data and graphs obtained from the Texture Analyzer. I also have conducted research during my time at the University of Toledo on elements that impact liquid lipstick qualities.
C&T: What do you like most about your work? What do you find most challenging?
MG: My favorite part of cosmetic science is that it is a mixture of art and science. I find problem-solving fun and look forward to coming up with innovative formulas or improving current products.
As for challenges, I foresee potential regulatory obstacles within product development as more and more ingredients are being investigated for their safety.
"I think that there may be a larger market in the future particularly for men's tinted moisturizer."
C&T: Describe one of your biggest achievements or "A-ha!" moments relevant to cosmetics R&D.
MG: An "A-ha!" moment for me in R&D was recognizing how different departments within a company work together cross-functionally. I came to realize how the product development process is successfully achieved given the contribution of areas like marketing, regulatory affairs, consumer product research, etc.
C&T: What about the cosmetics and personal care products industries excites you?
MG: Adapting to the ever-changing trends excites me most about the industry.
C&T: How would you like your role in the industry to evolve? What concepts do you want to explore?
MG: I see myself becoming an expert in my field, a leader and a mentor in the future.
C&T: What areas or technologies do you think are untapped for cosmetics R&D?
MG: Coming from a family of optometrists, I have been cautioned to avoid makeup that might interfere with the Meibomian glands of the eyelids. These glands, which open onto the lid margin, contribute to the lipid layer of the tears.
Care should be taken in the development of products to avoid interference with the function of these glands and thereby avoiding drying of the eyes. This could be a beneficial area of research.
C&T: How do you envision the cosmetics/personal care industry of the future? 
MG: I think that one area that has greater potential in cosmetics R&D is color cosmetics targeted to the male audience. Men's skin differs from women's skin in such areas as thickness, oil production and pH, and I think that there may be a larger market in the future particularly for men's tinted moisturizer.
Want to nominate someone for our "Ones to Watch" series? Contact the editor at [email protected] for more information.