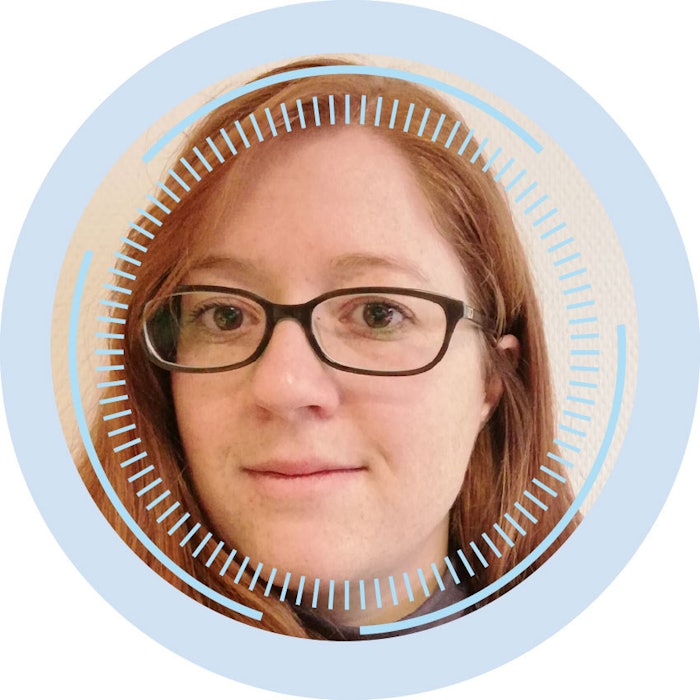 Although they have limited experience, individuals featured in our "Ones to Watch" series have unlimited potential. Those we highlight have been nominated by seasoned peers and will, no doubt, be researching and developing our future cosmetic products. Read on to see where we're headed.
Nelly Dubrulle, of DNA Gensee, may seem familiar. That is because she won the 2018 IFSCC Henry Maso Award for her paper on DNA metabarcoding to trace plants of interest for cosmetics; in fact, she will most likely be packing her bags soon to attend the upcoming IFSCC Congress in Münich. Perhaps we will see her there.
Dubrulle has a master's degree in molecular imaging. Currently, she is working on DNA barcoding and metabarcoding technologies as bio-informatics manager and project manager.
Cosmetics & Toiletries (C&T):  What interests do you have, or what work are you conducting, that is relevant to cosmetics R&D?
Nelly Dubrulle (ND): As a consumer of cosmetic products, I look for the most natural, safe and green products. So, it felt completely natural that, as a scientist, I turned to product safety. At DNA Gensee, we work with innovative genetic technologies to help industries secure their plant raw material supplies and trace them throughout transformation processes.
C&T: What do you like most about your work? What do you find most challenging?
ND: Plants are both the most fascinating and the most challenging part of my job. Working with plants is very interesting; one has to consider the world we live in, and plants are everywhere. They are the foundation of our civilizations. They have been, and can be, used to cure or to kill. Plants are also known to adapt to their environment, changing forms and expressing different capabilities, i.e., resistance to pathogens or levels of chlorophyll.
Thus, using DNA to identify them is one of the best approaches. However, DNA must be linked to morphology and phytochemistry to create reliable references. The biggest challenge for we scientists is to get the best reference databases for all the plants in the world.
"The future will definitely be greener and more transparent. Consumers drive every company in this direction, which from my personal point of view, is very good news."
C&T:  Describe one of your biggest achievements or "A-ha!" moments relevant to cosmetics R&D.
ND: At DNA Gensee, our work is to create new genetic markers for plants that are used to create cosmetics. Our goal is to detect DNA in raw materials and in products. Still, each plant is different and markers that allow for their identification can be different. So, there is great satisfaction every time a new marker is designed to push further the possibility of identifying a plant in a complex substrate.
C&T: What about the cosmetics and personal care products industries excites you?
ND: Nowadays, cosmetic industries are trying to get closer to what was done by our ancestors while also complying with the safety rules of today's world. It's fascinating to know how this "machinery" works.
With natural and sustainable trends, cosmetic manufacturers are trying to use as many local products as possible. Moreover, they are trying to reduce their CO2 footprint by changing the way they produce vegetal extracts by increasing the number of "green" processes.
C&T: How would you like your role in the industry to evolve? What concepts do you want to explore?
ND: With regard to DNA, many new technological developments are being studied, such as portable devices to perform DNA analysis directly in fields. These types of new devices must be very challenging and interesting, in terms of data analysis.
C&T: What areas or technologies do you think are untapped for cosmetics R&D?
ND: From an analytical point of view, today, multiple companies are working on different technological innovations in physics, genetics and chemistry. However, to answer all the safety questions, we need to work together. As a matter of fact, all these new techniques have advantages and disadvantages, so combining them is the key!
C&T: How do you envision the cosmetics/personal care industry of the future?
ND: The future will definitely be greener and more transparent. Consumers drive every company in this direction, which from my personal point of view, is very good news. Naturality and sustainability are more than trends, they are the only way of living in a wonderful world.
As Mr. Antoine de Saint-Exupery says, "Nous n'héritons pas la terre de nos parents, nous l'empruntons à nos enfants," ("We do not inherit the earth from our parents, we borrow it from our children,") so we must protect it.