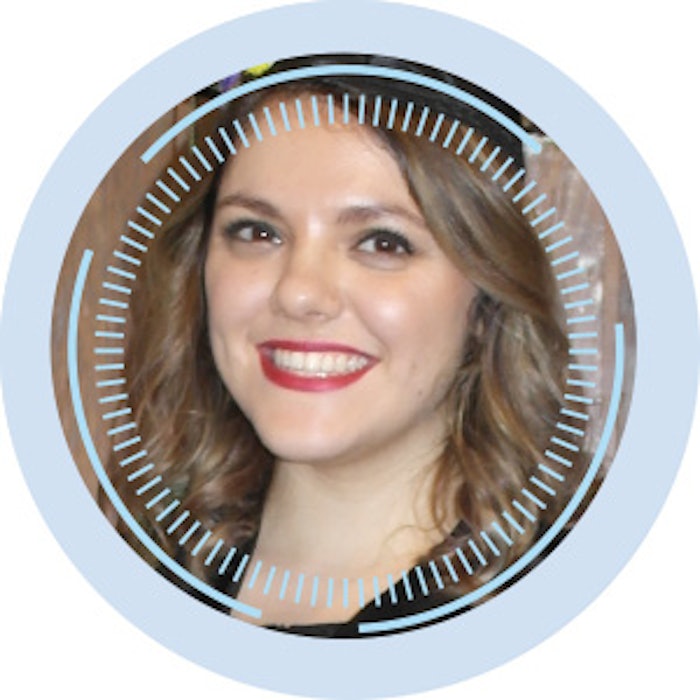 Although they have limited experience, individuals featured in our "Ones to Watch" series have unlimited potential. Those we highlight have been nominated by seasoned peers and will, no doubt, be researching and developing our future cosmetic products. Read on to see where we're headed. 
Here, meet Gabriella Dabain (GD), a formulation chemist at Making Cosmetics, Inc. She graduated from the University of Toledo with a dual major in pharmaceutics and cosmetic science and formulation design. 
Cosmetics & Toiletries (C&T): What interests do you have, or what work are you conducting, that is relevant to cosmetics R&D?
C&T: What do you like most about your work? What do you find most challenging?
GD: I enjoy problem-solving the most, especially when a customer wants a certain consistency and texture, yet with an ingredients list to match their marketing story. Sometimes it's difficult to find a balance between product stability and the requirements the customer has for their product.
The most challenging aspect of my work is the misinformation being circulated. I'm sure a vast majority of people in this field feel this way, but it can be frustrating to create a great product only to have to make some significant adjustments to align with certain claims, or for a certain demographic.
C&T: Describe one of your biggest achievements or "A-ha!" moments relevant to cosmetics R&D.
GD: Truthfully, every time I'm able to create a stable product to meet a customer's requirements for ingredients, feel and stability—and that they are satisfied with, I feel like it's an achievement. The aesthetics of cosmetics and personal care products are so incredibly personal that sitting down and trying to read someone's mind to create a product based off a benchmark or descriptor words can be a bit of a shot in the dark.
"I think customers really enjoy knowing they are reducing their carbon footprint while indulging in the products they enjoy using."
C&T: What about the cosmetics and personal care products industries excites you?
GD: The way trends, marketing, ingredients, etc., are all constantly changing. It really keeps you on your toes to look into what new products are being launched; common themes in what new ingredients everyone wants on their skin—an oil, a butter, an extract, etc.; and how to incorporate these into so many different product types for a variety of skin types, hair types and ages.
C&T: How would you like your role in the industry to evolve? What concepts do you want to explore?
GD: I really enjoy being able to design and develop products that meet the needs and wants of our customers. I also enjoy taking a marketing story and building a line off of it, creating a multitude of cohesive products that work together for the hair, skin and the body. I would love to see where this line of work takes me; however, being so new in this field and in my career, I'm open to anything.
C&T: What areas or technologies do you think are untapped for cosmetics R&D?
GD: Affordable yet high-quality, efficient products. Many brands have emerged in the past few years that really lay out their functional ingredients, what they do and how to use them while providing a price point that is friendly for most wallets. Having an anti-aging beauty regime is not going to burn a hole through your wallet anymore, and companies are really beginning to demonstrate this to their customers.
C&T: How do you envision the cosmetics/personal care industry of the future?
GD: Sustainability. Looking at all the new ingredients and technologies emerging, we can definitely create stable, aesthetically pleasing products that are sustainable and ethical. This isn't just for the benefit of cosmetic and personal care companies—I think customers really enjoy knowing they are reducing their carbon footprint while indulging in the products they enjoy using.