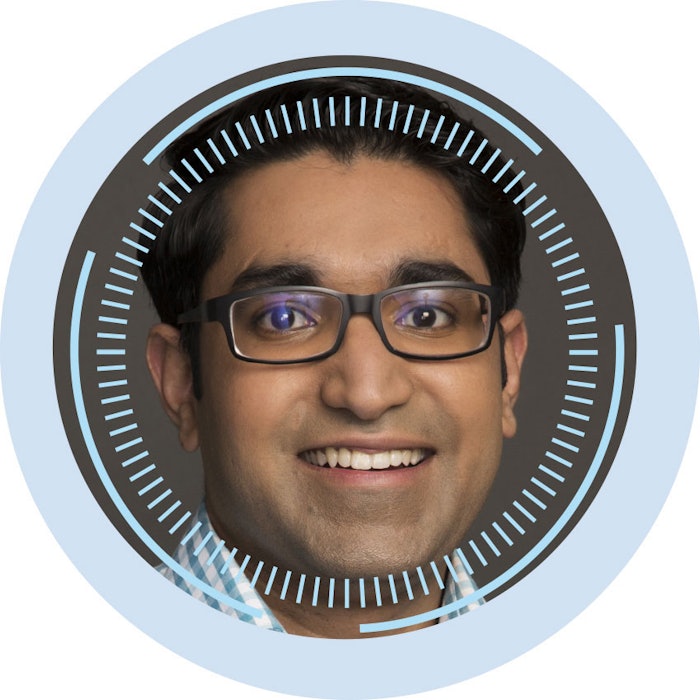 Sudhir Baswan is currently a research scientist in the Global Discovery R&D Group at Amway Corporation. He graduated with a bachelor's in pharmacy from the Institute of Chemical Technology in Mumbai; earned his master's in cosmetic science from Fairleigh Dickinson University, NJ; and completed his doctorate in pharmaceutical science (with a cosmetic science focus) at the University of Cincinnati, OH.
In his current role at Amway, Baswan is involved in various aspects of new technology discovery, development and conversion for Amway's beauty and personal care brands, including Artistry, G&H, Satinique, Glister, etc. He also has previous experience with L'Oréal USA and Zotos International.
What interests do you have, or current work are you conducting, that is relevant to cosmetics R&D?
I am always on the lookout for new technology and competitive trends, primarily in the beauty space. My current function is focused on screening and developing new technologies for skin care through both internal development and open innovation.
I occasionally also survey adjacent fields such as nutrition, food, digital, etc., since most cosmetic applications originate from completely different fields. Perhaps the best example of this would be the invention of nail polish, which was a direct translation from the coating/paints industry. To bring "out of the box" innovation to the cosmetic field, you have to keep an eye on technologies coming from other industries.
What do you like most about your work? What do you find most challenging?
When you really like what you do, Monday becomes the new Friday. The biggest thing that keeps me going is the freedom to explore new product concepts and put my creative side to the test, to develop a value proposition behind a product concept.
The biggest challenge working on upstream new technologies is that not every technology is destined for success. In fact, if you can reach a 10% success rate, that's a glorious victory. Although the ideal attrition rate in new technologies is high, so that's what I am trained to expect.
To bring 'out of the box' innovation to the cosmetic field, you have to keep an eye on technologies coming from other industries.
Describe one of your biggest achievements or "A-ha!" moments relevant to cosmetics.
It's easy to formulate with a commercially available ingredient, but it's a whole different thing to discover and develop a novel ingredient and translate it into a commercial product. I had the opportunity to be a part of such a project at Amway, where we are moving toward the commercialization of a novel skin lightening ingredient: cytidine. The clinical outcomes of this project were recently presented at the 2018 International Investigative Dermatology (IID) conference in Orlando. (Editor's note: For more on this work, see the video, below).
Another project where I directly translated my Ph.D. training into an actual product was a skin iontophoresis device, which launched in Korea couple of years ago. Iontophoresis is an effective method for enhancing skin penetration but to do so with a favorable consumer experience is tricky. A variation in just a few microamps of intensity is the difference between a tingling sensation and a sting. It's always important to design products around consumer experience and safety.
What about the cosmetics and personal care products industries excites you?
One thing that excites me about the cosmetic and personal care industry is that it stems from an applied science field, which gives me many opportunities to interact with experts in the fields of molecular biology, chemistry, dermatology, engineering and others. From soaps to sunscreens, cosmetic products have a good amount of cross-functional expertise behind them.
How would you like your role in the industry to evolve? What concepts do you want to explore?
A few very new technology roles like mine exist in the industry. These require, in addition to a core specialization, taking on a generalist's role to translate innovation into meaningful products for consumers. They also require refining your soft skills; for example, in the forms of creative storytelling and internal marketing. These are important skills since, if I cannot convince my peers of the benefits of a technology, it would probably not see the light of the day.
When it comes to my interests, I am always inclined toward exploring difficult and tough to treat issues like stretch marks, cellulite, etc. There's no fun in chasing easy ones.
What areas or technologies do you think are untapped for cosmetics R&D?
We have barely scratched the surface for the skin microbiome and genetic personalization of skin care. Although new insights trickle in every day, there are many discoveries to made in coming few years.
How do you envision the cosmetics/personal care industry of the future?
Sustainability will be an emerging focus for the cosmetics industry in the future. Consumers' awareness of sustainability is on the rise and they will continually move toward products and services that are dedicated to bringing a positive impact to the environment.
In relation, achieving a "carbon neutral" footprint is a tough task by itself, and doing so while keeping products affordable is a big challenge. Nonetheless, the industry is already moving toward eco-friendly initiatives such as biodegradable packaging solutions, sustainable ingredients, recycling programs, etc.
Cytidine Reseach: Watch Now