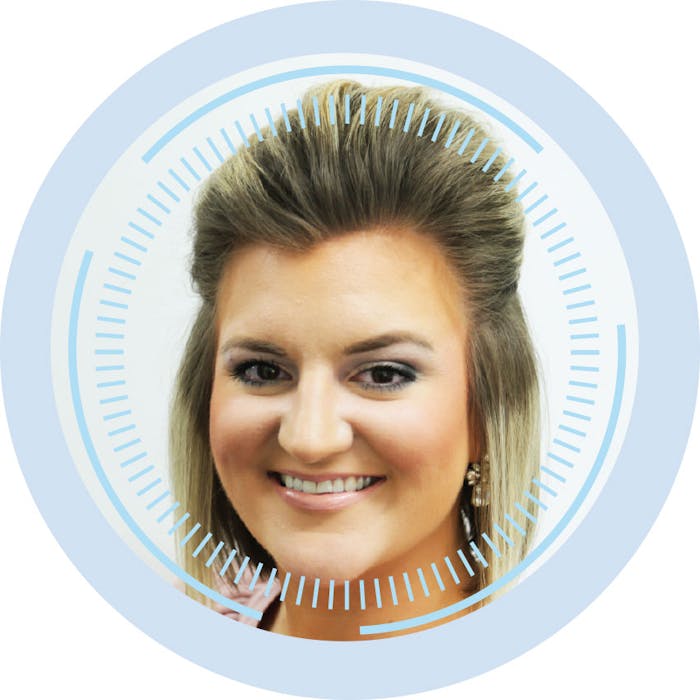 Hillary A. Phillis is a recent graduate who recently was promoted from her first job in the cosmetic industry, as a technical marketing associate, to marketing manager at Active Concepts. She prepared for her start in the industry at the University of Toledo, where she participated in the Cosmetic Science and Formulation Design program. Now, as a self-diagnosed "product junkie," she is able to utilize her consumer perception coupled with her science background.
C&T: Who are/were your mentors?
HP: I have been fortunate, throughout my college career and short professional career, to have multiple noteworthy mentors: Dr. Gabriella Baki of the University of Toledo, who guided, taught and offered invaluable opportunities for growth throughout my college experience; Mark Chandler of Adaptive Cosmetic Technology (ACT) Solutions Corp., who enhanced my education through hands-on experience and gave me my first true insight into my future career; and Durant Scholz of Active Concepts, whose patience and expansive knowledge has guided me from my college career into the exciting industry I have so patiently awaited! The support of these mentors, in conjunction with my zeal for the personal care industry, continue to guide me in my career.
Concept to Completion: A Panoramic View
C&T: What interests do you have, or current work are you conducting, that relates to cosmetics?
HP: As a student, I was exposed to the career options the personal care industry offered. Since then, my interests have always been in the domain of marketing. I am interested in seeing product development from market research, to raw material conception, to finished goods production—and everything in between.
In my role, I am able to understand the complex process as a whole and be involved in specific raw material development at Active Concepts. My interests currently lay in gaining a thorough panoramic view of the industry, to better understand how I can evolve and grow professionally.
C&T: What do you like most about your work? What do you like least?
HP: What I like most about is the fast-paced, ever-changing environment. No two days are the same. What is consistent is the opportunity to learn and interact with different and multiple departments and customers. Through these interactions, I am able to enhance my ability to market products accordingly. And of course, I always love seeing a finished product with one of Active Concepts' raw materials in it on the shelves of my favorite beauty stores.
C&T: What do you find most challenging about your work?
HP: The biggest challenge I face at work is identifying and properly utilizing the necessary tools to communicate the technical aspects of my work. The tools I have available to me are endless but learning how to use them in the most time-sensitive way is something that, after seven months on the job, I still find challenging.
C&T: Give an example of an observation that you think has application in the cosmetics industry.
HP: A role I play in my current position is observing and identifying voids in the market to conceptualize new exciting products and collaborate with R&D to develop a leading edge material. Shortly after I started at Active Concepts, I was able to witness this process first-hand with the creation of Active.Lite Hair. This product fills an active void in the hair care industry and was created with the intention of doing so.
This innovative product utilizes a hybrid biopolymer to create a support scaffolding matrix, encapsulating the perfect amount of science with marketing appeal. Witnessing a product from conceptualization to a completed efficacious product is the best way I could learn—and how I will approach my role in the future.
Anticipating the Consumer and Sharing Knowledge
C&T: What about the cosmetics and personal care products industries excites you? How would you like your role in the industry to evolve?
HP: The correlation between consumers and cosmetic companies is one of the most fascinating aspects of the industry, to me. From this relationship, a better understanding of consumer wants can be obtained and transferred all the way down the line to raw material companies. Additionally, forecasting consumer wants and needs is key to the raw material sector.
I think cultural influences from other areas in the world also add to the need for companies to not only listen to consumers, but also to be able to anticipate and adapt innovation suitably. Moving forward, multifunctional ingredients will play a key role in delivering maximum benefits for the demanding consumer. I would like my role in the industry to evolve in time to a comprehensive understanding of both consumers' desires and the capability the industry has to identify and satisfy consumers when they know what they want, and before they are even aware of what they need.
C&T: How is the industry helping to make this evolution happen? How could assistance improve?
HP: As a young member of the industry, I am eager to learn, develop and advance. I believe shared knowledge among industry members will not only aid in cultivating young scientists, but overall promote adaptation, advancement and innovation within the industry.
Men's Care, Color-matching, Sustainable and Devices
C&T: What areas or technologies do you think are untapped for cosmetics R&D?
HP: Areas I think are untapped within cosmetics R&D are: the male market, the need for hair care that targets niche markets with specific needs, and multiple overseas markets. These areas are virtually untapped but require specific attention to detail to develop. Additionally, I feel we have only scratched the surface of the capabilities of smart technology in the field of cosmetics and personal care products. Another area I personally feel is not catered enough toward is colored cosmetics for all skin tones—because every woman is unique and beautiful in their own way and should be able to find cosmetics that work for them.
C&T: How do you envision the cosmetics/personal care industry of the future?
HP: I envision the future of the beauty industry to be shaped by the push from consumers for product safety; the movement toward more green, natural and sustainable products; increased consumer awareness causing shifts in the beauty industry; and smart technology that will blur the lines between consumers and devices. The ability of the cosmetic industry as a whole to continue to evolve will be the key to the future.