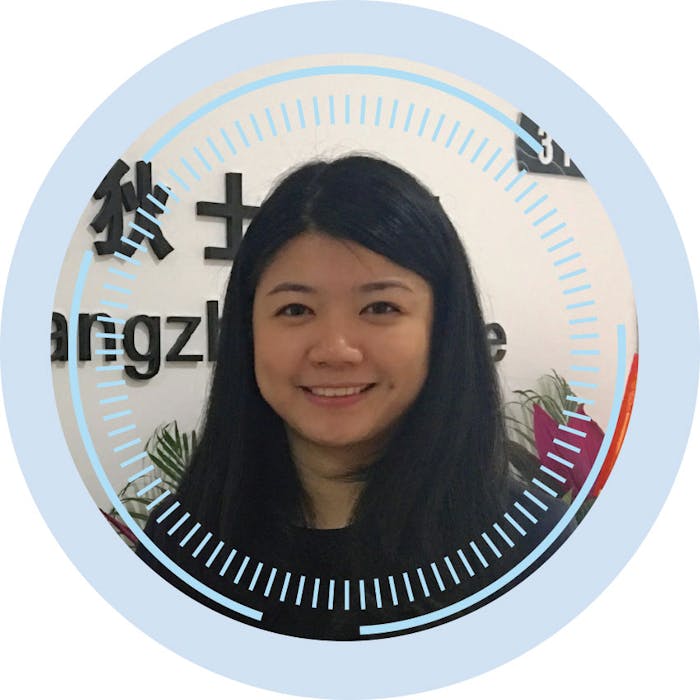 Mei Xin Chen is a formulation scientist in the application lab at INOLEX, which is a cosmetics and personal care ingredients manufacturer based in Philadelphia. She graduated from the University of Toledo, Ohio, with a bachelor's degree in pharmaceutical sciences and a master's degree in industrial pharmacy; her research focused on formulating for the cosmetic industry. She graduated in 2014 and started her career at INOLEX in the summer of 2015.
C&T: Who are/were your mentors?
MC: My mentors were Drs. Kenneth Alexander and Gabriella Baki, who led me into the cosmetics industry during my graduate study at the University of Toledo. During graduate study, I worked as a teaching assistant under Dr. Alexander in the pharmaceutics laboratory course, which teaches students how to formulate and prepare over-the-counter (OTC) products. I was also a teaching assistant in the cosmetic science laboratory course, which develops formulations for cosmetics and personal care products under the supervision of Dr. Baki. As a teaching assistant, I previewed and prepared formulations for problems that might occur prior to student exposure. In order to prepare strong formulations, I studied the uses and interactions of each ingredient used within the formulation.
My industry experience began as a formulation scientist intern for Mark Chandler, the founder and president of ACT Solutions Corp. He has more than 30 years of experience in the personal care and pharmaceutical industries, and has given lectures about cosmetic formulation for the Society of Cosmetics Chemists (SCC) for more than a decade. During my internship at ACT, I was involved in projects for different cosmetics suppliers and manufacturers, mainly in formulation development and the evaluation of new ingredients.
Currently I am a new product development formulating chemist, reporting to Judy Zhuang, who directs the Personal Care Application Laboratory and new product launches team at INOLEX. She has more than 20 years of experience in the cosmetics and personal care industry, and I feel grateful to work under her. At INOLEX, I have applied my quick learning curve to formulate in all different market segments, including skin, sun, personal care and color cosmetics.
Application Evaluation
C&T: What interests do you have or current work are you conducting that relates to cosmetics?
MC: My main focus is on new product launches, which involves evaluating the application benefits of new ingredients in different prototypes. Performance feedback is then used to further improve molecules at the R&D stage, or to develop guidelines for clients. Additionally, I creatively formulate to showcase the benefits of INOLEX ingredients and how they meet market demands. Furthermore, I provide customer service support by assisting clients in the development of formulations, or resolving formulation issues encountered during the process. Finally, sometimes I also analyze customer's products to determine potential raw material substitutions with INOLEX products, to generate cost savings or performance enhancements.
C&T: What do you like most about your work? What do you like least?
MC: Access to a variety of product development and application evaluations is what I like most about my work. Being exposed to so many formulation techniques and challenges keeps work interesting and allows me to learn new things.
However, it is difficult to share technologies or knowledge in this industry due to concerns over confidentiality and innovation protection. As a result, you have limited exposures and opportunities to learn about other interesting technologies from other suppliers.
Preferences and Green Demand
C&T: What do you find most challenging about your work?
MC: I always feel accomplished and excited when I find the solution for our clients, or develop innovative formulations. On the other hand, there is a level of disappointment when I am not able to find the solution, which is what I find the most challenging. It has also been challenging to develop formulations that satisfy everyone all at once. People have different preferences and needs. Therefore, there is a need for a variety of products in the market—a challenge I am happy to take on. I always try my best and use all the resources I can access.
C&T: Give an example of a problem you solved that has application in the cosmetics industry.
MC: More and more consumers are concerned about ingredients and their effects on the environment and human body. As a result, we have seen an increase in requests for green and natural ingredients/products. I am glad to have an opportunity to work with these green and natural ingredients at INOLEX.
Recently, I was involved in a launch of a complete line of palm-free ingredients. During that process, I developed formulations to showcase this new series, and also helped to develop formulation guidelines. Formulating without traditional palm-based fatty alcohols—which are essential to build up the emulsion and tailor the skin feel—was a challenge. After trials, our team proudly optimized a variety of palm-free formulations that provide a different skin feel and texture, and in the process, developed useful guidelines for formulators.
Safe Naturals that Perform 
C&T: What about the cosmetics industry excites you? How would you like your role in the industry to evolve?
MC: There are many concerns from consumers looking for natural, safe products. It excites me to provide solutions in this area, and that I am able to participate in this industrial trend and make contribution. One of the goals at INOLEX is "discovering better solutions to market problems." For example, we provide alternatives for preservation and silicones, and ingredients derived from natural resources using green chemistry processes.
In order to fulfill the needs of consumers, green formulations are another challenge; especially considering the performances of all alternative systems must be as effective as the conventional ingredients. However, it this is not always the case. Therefore, it is important to evaluate every new ingredient before it launches. As my role in this industry, I hope I can introduce more formulations that are greener and safer for the environment and ourselves.
C&T: What areas or technologies do you think are untapped for cosmetics R&D?
MC: I think the trend will continue for using 100% renewable and sustainable ingredients. In the past, the capability to develop products having performance and aesthetic characteristics could only be achieved through petro-chemically derived ingredients and processes.
Advances in Technology and Buying Habits
C&T: How do you envision the cosmetics/personal care industry of the future?
MC: Nowadays, consumers are starting to make their own cosmetics and personal care products at home. Advanced technologies like 3D printers can be used to print your own color cosmetics following simple videos and accessing ingredients easily on the Internet. Moreover, social networks such as Facebook, Instagram, Snapchat, blogs, etc., have an impact on the consumer's buying habit. This may be a crisis for the cosmetics industry in the future if no action is taken. Cosmetic suppliers and consumer product companies must reset their vision to follow this change. Shifting strategies will prevent them from losing their market share.