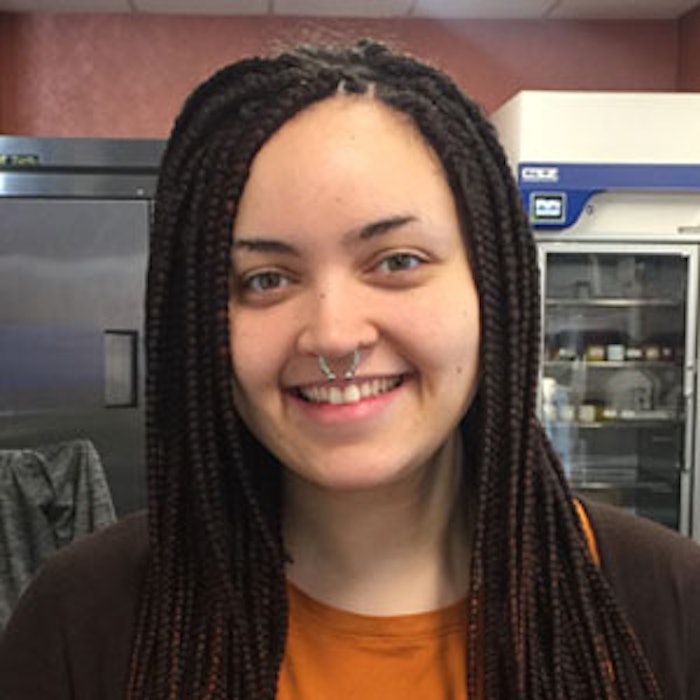 Meet Rachel Garrick, who currently works at Elevation Labs in Colorado, formerly Colorado Quality Products.
She attended the University of Toledo and attained her bachelor of science degree in pharmaceutical sciences, with a major in cosmetic science and formulation design, with minors in chemistry and marketing. Here, she shares industry insights.
What interests do you have, or what work are you conducting, that is relevant to cosmetics R&D?
What do you like most about your work? What do you find most challenging?
Mostly I enjoy how every week here is different. I am always able to get my hands into something new. Plus, I have the best coworkers here in the lab, and elsewhere around our facility, and that always makes coming to work even better.
I find myself being challenged mostly by my own insecurities when it comes to formulating. Even though I do have this degree and some formulating experience under my belt, I still find myself getting stuck or confused with certain client requests. I want to be a great formulator, but greatness comes with patience and practice, which I am lucky enough to do every day.
Describe one of your biggest achievements or "A-ha!" moments relevant to cosmetics R&D.
I think after starting here, I realized that even people who have been formulating for years still make mistakes and still need to ask for help from others. Coming right out of college into the workforce, it can seem like everyone has it together and does everything perfectly on the first try. But even the most seasoned pros don't have all the answers, and that has been a comfort, knowing perfection is not expected from me.
What about the cosmetics and personal care products industries excites you?
The unlimited potential the industry has! People are always wanting the next better thing, and this industry must keep up. Going to meetings with suppliers and seeing the new products they have rolling out, or even doing our own internal innovation projects here at Elevation Labs keeps me on my toes and in the know with what's hot.
What areas or technologies do you think are untapped for cosmetics R&D? i.e., what areas would you like to explore to shape the future of our industry?
I think it would be interesting to start incorporating more OTCs into color cosmetics. There are foundations that have sunscreens and maybe even anti-acne ingredients, but I have often thought about eyebrow gels with hair growth actives incorporated, for those with sparse eyebrows. Or, even something like a skin primer that works to correct hyperpigmentation. Cosmetics that do more than just cover us up, but work to correct those little things that prevent us from feeling beautiful every day.